Sports
High School Stars Inducted into Athletic Round Table Hall of Fame
Three Had Noteworthy Achievements After Prep Careers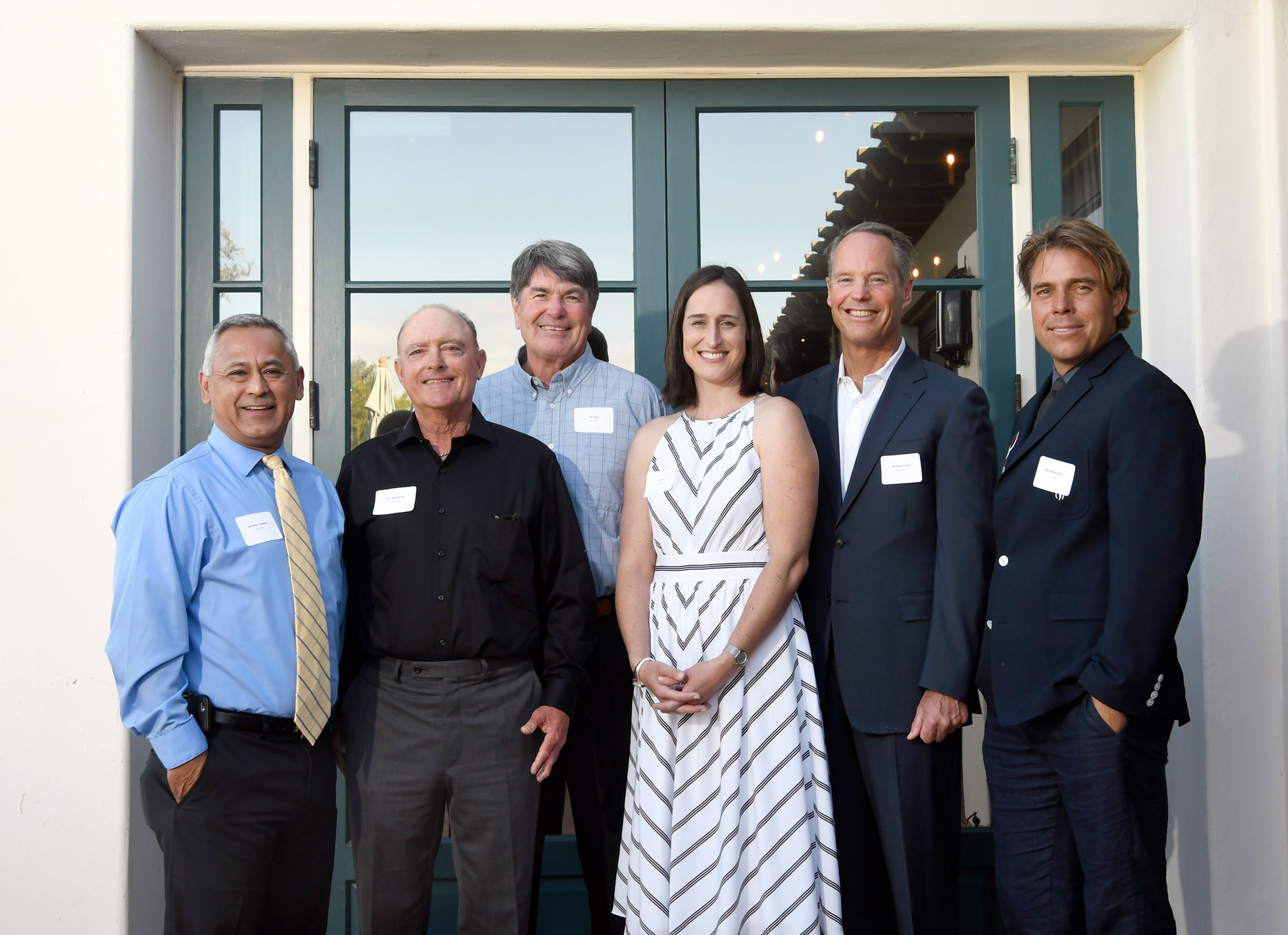 The core requirement to enter the athletes' wing of the Santa Barbara Athletic Round Table Hall of Fame is to have been an outstanding high school competitor in the greater Santa Barbara area. The four members of the 50th Hall of Fame class who were inducted Monday night certainly fit that bill, and three of them had noteworthy achievements in sports after their prep careers.
Gerardo Jimenez (Dos Pueblos High 1983), a CIF soccer player of the year, started for San Diego State in the 1987 NCAA championship game after scoring a goal that helped knock favored UCLA out of the tournament.
Mark Warkentin (San Marcos 1998), was undefeated in Channel League races throughout his prep swimming career, a four-time CIF champion, NCAA All-American at USC, and the first U.S. swimmer to compete in the open-water event at the Olympic Games in 2008.
Lisa Willett Fry (Santa Barbara High 2000) graduated as the Dons' all-time leading scorer in basketball, was a three-time all-CIF player, and chose to stay in her hometown and play for the UCSB Gauchos, helping them win four conference championships and reach the NCAA Sweet 16 in 2004.
Then there's Don Young (Dos Pueblos 1975), a baseball star who was the hottest prospect of all. Eddie Mathews, the only Santa Barbara player to be elected to the Baseball Hall of Fame in Cooperstown, was a scout for the Atlanta Braves, and he closely followed Young during his high school career. The Braves took Young, an outfielder and catcher, in the first round (18th overall selection) of the Baseball Draft and signed him to a professional contract.
Even first-rounders find it difficult to break into the major leagues, and Young was one of the 12 top picks (out of 24) whose career stalled in the minors. But when that door closed, he did not linger behind it. He found an opening in higher education.
"I was taking classes at SBCC in the off-season," Young said, "and I got into the school thing." He went on to Harvard and got a BA in economics in 1982 and an MBA from the Harvard Business School in 1984. He embarked on an international business career and for the past 15 years has been president and CEO of Aspen Aerogels, a materials science firm based in Northborough, Massachusetts.
Young found support in his academic endeavors from his high school coach. "I was lucky to have Scott O'Leary," he said. "He used my example to show that Dos Pueblos was a good place for baseball and for education." After O'Leary died, the school dedicated both the baseball field and the football stadium in his name.
Another inspiring person to Young was Glenn Hubbard, a second baseman who was taken in the 20th round of the 1975 draft by the Braves and played in the majors for 12 years. "He was a feisty guy who treated every at-bat like it was the bottom of the ninth in the World Series," Young said. "He showed how to bring focus and concentration every day, no matter what you're doing, at school or work or with your family."
Although he's long past his playing career, baseball is still in Young's blood. "I grew up a big Dodger fan," he said. "My dad and I would go to Dodger Stadium when they had double-headers and stay there for seven, eight, nine hours." The Boston Red Sox have been the home team during his college and business life. "I followed them in the 1986 World Series," he said. "When they lost in the seventh game, Jesse Orosco was on the mound for the Mets. He was a year behind me at Santa Barbara High when I played for Dos Pueblos."
Young and his wife, Caroline (who can pretend she's serenaded whenever the fans sing along to "Sweet Caroline" at Fenway Park), have been married almost 35 years. They have three grown children.
The Athletic Round Table Hall of Fame ceremony at La Cumbre Country Club was a family affair for all the new inductees. Warkentin and his wife, Diana, have two boys. His sister, Kara Warkentin, was a tennis phenom who went into the Hall of Fame 10 years ago. He still lives here and is head coach of the Santa Barbara Swim Club.
Jimenez, the father of two girls, lives in Santa Maria and has worked for 25 years in the County Department of Social Services. "It all started at the Goleta Boys Club," he said of his soccer career, which continued into his adult life.
Fry did not miss out on big-time basketball or traveling when she chose to attend UCSB. Her last game was UCSB's 63-55 defeat at Connecticut, which rolled to the national championship after surviving the Gaucho women. She went skydiving and running with the bulls in Europe before settling down, getting a teaching credential, and marrying Joel Fry, a special agent in the U.S. Air Force. Lisa teaches 1st grade at the Palmer School in Walnut Creek and is mother to a 2-year-old boy. Also an outstanding volleyball player, she remembers her father, Rory Willett, who died of cancer last year, as one of her athletic inspirations.
Also entering Santa Barbara's Hall of Fame this week were Jon Lee, who coached three future Olympic volleyball players (Brook Billings, Dax Holdren, and gold medalist Todd Rogers) at San Marcos High; and Santa Barbara Tennis Club pro Larry Mousouris, who has coached three U.S. Open junior champions during his long career.
Court of Champions
Lisa Willett Fry will reap another award from her hometown on Sunday, May 21, when she is inducted into the Santa Barbara Court of Champions, which was instituted in 2014 to honor major contributors to the sport of basketball in our community. The youngest new member will be Alan Williams, a former UCSB star who produced a slew of double-doubles in his first full season with the Phoenix Suns. Other players are UCSB's Kayte Christensen, Lucius Davis, and Josh Merrill, as well as Santa Barbara High's Kristin Knapp-Cole. The coaching roster will be joined by Ron Mulder, Bill Odell, Phil Sherman, and George Terzian. For information on the ceremony at the Cabrillo Arts Pavilion, visit sbcourtofchampions.com.
In Memoriam
Laguna Blanca students are honoring the memory of their soccer coach Davies Kabogoza, who died tragically in a drowning accident, by holding a soccer tournament Friday, May 19, from 3:30-6:30 p.m. at the school's athletic fields in Hope Ranch. Funds collected at the event will be sent to Kabogoza's mother in Uganda. … Larry Crandell, Maury Halleck, and Phil Womble — three enduring members of the Round Table Hall of Fame — died in the past year, as did fellow Court of Champions honorees Frank Carbajal and Jay Carty.
Game of the Week
5/19-5/21: College Baseball, Cal Poly at UCSB: The last homestand of the season finds UCSB (7-11 in the Big West) trying to upset the rival Mustangs (11-7). The Gauchos' faint hopes for a postseason appearance were extinguished last weekend when they lost two of three games at Cal State Fullerton. A bright spot was the slugging of junior first baseman Austin Bush. He belted two home runs in UCSB's 6-3 win over Fullerton and had four dingers in the week, increasing his season total to 14, the best in the conference. The Gauchos will host USC on Tuesday (5/23) in their home finale. Fri.: 3pm; Sat.: 2pm; Sun.: 1pm. Caesar Uyesaka Stadium, UCSB. $5-$8. Call 893-UCSB (8272) or visit ucsbgauchos.com.