Cover Story
The Artistic Life of a Con
The Story of Fulton Leroy Washington's Second Chance at Life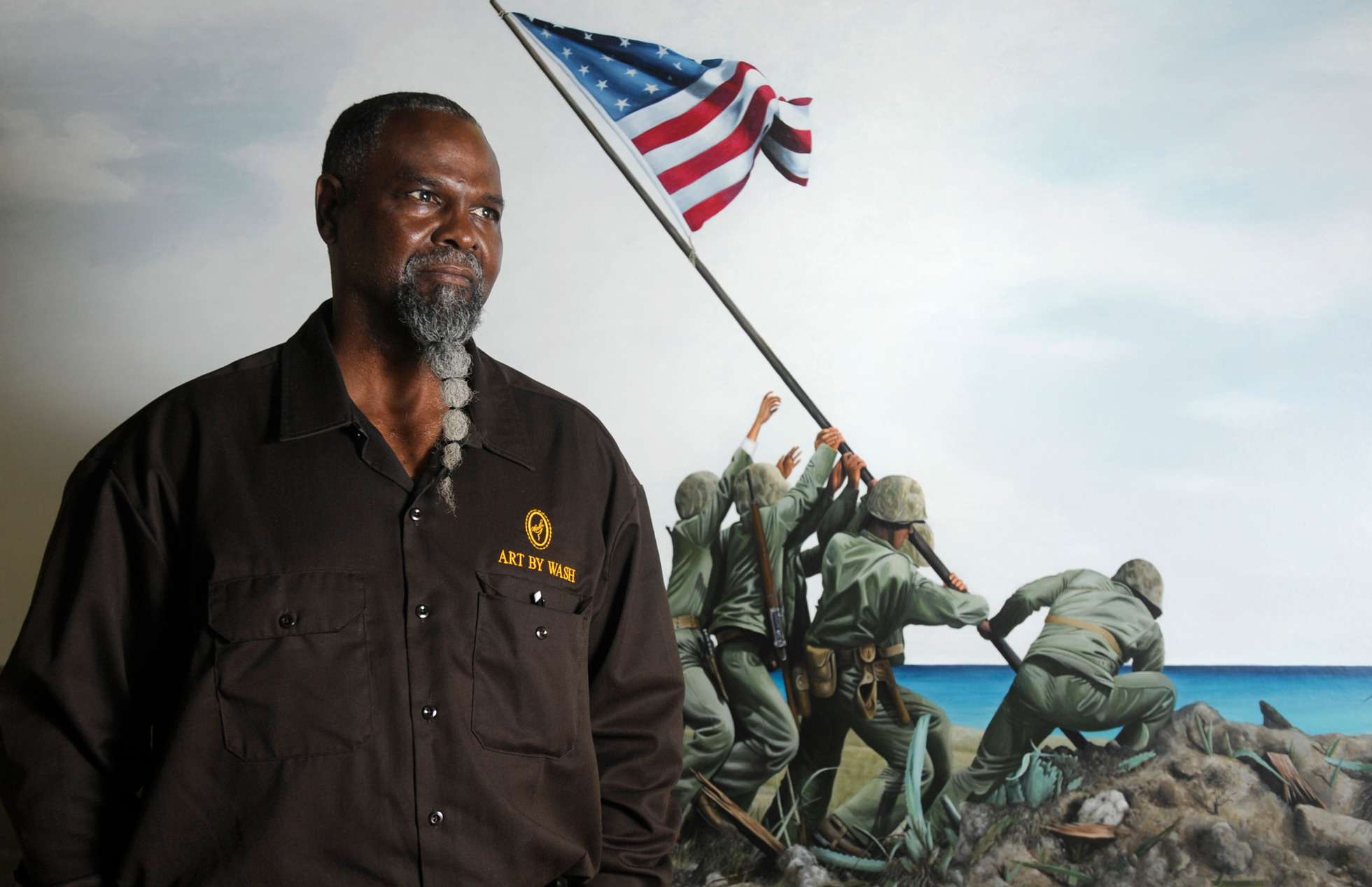 About a year ago, Fulton Leroy Washington was preparing to teach his weekly art class to fellow inmates at Lompoc prison when a guard called him to his office. He panicked. His first thought was that one of his eight children had died. "A whole bunch of people were standing in suits and avoiding looking at me," the 63-year-old recalled.
"Tell me what it is," he told them. "Don't give me the long story."
The short version was that President Barack Obama had commuted his life sentence.
Twenty-one years ago, Washington was pulled over by police while driving with illegal chemicals — according to court records, enough to make more than 100 grams of PCP, the hallucinogenic drug also known as angel dust. He maintained his innocence (as he does to this day) and decided to take the case to trial.
Washington described the details of what happened that day in Compton as "complicated." His version of the story is that he was doing construction work at an equestrian center when he borrowed a truck from a man who was wanted by the police for manufacturing drugs. Undercover cops were following the vehicle. Washington said he didn't know there were illegal substances in the back.
A jury ultimately found him guilty, and because of prior convictions for PCP possession, Washington was sentenced to life in prison. At the time of his sentencing, according to court transcripts posted online, the judge lamented, "… [T]hese aren't the type of defendants, in my opinion, that the mandatory minimums and all that are addressed to, but that, unfortunately I guess, is not for me to decide. … [T]he statutes are such and the guidelines are such that it is required that there be a life imprisonment imposed."
Washington spent 10 years in Missouri and Colorado federal prisons before he was transferred to the Lompoc facility in 2007. It was definitely not an upgrade. He thought the Colorado prison was like "Jetsons Space Age" compared to the musty old Lompoc prison, where the broken windows made it so cold, he said, "you would swear we were smoking cigarettes" when you exhaled.
Yet, even now, Washington says he does not wish he had accepted a plea deal, which would have meant a lighter punishment. "I'm not going to waste time with regret," he said. "My life has still been full."
Released to Life
Washington, or "Mr. Wash," as he's known, is a tall, stout man of color. He has a buzz cut and a long, graying goatee. He doesn't look like a man who spent a third of his life in federal prison.
He can be effortlessly poetic, like a wise, older man who plays a mean chess game but usually lets his grandchildren win. He's pensive and regularly allows himself to pause before speaking. The conversations we exchanged over seven months, he said, "allow my mind to go in a place it hasn't been in a long time."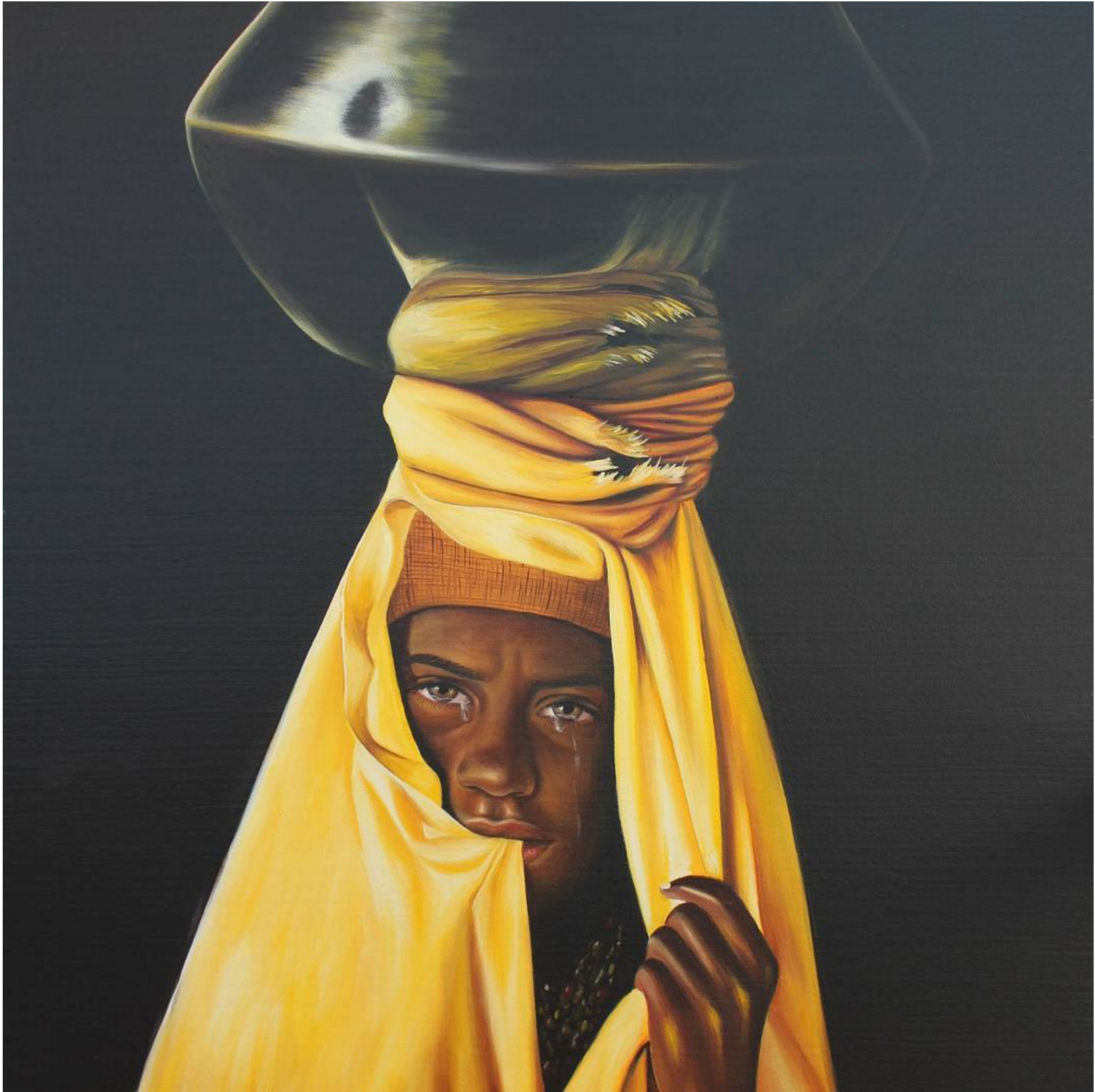 The first thing he did when he was released from prison was go to Albertsons in Lompoc. Walking through the aisles, he found the market overwhelming. "There were too many colors," he said. Cherries were all he wanted. They were "real juicy and real sweet," he thought as he spit the pits out. "I hadn't had a cherry in over 20-something years," he said. It was the beginning of "a new life" — "a different life."
Lost in Art
Washington may have been born an artist, but he did not realize it until he became a prisoner. He had occasionally sketched with colored pencils, but after a fellow inmate left behind his paints when he was released, Mr. Wash thought he would try to paint. He had never even held a brush before, but he became totally immersed, or, as fellow Lompoc prisoner Weldon Angelos put it, "lost in the art."
"I watched him paint a lot," Angelos said. Then a twenty-something white man from Salt Lake City, Angelos had a brief career in the music business working with Tupac Shakur and Snoop Dogg until he was sentenced to 55 years in prison. On several occasions, Angelos, who was accused of having a gun in his possession, had sold $1,000 worth of marijuana to a guy who turned out to be an undercover detective.
(Angelos's sentence has also now been commuted. Judge Paul Cassell, who sentenced Angelos and is now retired, similarly lamented that his hands were tied. In an open letter to President Barack Obama, he explained how the sentence was "unjust." The 55-year sentence, he wrote, is "far in excess of the sentence imposed for such serious crimes as aircraft hijacking, second-degree murder, espionage, kidnapping, aggravated assault, and rape.")
When it came to painting, Angelos said the prison guards were more "lax" with Washington. After all, he was known for being the best artist in the compound. "They respected him," he said. "He carried himself well and didn't try to be hard."
The War on Drugs
Obama commuted Washington's life sentence on May 5, 2016 — the same day he reduced the sentences of 57 other prisoners serving time for nonviolent drug offenses throughout the United States.
Obama sought to reverse the mass incarceration of low-level drug offenders in the 1980s and 1990s. In his eight years in office, he commuted the sentences of about 1,700 prisoners. Presidential candidate Donald Trump lambasted this fact on the campaign trail, sarcastically telling Americans to "sleep tight."
Now, President Trump appears poised to bring back the tough-on-crime attitudes of the 1980s. In May, Trump's attorney general, Jeff Sessions, issued a two-page memo revoking Obama-era policies that limited the lengths of prison sentences for nonviolent drug offenders.
Sessions's action, explained clemency attorney James Felman, takes us back to when drug dealers got life in prison for selling $20 worth of crack cocaine. Felman, who worked on Washington's case, is the cofounder of Clemency Project 2014, a collaborative organization of thousands of attorneys who reviewed 35,000 requests for clemency. In total, the lawyers represented nearly 900 of all prisoners whose sentences were commuted by President Obama. Sessions's orders, Felman said, "could be Clemency Project 2024 in the making."
Sessions has directed prosecutors to charge what are known as "mandatory minimums." This mandate, said Laurie Levenson, Loyola Marymount law professor and former federal prosecutor, can leave judges "unduly" forced to hand down harsh sentences. "I think Obama was on the right track, and frankly most prosecutors thought he was on the right track," she said. "At some level, we should trust our judges and prosecutors."
It's hard to say what impact Sessions's memo will have. But four — or eight — years is certainly enough time "to sweep up a lot of people," Levenson said. "When you talk about impact, I talk about individuals. I think if the public knew their stories, then they would rather have their money used in another manner."
'Everything Is About Perspective'
Washington grew up in Gardena, California, where his family moved from Louisiana when he was one year old. At 11 years old, he was living in Watts during the 1965 riots. The National Guard staging area, he recalled, was outside his front door. "I was afraid," he said. But his mother taught him to see the fear in the eyes of authorities, or in his words, the people you trust for protection. "Everything is about perspective," he said.
As a kid, Washington fixed broken toys that his mother brought home from her job at the Mattel toy factory. He gave away plastic boats and tractors to the other kids living in the projects. "As a child, I was just a builder," he said. By 17, he opened Leroy's Handyman. "I felt like I could fix anything," he said.
•••
I first heard Washington's story last fall, shortly after he had been released from prison. County supervisor Peter Adam and the county's Office of Arts & Culture planned to jointly host an event for him at the Lompoc Veterans' Memorial Building. Washington had donated several pieces to the vets' building. The first piece, "Home Soil," paid tribute to local soldiers who had died in the Iraq War.
Since I cover county government, an observer wrote to tell me about the reception to honor Washington's work. I immediately found the upcoming event odd. President Obama, after all, commuted his sentence. Why was Adam, a staunch Republican, hosting an event to celebrate the work of a president he opposed? The obvious answer: Mr. Wash's art is stunning.
I also came to learn that Washington's story and the raw emotion his art conveys defy politics. "I'm here to paint history," Washington said, "as it stands today."
The mother of one of the deceased soldiers featured in the painting showed up to the reception. She wanted to thank him and get her photo taken with him. But Washington was whisked away before she had a chance to do so. This moment continues to gnaw at him, and he is still trying to track her down.
His work has continued to gain attention, and he has a show titled Thinking Out Loud: Art Show and Fundraiser for Criminal Justice Reform in Los Angeles on Saturday-Sunday, July 29-30. He also occasionally teaches art classes. Later this summer, he will be teaching a class in Lompoc.
•••
Washington stopped by the Santa Barbara Independent offices last November just days after Donald Trump unexpectedly won the presidential election. He came to talk about art. But since Americans had just elected a man who pledged to obliterate everything Obama sought to accomplish, it seemed impossible to ask him about anything else.
"First off, I was shocked," Washington said. "I didn't expect Donald Trump to win. But I'm not surprised that he won, because I was facing a similar situation. Donald Trump was not a politician — that was not his calling. I was not an artist — that was not my calling. And in a turn of events, he became the president of the United States, the greatest established nation on the planet. And I became an artist and a free man who had been living in a cell without a door. I ended up with the same result he did — against all odds."
Trail of Tears
One day in the year 2001, Washington was painting when he heard country singer Tim McGraw's song "Grown Men Don't Cry" on the radio. The song is about McGraw feeling sad after he sees a poor single woman in the grocery store with a little boy wrapped around her legs. "At that moment I thought about my wife who had six of mine — I got eight all together — and that she was there with those children for those years I'm locked up. And there's no man to help her. And when I thought about what she was going through, I started to cry uncontrollably," he said.
"But I had to hide. Because I was in a room like this one and everyone was painting. So I had to put my easel up and get behind it and stay there and try not to make a sound … I couldn't stop. So I decided to paint what I felt."
He began drawing teardrops. Inside the oversized tears were scenes depicting sentimental moments. "I painted a picture of me and my wife in the visiting room. We were holding hands and talking, and she's telling me that she can't go on any further, that she needs to have her own life.
"And then I painted the next tear. I had a picture of [my youngest daughter] with her big cowboy hat on. She was 3 years old. She was waving bye-bye to another kid, but I took that and incorporated it into the picture as if she was waving bye-bye to daddy."
These pieces influenced the other inmates, Washington said, because "everyone felt the pain I was going through." He became somewhat of a father figure. "They'd come and tell me their problems, their situations, the things that really hurt them deep inside," he said. "And I would take that and transform them into paintings and paint them into the tears that showed them going to school, graduating, the depths of the family members that can't be there, the loss of the girlfriends who were in love with them."
"I called him uncle," said Theodore Ponchaveli, who met Washington in the Colorado prison at age 25. "At that point, I was bitter. At the same time, I had a lot of fear because [of] the facility they put me in. I had a lot of growing up to do." Washington became "that family member you went home to talk to about problems," he recalled.
Washington gave fellow prisoners more. He introduced many to painting. "I was actually too intimidated to pick up a brush," said Ponchaveli. "I saw how amazing he was. I pretty much studied his moves, his techniques." Ponchaveli, who was released from prison in 2010, now paints murals for the Dallas Mavericks NBA team, among other projects. "I [now] have my own art studio and sell art supplies and murals, but it all came from that initial encounter with Mr. Wash."
'It's Like Houdini'
Today Washington is best known for a series he painted during the 2008 presidential election called Political Tears. The work depicts politicians in their toughest moments — John McCain, Hillary Clinton, and particularly Barack Obama.
"I painted [Obama] over and over again," he explained. "I faced ridicule for years. Lompoc is mostly a Republican area. Here I am — a prisoner serving a life sentence — painting this guy, a black man. I heard all kinds of slurs. Every time I painted him, something happened to one of the pictures. It'd get destroyed." Asked if he thought the guards did it, he said he did not know.
Years ago, his supporters launched the website HelpUsHelpWash.Org to spread his story through art. In 2014, Washington created a large mural, "Emancipation Proclamation", which his supporters described as a "visual story of the ongoing presidential clemency process that we are hoping and praying will lead to the commutation of Mr. Wash's federal life without parole sentence." The painting features President Obama, Washington (in a jumpsuit and shackles), and several other U.S. officials and attorneys sitting around a large conference table in the Oval Office. (He eventually sent it to clemency attorney Felman, who is based in Florida, and the piece is hanging in his office.)
"I faced all the ridicule, but in the end I came home," he said. "So when it happened, I kind of laughed. It's like Houdini. We grow up in the era where Houdini was like the greatest magician with this impossible feat. Well, I believe in impossible feats."
"We don't know what the experience of life is going to be," he reflected. "It just is what it is." When he was transported back to Los Angeles for a short stay in a halfway house for released prisoners, he was shocked by how tall the trees had grown. "I remember when the city came in and planted these trees," he said.