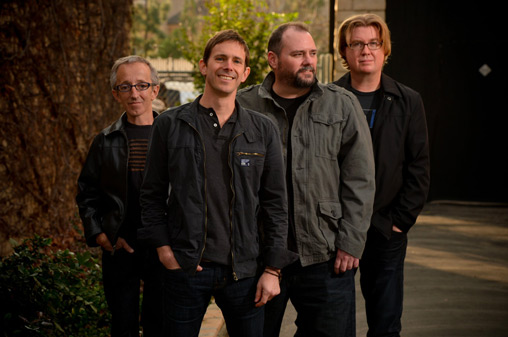 On Sunday, August 6, at the Libbey Bowl in Ojai, Santa Barbara hometown heroes Toad the Wet Sprocket will grace the stage with its signature blend of folk-rock and lyrical brilliance. In the early '90s, when most popular bands were singing about their anxieties to the coupling of whirring, dark guitar chords and heavy bass lines, Toad the Wet Sprocket offered lighter fare. The band's two landmark albums, Fear and Dulcinea, both went platinum and earned the group universal acclaim across the United States for its brand of instrumental precision and vocal optimism.
After officially breaking up in 1998, the band reunited in 2010 to rerecord old records and release a greatest-hits album. In 2013, the band created a Kickstarter, seeking to raise $50,000 to record and produce a new album. The band's support had not dwindled: It met that goal in less than 24 hours and went on to raise more than $200,000. Toad the Wet Sprocket's most recent album, New Constellation, reassured fans that its sound hadn't changed during the band's hiatus, as the group stuck to its guns, delivering 11 catchy songs. Speaking with the Independent in 2014, lead singer Glen Phillips said, "I feel like the place I'm in now is realizing that happiness is not about getting what I want … it's a practice." This change of perspective is discernible in tracks that are calmly reflective, offering less navel-gazing and instead encouraging decisive action to attain a more positive outlook.
When discussing the differences between the reunited Toad and the Toad of old, Phillips said, "We all have a lot more life under our belts, and we were able to choose to come back to this [band] rather than have fate make it occur … Now that we're here again, we decided to look at what we are, what do we actually sound like, what are our strengths, what do we want to say." Their Ojai show promises to be a mix of old favorites and new tracks.