Theater
'Newsies', a Fast-Paced, Enjoyable Show
PCPA Musical Praises Union Power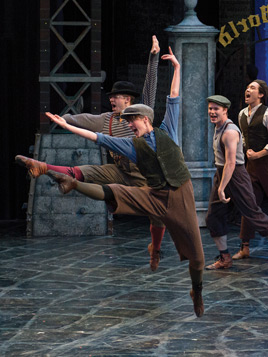 Presented by PCPA. At Solvang Festival Theater, Sun., July 30. Shows through Aug. 20.
Collective action by exploited urban workers may not sound like a promising topic for a musical, but leave it to Disney to turn labor organizing into family fun. Newsies, now getting an excellent production in Solvang thanks to PCPA, is that rare show that manages to combine something sort-of like history with fantasies so big and so full of heart that you'd have to be one cold robber baron–era media mogul to deny them. Tyler Lenhart is wonderful as Jack Kelly, the brash strike leader who dreams of a mythical Santa Fe, and, on the night I saw it, understudy Casey Canino was terrific as love interest Katherine Plumber, the daring daughter of Kelly's nemesis, publisher Joseph Pulitzer (Tim Fullerton).
The real star of Newsies is the ensemble. This energetic group of more than a dozen young men (and one well-disguised young woman) romps, stomps, and wails through the show's rousing numbers and acrobatic choreography. Raging around a beautiful and intricate set, they pull out all the stops, using every available inch of space for spectacular flips, leaps, and pirouettes. On the musical side, there are some lovely effects to Alan Menken's score, including a pair of sweet duets for the romantic leads and a very funny patter song for Katherine about, of all things, trying to write a newspaper article. With its message of worker solidarity and its cast of enthusiastic youth, the timing could hardly be better for this fast-paced and enjoyable show.