S.B. Questionnaire
The S.B. Questionnaire: Ashley Tidey
Talking Nurture, Education, and Mission with Laguna Blanca English Teacher Ashley Tidey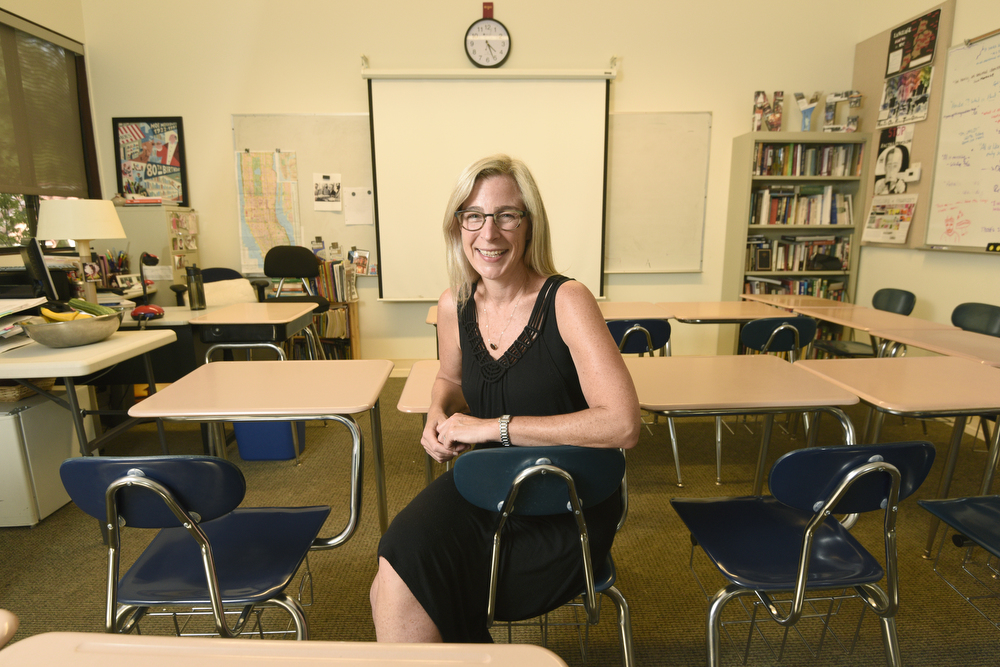 In celebration of going back to school this week, I'm honored to feature Ashley Tidey, PhD, a stirring teacher at Laguna Blanca. Don't take my word for it: Tidey was recently named a 2017 Rhodes Inspirational Educator by the Rhodes Trust. Laguna Blanca graduate Cameron Platt — a Princeton valedictorian and current Rhodes Scholar — nominated Tidey for the award. In her nomination letter, Platt wrote that "what best explains her magic is that Dr. Tidey teaches with immeasurable love — love for her craft, her material, and, above all, her students. When she first taught me in seventh grade, she lit the fire of my love for literature — and it still burns brightly! In the years since, Dr. Tidey has stood by me with extraordinary love and support, both in and out of the classroom."
Tidey's life has been full of incredible serendipity that ultimately shaped her teaching philosophy. Her grandfather Frank Tidey was unemployed with three sons when one day while getting gas he met Tom Hartmann, the head of the Hun School in Princeton, New Jersey. Hartmann asked Frank if he knew of anyone interested in going to the elite private school, as they were low in enrollment at the time. This fateful filling-station conversation question ultimately led to a full scholarship at Hun for Ashley's father, Clayton J. Tidey, one of three Tidey boys to attend what was at the time an all-boys school. Ashley's sister, Quincey Grieve, who is also an independent school teacher and administrator, was named Quincey Hartmann Tidey after Tom Hartmann.
"It was so random," Ashley says of the meeting that would lead to leadership positions at several growing private schools and to many generations of cherished and successful teachers. Eventually her dad became the head of The Urban School, the first coed private high school in San Francisco. The Urban School's mission was to plunge kids into the real-life opportunities available in San Francisco at the time — which just happened to be 1966. "The school was nestled in Haight-Ashbury, and it was wild," Tidey says. With no grades until senior year and a futuristic-for-then but now-normal block schedule, Haight-Ashbury's Urban School was at the cutting edge of American education. "I ingested that mission," Tidey recalls.
Later, when her parents went on to run the Sacramento Country Day School for 14 years, Tidey's mother, Francie, organized what Ashley describes as "crazy field trips to the [Oregon] Shakespeare Festival in [Ashland], and to the eccentric Victorian village of Ferndale in Humboldt County." Students at the school were learning actively outside the classroom, and that early experience has informed everything Dr. Tidey currently does at Laguna Blanca. "My work at Laguna has evolved from teaching English to leading experiential trips and to creating opportunities for service learning," she proudly affirms.
"We take the literature learned in the classroom about a particular city, and eventually we travel to that city," she explains about the trips she leads. The program, which is research based, involves lots of writing, a research paper, and an art project, all of which surround hot topics in current urban life. In recent years, Tidey has brought hundreds of students to New York, London, Paris, and New Orleans, and research topics have included everything from gentrification to the legacy of 9/11. They're weeklong trips that take place in late March, at the beginning of the school's spring recess. "It is a privilege, and it's a luxury," Dr. Tidey says, "but most importantly, it grabs 9th-grade English and makes it relevant." In order to deepen their study of the impact of gentrification on Manhattan's Chelsea neighborhood, Tidey's students met with documentarian Mark Levin and the young people featured in his film Class Divide, and then went to the Hudson Guild, a Chelsea community center where they interacted with young volunteers and discovered the way that they have worked together to serve their neighborhood with a focus on those in need. At New York University, the students consulted with the editors of Nonstop Metropolis, scholar and author Rebecca Solnit's fascinating New York atlas. "We went from close-reading assigned texts to experiencing a city," says Tidey.
Ashley went to Williams College, and that's where she met her husband, UCSB professor of religious studies Tom Carlson. Carlson knew he was going to be a professor, but all Ashley knew, she tells me, is that she "was determined not to be what my parents were." Her cum laude degree in English from Williams earned her a graduate teaching fellowship at Indiana University, where she became a star pupil of the great feminist scholar Susan Gubar. For six years, while Carlson was a grad student at the University of Chicago, Tom and Ashley lived apart, seeing each other only every other weekend.
As for eventually landing in Santa Barbara, Ashley remarks that, "I thought I'd come back to California when I was in my 50s." She actually came back in 1995 while still in her thirties, when Tom got hired at UCSB — the last hire made by the legendary Walter Capps. "At first, it was hard on me to be in Santa Barbara," Ashley admits. She taught as a lecturer in the Writing Program at UCSB, and then after her first daughter, Aura, was born she tutored privately, but none of this felt like a forward-moving career.
As with so many things in her life — at least according to Ashley — the Laguna Blanca job was also an accident. Her mother died when she was six months pregnant with her second child, Frances. Frances was just six months old when Tidey got a call from the head of school at Laguna Blanca. "Ashley, I've got to talk to you right now," she remembers him saying. "This was while I was nursing and trying to sell my mother's belongings," she recalls. Laguna Blanca needed somebody to teach 7th grade right away.
That was 14 years ago. "I fell in love with the work on day one," she states. "The life I had been resisting flooded in, and I've never looked back."
Dr. Tidey answers the Proust Questionnaire.
What do you consider your greatest achievement?
Two achievements, one named Aura, one named Frances. Between my job at Laguna and my husband's at UCSB, we work a lot, and so there is a running joke that the children have kind of raised themselves. But there is some evidence to the contrary in a recent conversation with the girls. The elder, who is applying to college this fall, looked across the table a month ago, and declared, quite out of the blue, eyes large with a revelation that she'd not had before or simply not verbalized, "Wait — isn't it weird — WE are your greatest achievements." There was no real question in her voice. It was just a revelatory observation, a fact. That was a nice moment.
Which talent would you most like to have?
I wish I could sing! We took a bunch of students to New York this past March and spent an afternoon at the Apollo Theater in Harlem. The kids did a mock Amateur Night, and a whole bunch of them eagerly got up and performed. [One of them, Santa Barbara Teen Star] Hunter Hawkins[,] was randomly placed as the fourth of six acts, and "Mr. Apollo" Billy Mitchell was speechless by the end of her otherworldly performance of Whitney Houston's "I Will Always Love You." I am always in awe of the musically talented young, but never more so than on that afternoon.
Who do you most admire?
My mom and dad, both deeply complex characters, progressive educators, drawn to hiring young, edgy Easterners, as they worked together for 14 years building up a quirky independent school in Sacramento called the Sacramento Country Day School. When they started there in 1969, he as the head of school and she as head of the upper school, the Sacramento Country Day had an enrollment of 100, but only a handful of those students were in the high school. My parents grew the place into a 400-plus student pre-K-12 school, and it is still the only pre-K-12 independent school in Sacramento.
My whole childhood and young adult life was spent witnessing this process. My sister and I joke that we were raised by wolves, taught virtually no normal life skills other than parallel parking, reading, writing, and, I guess, indirectly, the craft of teaching. It — the childhood and the school — was really all about the ability to try to be a big-hearted human being who can walk in the shoes of others.
What do you like most about your job?
I love hanging out with teenagers all day long, which may seem strange. They say the oddest, most hilarious, kindest, and sometimes most irreverent things — and all at the strangest, oddest times. It could be a nightmare! But it keeps one alive, always ready, always wondering: What's next?
What is your idea of perfect happiness?
Swimming in the Russian River in early August — sitting on the beach, late afternoon, with immediate and extended family, cousins, second cousins, green river, green redwoods, blue sky, big clouds, brown, rolling Sonoma County hills, blue herons, and the occasional sighting of a sea lion who might have taken a detour at the mouth of the Russian River at Jenner and found its way to our beach to surprise us.
What is your greatest fear?
The loss of family will always be the winner on that question. But most recently: swimming in the ocean with the sharks! Seriously scary!
What is your greatest extravagance?
The Santa Barbara Athletic Club. And the occasional massage.
What is your current state of mind?
A state of feeling extraordinarily fortunate and supported within a big, unpredictable world.
What is the quality you most like in people?
Humor, empathy, creativity, irreverence.
What is the quality you most dislike in people?
I think students could answer this for me. They would immediately note that I have what is admittedly a completely irrational and unfortunate noise sensitivity, which puts the end to the hope of their ever being allowed to chew gum around me. Even on school trips. That's the worst because one feels that one has a bit less control over such things in the middle of a city!
What do you most value in friends?
Humor, the ability to listen and ask questions, a shared view of the madness of the worlds we live in.
What is your most marked characteristic?
Perhaps patience.
Which words or phrases do you most overuse?
"Kids," "like," "OH MY GOD."
If you could change one thing about yourself, what would it be?
To be a little speedier in all things, especially writing, grading, and picking up my kids.
Where would you most like to live?
If not here, then New York or London, with side trips to Paris and Rome. I would love to do a teaching/sabbatical year in a progressive school in any cool city. I've grown to love smaller cities and small-ish towns — Williamstown, Bloomington, Durham — and yet there is some longing for at least a splash of big city life.
What is your most treasured possession?
Other than the fam and our chickens, my blankets. I have them everywhere.
What or who makes you laugh the most?
Hearing students do spot-on imitations of beloved teachers.
What is your motto?
"Baby steps."
Which historical figure do you most identify with?
That's a tough question! I guess I'm thinking now about historical figures I admire and want to know more about, and right now that person is Jane Jacobs, the author of The Death and Life of Great American Cities (1961). I rediscovered her through some students' urban studies research projects this spring on gentrification and New York. She's described as a "citizen soldier" — I love that — by Matt Tyrnauer, the Vanity Fair writer who just coproduced a documentary about her, Citizen Jane. She was unflappable, socially minded, just all-in in her thinking about others, the most vulnerable around her; an artist in the way she galvanized the inner soldier in others.
On what occasion do you lie?
On the occasion when there is no good reason to have another human being's feelings terribly hurt.