Theater
From Good to Great with the UCSB BFA Program in Theater
Uniquely in the UC System, UCSB Offers Bachelor of Fine Arts Degrees in Theater and Dance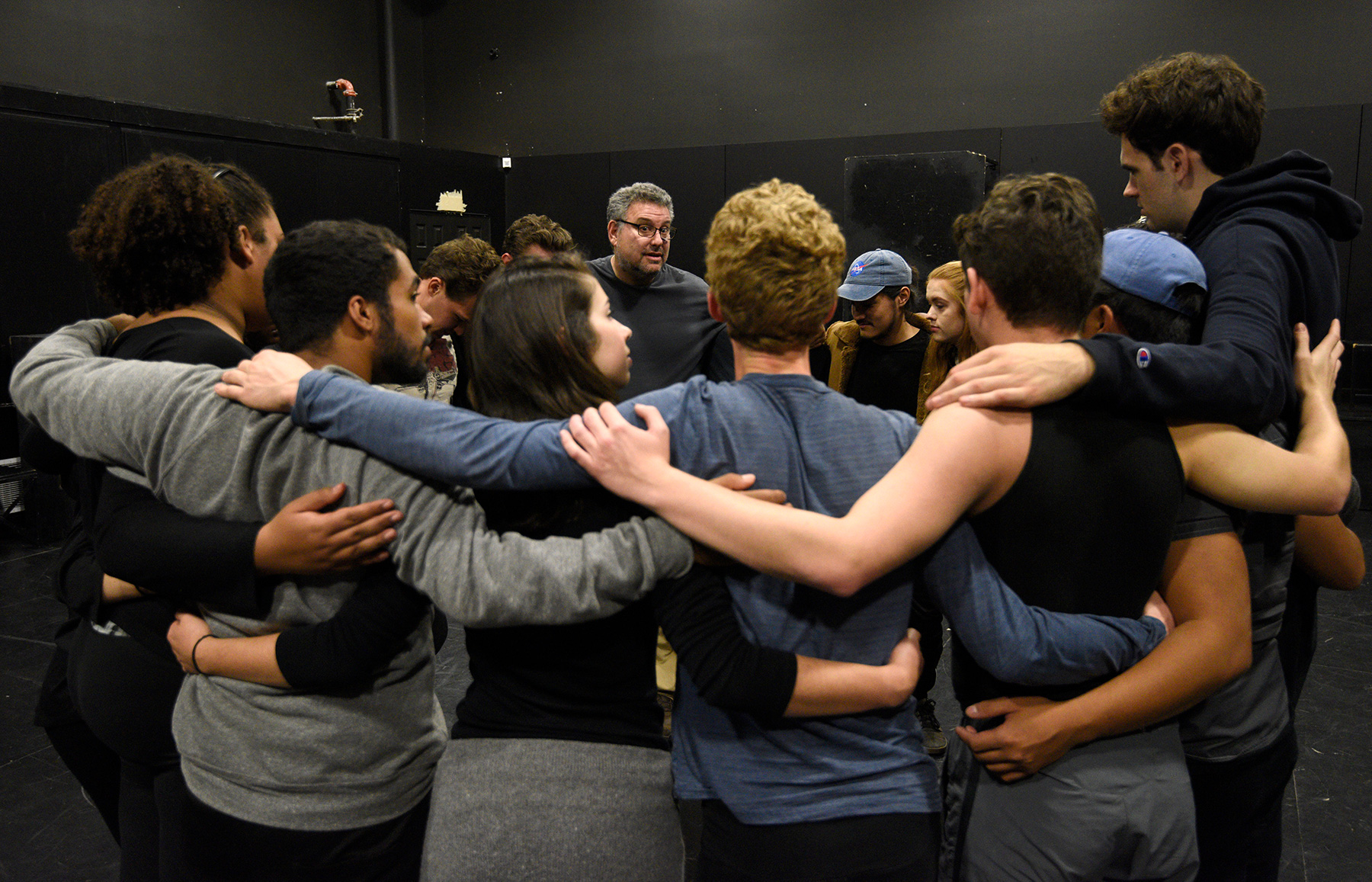 It's Monday night, and often that means one thing to people who work in theater ​— ​time for tech rehearsal. At 6:30 p.m., Irwin Appel, professor of theater and director of the Actor Training Program at UCSB, heads to the school's black-box Performing Arts Theater to direct Arthur Miller's A View from the Bridge. For Appel, a long day is about to get longer ​— ​tech rehearsals routinely run four hours or more ​— ​yet he takes time to stop and greet every student and staff member he sees along the way. When Appel spots something that particularly intrigues or delights him, he opens his eyes wide in a characteristic expression of intense interest. As it turns out, several of his students were only too happy to imitate this expression for me and to inform me that, most of the times that it strikes, the next word out of Appel's mouth is a hearty, deeply felt exclamation: "Good!"
Open-eyed praise turns out to be just one of the many useful tools for shaping young artists into great actors in this remarkable teacher's repertoire. On this final Monday of October, he's about to use it, along with a few dozen other moves, in a steady stream of serious work that won't stop until the last line is delivered, the last light cue is correctly timed, and the last sound cue is properly synced.
UCSB has the distinction of hosting the only Bachelor of Fine Arts (BFA) program in theater and dance offered by the University of California. Students in the Claire Trevor School of the Arts at UC Irvine can earn a BFA in musical theater, but elsewhere in the UC, it's all Bachelor of Arts (BA) degrees, each charged with a slightly different approach. Theater majors at Cal Berkeley combine their acting experience with critical theory and performance studies, while budding thespians at UCLA benefit from the resources of a School of Theater, Film and Television that offers a prestigious Master of Fine Arts. Young actors at the universities in Davis, Riverside, Santa Cruz, and San Diego all receive excellent training and encounter wonderful opportunities to perfect their craft, but if you want to earn a Bachelor of Fine Arts in acting, you have to come to Santa Barbara.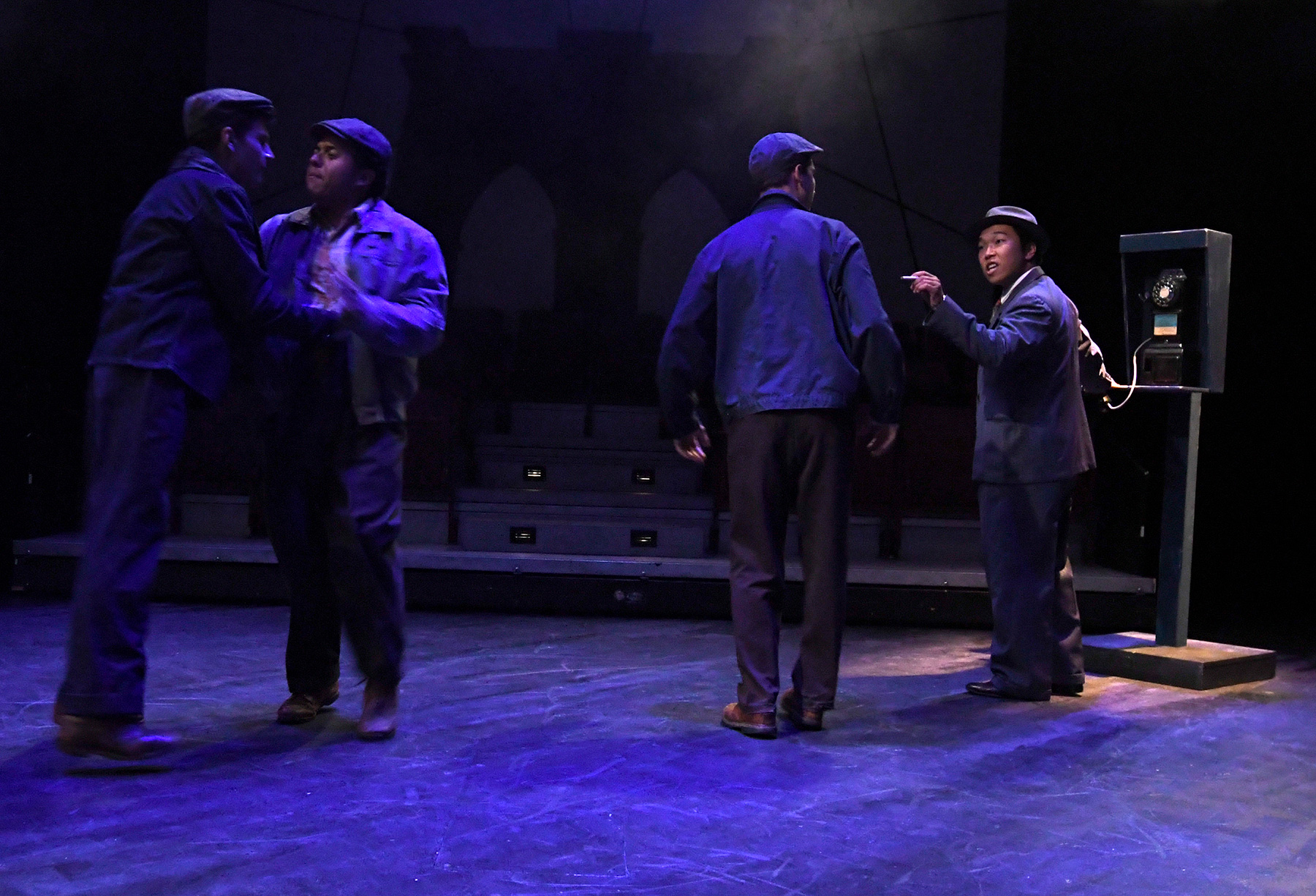 What difference does that one word, "Fine," in the title of the degree make? Generally speaking, universities and colleges in the United States and Canada agree that it comes down to the ratio of liberal arts to practice classes. On average, BA students enroll in a schedule that's two-thirds liberal arts classes and one-third courses in artistic practice. For BFA students, that ratio is reversed, but that's only the beginning. BFA programs follow the conservatory approach pioneered by such institutions as Juilliard in New York and Carnegie Mellon in Pittsburgh. Actor training in these conservatory programs tends to differ from what's offered in a BA-granting department not just in terms of time spent but also in content. Earning a BFA in performance requires a rare level of commitment to a process that unfolds at once rapidly ​— ​the days and weeks are packed with hard work ​— ​and slowly, as young actors are encouraged to mature and to hone their skills in a sequence of precisely formatted experiences that stretch over three full years.
For the last three weeks, I have been talking to faculty, students, and alumni of the UCSB BFA Actor Training Program in an attempt to discover what makes it special. Over the past decade and a half, I have been fortunate enough to see several dozen of their shows, and this has given me an invaluable background as I seek to understand the hows and whys of their specific approach. What follows is an attempt to sketch a few of the people, techniques, and ideas that animate this work, and to describe the extraordinary impact that the presence of a BFA program at UCSB has had not only on the university's students and faculty but also on the theater scene in Santa Barbara and beyond. Although I have tried to include as much of what's happening in the program as I can, the view I present is necessarily incomplete, as the program is a living process encompassing dozens, if not hundreds, of people.
The Slow Turn Is the Idea
Lurking backstage during tech rehearsal, I strike up a conversation with Byron Torres, a junior from Long Beach who is dressed as a Brooklyn dockworker for his role in A View from the Bridge. After speaking with him for a few minutes, I am stunned to realize that he's the actor I saw play the father in last season's production of Lydia by Octavio Solis. Torres, who is barely out of his teens, was so convincing that when I saw the show I was certain he was in his forties even though I was seated only steps away from him for most of the night. Lydia tells the story of a Mexican-American family turned inside out by traumatic events in 1970s El Paso. For Torres, this was his first big role in the BFA program, and it resonated deeply. "Working on my role in Lydia was amazing for me," he says. "I'm from a Latino family, and I recognized a lot of the things that we had in common with the family in the play. There are always things that you just don't talk about. It's like you feel you have to hide as much as you can about whatever hurts you." Pressed to explain how he achieved such a believable physical characterization of a man twice his age, Torres praised the support of movement professor Daniel Stein, saying, "To play that character I had to learn to walk again; I had to show that he had the whole world on his shoulders. Professor Stein really helped me. I needed to learn to have these heavy legs. [The father] was tired of not knowing what happened to his child and of not knowing the truth about the accident. With his anger he was sending a message to his other kids, saying to them, 'Don't be like me,' in the only language he could."
Torres has a small role in A View from the Bridge ​— ​"just a friend named Mike," as he explains it ​— ​but it allows him to be part of something that clearly excites him deeply. He and Jason Bowe, the actor playing Eddie Carbone, the volatile lead of the show, are roommates, and friends, from Long Beach City College. They transferred together after successfully auditioning for the UCSB BFA program in spring 2016. This brings out one important feature of the program that might not otherwise be apparent: Its students are a remarkably diverse group drawn not just from the UCSB undergraduate population but from state university and community college theater programs from all over California. Bowe is a Navy veteran, and his performance as Eddie radiates a sense of credibility that might not be available to someone with less life experience. Like Bowe, Diane Fidalgo, who plays Eddie's wife, Beatrice, has a family and a child, something that informs her wonderfully nuanced portrayal of a woman whose husband can't let go of their surrogate daughter.
Seated inside the theater during the rehearsal, I watch as Appel takes Bowe and Steven Armstrong, who plays the lawyer Alfieri, through one of the drama's most crucial scenes. Armstrong is tall and lanky, and although I've seen him playing comedy in the past, he's all business tonight as he warns Eddie not to take an irrevocable step. The stage is mostly bare, and in one corner stands an old-fashioned pay phone, the kind that sits in a metal case at the top of a pole rather than inside a booth. It's an important prop, and to use it, Eddie must turn away from Alfieri and fetch it from where it waits for him, moving it a few feet to the playing space before dropping his dime.
"We need to see him have the idea," Appel says to Bowe. "It's a slow turn; it's like the turn is the idea." And suddenly, amid what seem like innumerable adjustments to the lights, the sound, and even the costume he's wearing, Bowe digs deep and comes up with the slow turn that Appel has asked for. Sitting in the darkness just a few feet from the actors, I watch as Eddie's face fills with the demented determination that will destroy him. I've already seen what I came for, and what the playwright was after ​— ​the tragedy of a man who cannot help himself ​— ​and it's not even opening night.
Doing the Bird
Armstrong and Bowe have worked together before, not only at UCSB but also in a remarkable production of Aaron Posner's comedy Stupid Fucking Bird that was produced by the Santa Barbara–based Elements Theatre Collective and directed by another key UCSB BFA–program faculty member, Risa Brainin. Tadja Enos, who plays Catherine, the female lead in A View from the Bridge, was also in that show, as was UCSB professor of acting Annie Torsiglieri. Given the unrelenting pace of the program and the frequent demands of outside work elsewhere in the country, it would seem to come as a surprise that faculty members Brainin and Torsiglieri would commit to a free local show during what would otherwise be their summer vacation, but therein lies another of the secrets to this program's success.
Each of the faculty members brings something unique to the table, and those who have been there for some time tend to develop side programs that enrich the experience not only for the BFA students but for the university as a whole. Speech and voice teacher Michael Morgan runs The Odyssey Project, a performance outreach program that challenges incarcerated youth to take control of their lives through telling their stories onstage in collaboration with UCSB students. Appel directs Naked Shakes, a bare-bones approach to playing Shakespeare that emphasizes the connection between the actor and the text and that invites students from outside the BFA program to share in the experience of acting in a Shakespeare play. And Brainin has created Launch Pad, an ambitious program that acts as a laboratory for developing new plays by professional playwrights.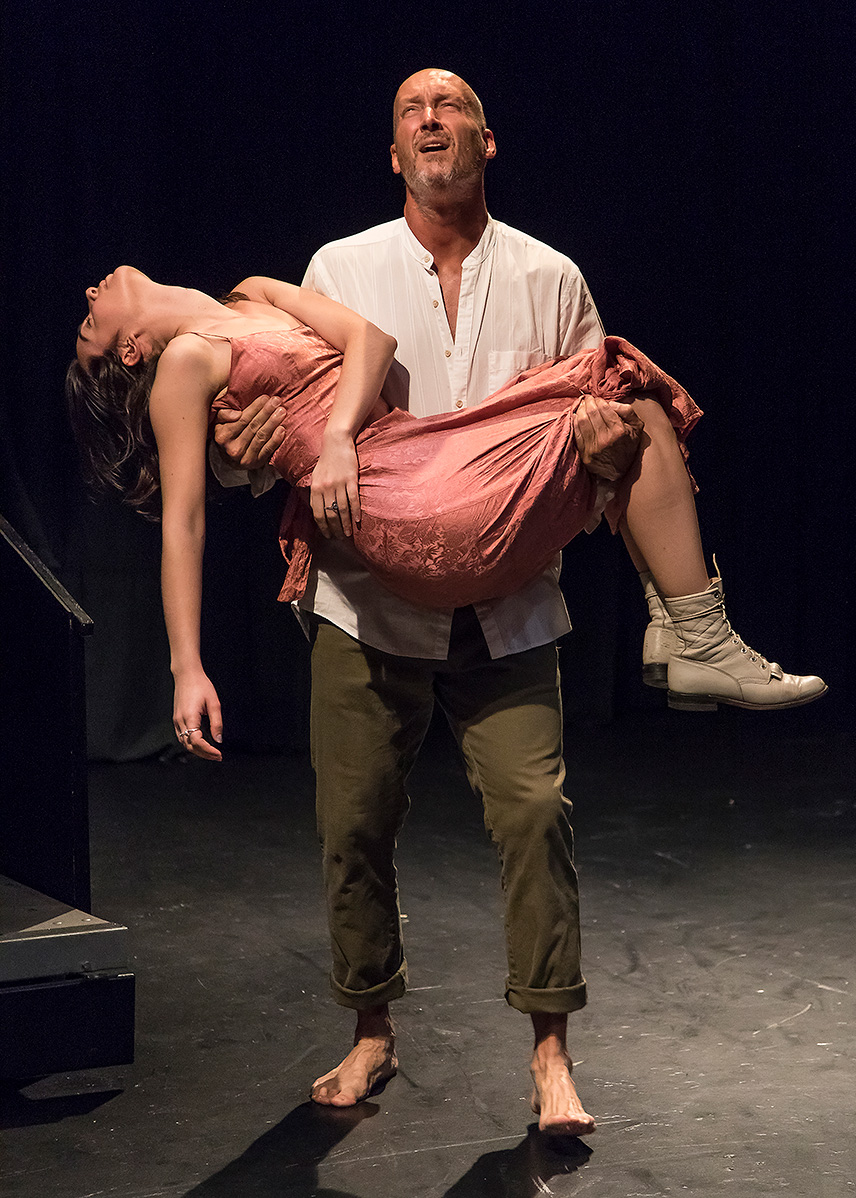 It was for a Launch Pad production of Sheri Wilner's Kingdom City back in 2010 that Brainin first thought to cast a faculty member — Torsiglieri — alongside students in a show. This practice has since become a steady feature of multiple UCSB productions and has led to the use of other professional actors from outside the program as well. For instance, right now Brian Harwell, a multiple Indy Theater Award winner, is starring as King Lear with two separate casts of students in the latest installment of Appel's Naked Shakes series. "We started the process of mixing faculty and other professional actors in with the students in Launch Pad," Brainin told me. "It's challenging to act with students. You have to demonstrate the work ethic that you expect from them, and that can be hard, but it's one of the best ways for us to communicate what we are looking for."
When I saw Stupid Fucking Bird in July, I was impressed by the chemistry between Enos and Harwell and between Armstrong and Torsiglieri. The play, which is based on Anton Chekhov's The Seagull, depicts intergenerational desires and conflicts in a way that demands a lot from the actors. The result has been a whole new level of nuance and energy not only in that show but in subsequent productions, including King Lear, where Enos plays Harwell's ungrateful daughter Goneril, and A View from the Bridge, where the unsettling relationship between Enos as Catherine and Bowe (who was Dev in Bird) as Eddie is the fuse that lights the bomb that blows the whole thing sky-high.
These long rhythms that carry actors from show to show allow for incremental improvements in communication and collaboration that can add up to extraordinary achievement. The practice of blending students with faculty members and professionals is something that John Blondell has been doing for years with his Westmont actors and the Lit Moon Theatre company, but now that UCSB is in on it, Santa Barbara's theater scene has gotten exponentially more interesting. It's as though our city now has a loosely organized repertory company, a sphere of influence the center of which is everywhere and the circumference nowhere. Harwell pops up all over, from Santa Barbara City College to Westmont and even on the New Vic stage, where Ensemble Theatre Company holds sway. Until he left a year ago to take a faculty position at DePaul, Jeff Mills was equally likely to appear as Macbeth with his students at UCSB or as a deliciously perverse Carlotta in Lit Moon's unforgettable production of Chekhov's The Cherry Orchard.
As a result of Launch Pad, the reach of the UCSB program now extends beyond the careers of its alumni to include the fortunes of the works that were created here. Kingdom City received rave reviews when it opened at the La Jolla Playhouse in 2014. Brainin directed James Still's Appoggiatura, another Launch Pad project, when it premiered at the Denver Center for the Performing Arts in 2015. And "A" Train, Torsiglieri's autobiographical, one-woman show about being a parent to an autistic boy, which Brainin directed, was the top-selling show of the United Solo theater festival in New York this fall. In fact, so many people wanted to take in the "A" Train that it's still running, with Torsiglieri headed back to NYC for another performance on November 18.
Something Will Come of Nothing
What does this particular conservatory approach look like in practice? Fortunately, that's quite obvious in virtually every UCSB BFA production. Take A View from the Bridge. It starts with an empty space; the actors only bring on props as they need them. First, it's the pay phone; later, it's Eddie's easy chair, which ends up going for quite a ride before the night is through. Appel explains that this is because "a prop only means something when it is endowed with meaning by an actor." The actor takes a seemingly simple element and gives value to it. A piece of paper by itself is meaningless, but a love letter, a will, a deed, a secret message? That's a different story. Appel continues, referring back, as he often does, to Shakespeare, and says, "There's a line in act one of Lear that says, 'Nothing will come of nothing,' and in context it makes sense; but we are more like Richard II because what we are saying with this approach is that 'something will come of nothing.'" Like Wallace Stevens in his short poem "The Snow Man," these artists are attuned to the presence of the "nothing that is not there and the nothing that is."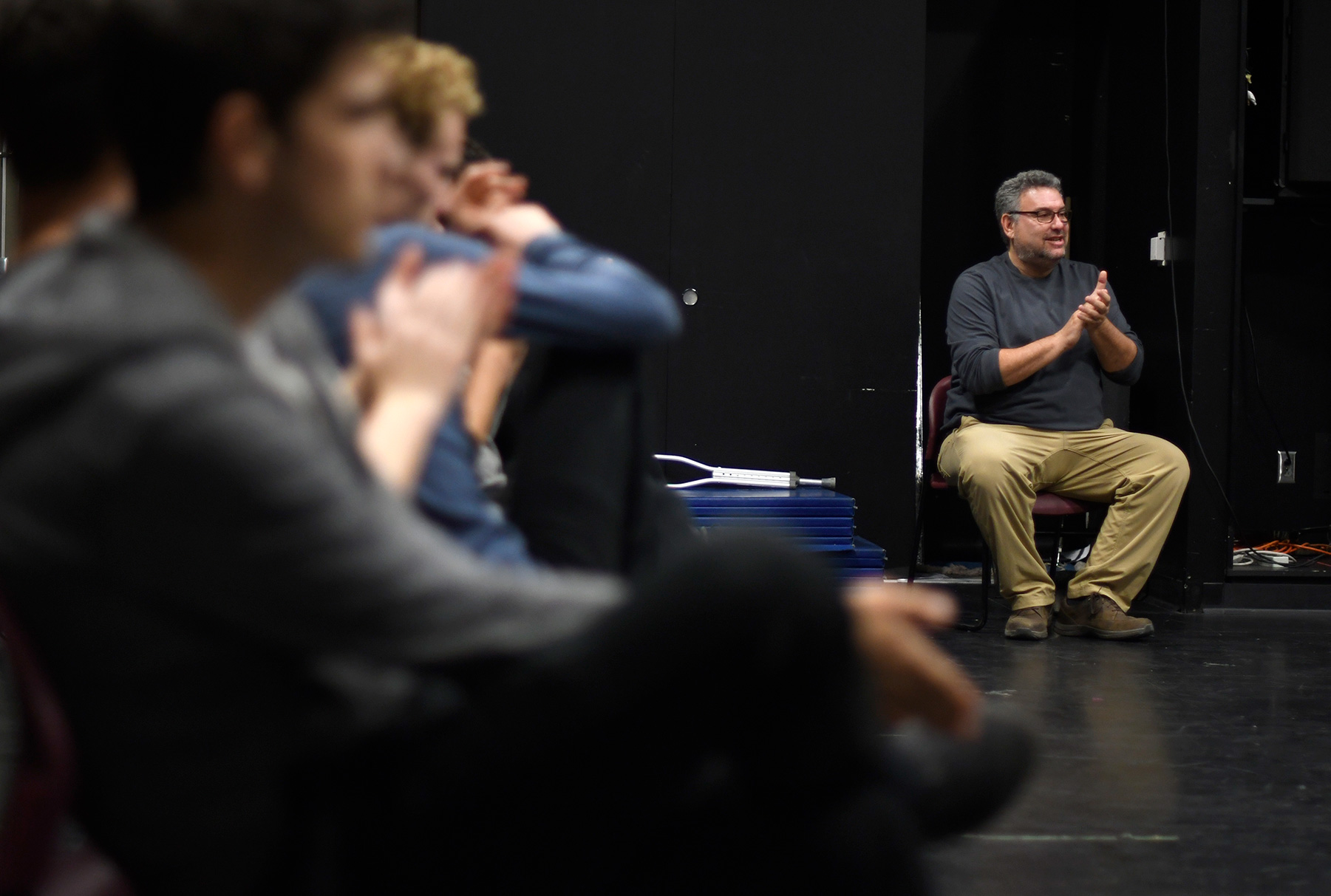 The notion of theater training that UCSB's teachers are working with is designed, according to Appel, "to enable our students to use body, intellect, and imagination to the fullest extent." It's very simple ​— ​the actor and the word ​— ​yet there is tremendous freedom in that simplicity. Once you believe in this method, all things become possible. Appel describes a theatrical world in which "characters no longer have to walk through a door to enter a scene. The actors' movements can take you through a scene the way a film editor's cuts can take you through a montage."
In part this reflects the close proximity of an equally robust BFA program in dance, also a unique offering within the University of California. From the efforts of colleagues such as Christina McCarthy, Christopher Pilafian, Brandon Whited, and Ninotchka Bennahum, and from their students, the program absorbs a deep feeling for the expressive potential of the body in negative space. Then there's the impact of a longstanding commitment to teaching movement that extends back through the work of faculty emeritus James Donlon, his student Mills, and the program's most recent hire in this area, world-renowned teacher and performer Stein. Most recently a member of the faculty in Brown University's prestigious MFA program, Stein has taught his highly developed and deeply personal curriculum all over the world. As a student of the French mime Étienne Decroux, Stein learned the technique of "corporeal mime," an approach that moves the drama inside the body rather than externalizing gestures as a substitute for speech. For three full years, his students follow a carefully prescribed set of exercises that teach them articulation, partnering, and devising, which is Stein's term for creating original work. His solo work Timepiece has been performed in 30 countries and is considered to be one of the most influential works of physical theater of the 20th century.
How It Works
On Friday of tech week, I attend the first performance of A View from the Bridge that's open to the public. It doesn't technically open for reviewers until Monday, but I'm eager to see what will happen when the whole thing comes together. The actors are uniformly superb. Tadja Enos, Steven Armstrong, Jason Bowe, and Diane Fidalgo are all great, as are Tyler Reinhold as the Italian immigrant Marco and Kody Siemensma as his kinsman Rodolpho. The ensemble works together to create a believable Brooklyn neighborhood, and by the end of act two the audience is caught up in one of the most harrowing final showdowns I have witnessed in the theater. What makes it all work seems at times to be intangible, a certain something that's hard to put your finger on, but it's there nevertheless, that something that comes from nothing. Irwin Appel has an idea about what that is: "UCSB has really taught me what it means to have an artistic home. You can do so much, and your ambition rises in a place where you feel you belong. You can go after this thing that you are trying to reach, and even though you may never feel like you get there, you know which direction is right, and you keep going. This is what a research university is supposed to be about, and it's why we are even more than just a conservatory within a liberal arts institution."