Briefs
'Unhealthy' Air-Quality Warnings Remain in Effect
Thomas Fire Fashion Statement: The Face Mask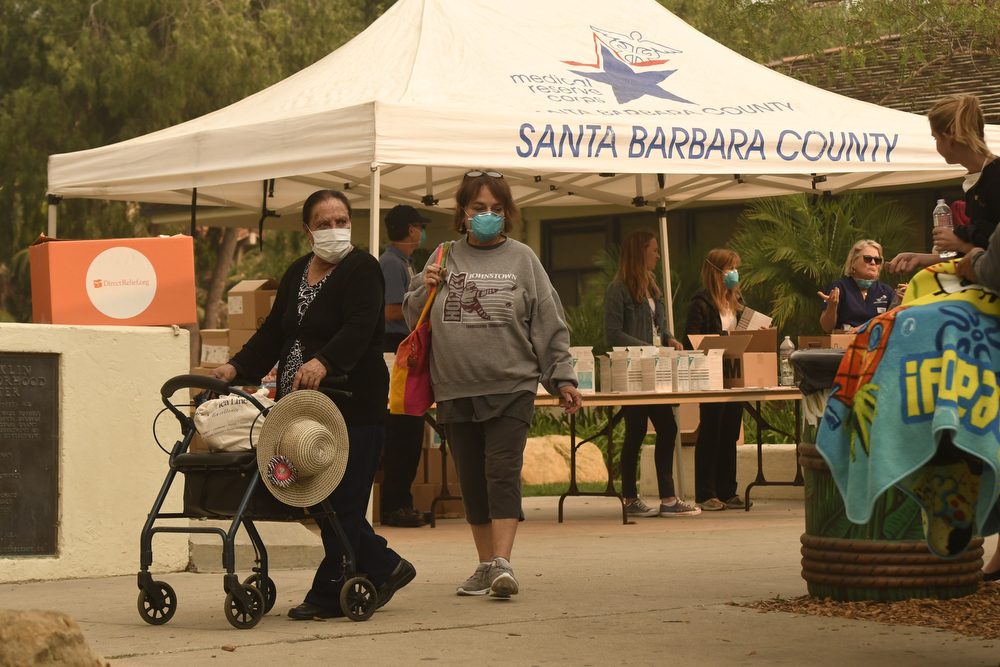 In response to all the soot, smoke, and ash belched forth by the Thomas Fire, a new fashion accessory has sprung up throughout Santa Barbara: the face mask.
The county's Air Pollution Control District announced Friday air quality remains "unhealthy" in the City of Santa Barbara. That condition is reduced from "hazardous" on Thursday. More air-quality information can be found here.
The masks have become nearly ubiquitous, courtesy of Direct Relief and the Santa Barbara County Health Department. They can be seen adorning the faces of pedestrians from all walks of life all over town and many motorists as well.
On Thursday, roughly 25,000 were distributed free of charge, the primary target being those already with respiratory issues. By Friday, with the fire exploding rich backcountry fuel deposits that haven't burned since 1932, the target had broadened to everybody. Friday morning, teams of Direct Relief volunteers — all wearing masks — assembled on the East Montecito Street sidewalk across from the Pennywise Market and spitting distance from the Franklin Center, hailing passing motorists to give away the free aquamarine masks.
Moms with kids stopped by; dudes on beater bikes wearing ball caps — bills backward — did too. About 20 yards away, volunteers with the Santa Barbara County Medical Reserve Corps passed out the same product under a pop-up tent in front of the Franklin Center. There, the walk-up trade was brisk, though hardly overwhelming. Although press releases announcing the free distribution program strictly warned against asking for more than two, volunteers were giving away as many masks as people wanted or needed. "How many do you need?" they asked.
Although the mask designs vary — some fitting more intrusively on one's face than others — the N95s screen out 95 percent of particulate matter let loose by the fire. Aside from the Franklin Center distribution point, masks are being given away at Costco in the Camino Real Shopping Center and the Casitas Pass Albertsons in Carpinteria. The goal for Friday is to pass out another 25,000 masks.