Society Matters
AIASB Holds Design Awards Gala
Event Honors Achievements of Area Architects and Architecture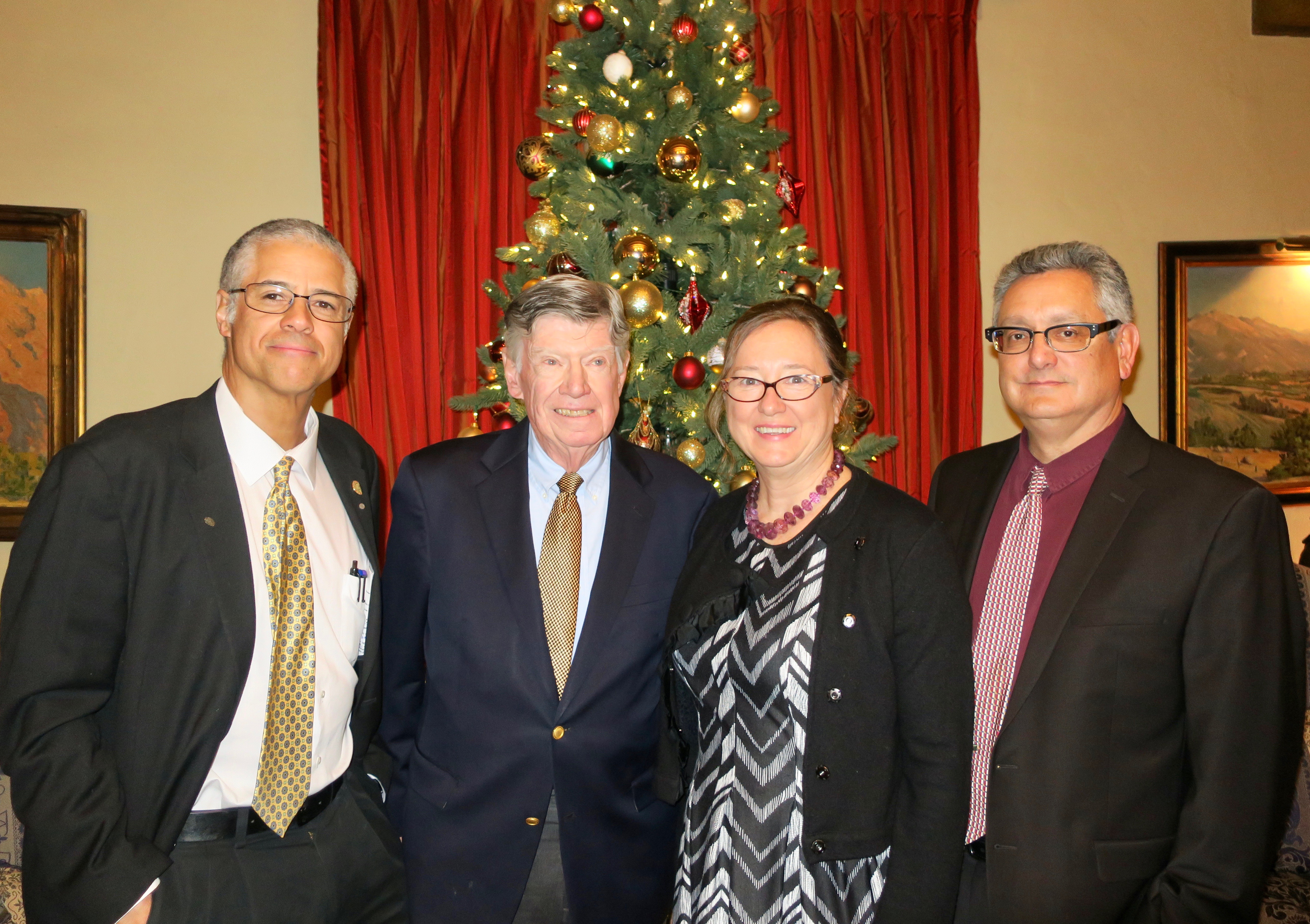 On December 9, The American Institute of Architects Santa Barbara (AIASB) held its Design Awards Gala at the University Club to honor the achievements of area architects and architecture. A sold-out crowd of 120 guests mingled throughout the elegant University Club rooms, all exquisitely decorated for the holidays. After the reception hour, guests were seated for dinner in the dining room, where outgoing President Dan Johnston welcomed them and presented Executive Director Tara Rizzi, in recognition of her valuable service to the organization, with an honorary membership in AIASB.
The Lutah Maria Riggs Presidents Award was presented to Brian Cearnal for his work, community service, and civic engagement, which have had a lasting influence for the betterment of Santa Barbara's built environment. Cearnal is the founding partner of The Cearnal Collective and has been a part of the Santa Barbara architectural community since 1980. His work includes the Orfalea Children's Center, Braille Institute, Canary Hotel, and Alma del Pueblo. Cearnal is a past Chair of the Architectural Board of Review, past President of AIASB, and past President of the Chamber of Commerce of the Santa Barbara Region. In accepting the award, Cearnal shared how the joy of architecture for him is all about the collaboration — the coming together of a piece of ground, the client, the program, and the many people who help along the way, and he went on to thank many of his colleagues, friends, and family.
Johnston introduced the 2018 board, then incoming President Keith Rivera graciously accepted his new title and explained how the Design Awards honor the very best work of AIASB's membership. Sixty projects were entered in seven categories. A three-judge panel, renowned architects John Burgee (Santa Barbara), Marlon Blackwell (Fayetteville, AK), and Thomas Fowler (San Luis Obispo), evaluated each entry for its inspiration, creative problem solving, environmental sensitivity, and social response.
Merit Awards went to DMHA Architecture for 1100 Santa Barbara Street (Santa Barbara Architectural Heritage), Ferguson Ettinger for the Teahouse (Residential), and Thomas Bollay Architects for Casa del Arroz (Santa Barbara Architectural Heritage). Honorable Mention Awards went to Blackbird Architects for Live Oak Bathhouse (Commercial, Mixed Use & Multifamily), and to AB Design Studio Inc. for the MOXI Wolf Museum (Commercial, Mixed Use & Multifamily). Awards were not presented in some categories.
Johnston highlighted some of AIASB's work over the past year, starting with the creation of the theme "water as a resource," which permeated its programs. It held numerous education programs through its Continuing Education System and Lunch and Learn Program. It also held Hard Hat Tours and the always popular ArchitecTours. In addition, AIASB instituted an oral history video series, which documents the work of elderly members. It transformed its Kids Draw Architecture program, which features two days of sketching with kids, into a joint program with the Architectural Foundation of Santa Barbara.
Johnston related how AIASB had an active year of advocacy work, which included consulting with the city on a new zoning ordinance, assisting with the writing of a new Accessory Dwelling Unit ordinance, and organizing a design charrette with about 45 architects to revitalize State Street, and then making a presentation to the City Council on the charrette's outcome.
Founded in 1929, AIASB has 190 architect members and 70 members in related professions, mostly in the south county. Its core functions are: continuing professional education for its membership; advocacy for local and state issues that impact the profession and built environment; and promotion of awareness of architecture for the wellbeing and delight of the community. Its other major event of the year is ArchitecTours, a self-guided tour of outstanding architectural projects, held the first Saturday in October.
For more info about AIASB and the Design Awards, go to aiasb.com. For pics of the winning projects, click here.
If viewing this from a mobile device, click on "Desktop site" for more pics.
Send event invites to Gail at society@independent.com.