Drink
Handlebar Coffee Expands but Stays Friendly
Aaron Olson and Kim Anderson Now Offer Food, More Beverages, and Entertainment on De la Vina Street
There was a time, before lines spilled out the door every day, when Handlebar Coffee Roasters felt like a hidden gem. Upon opening in 2012, the small hole-in-the wall on East Canon Perdido Street across from the Presidio was a place I held dear not only for its gourmet coffee and beautiful location, but mostly for the personalized service ​— ​those barista smiles and kind questions about my day that went along with my latte.
Owners Aaron Olson and Kim Anderson's genuine warmth put a spring in my step that can't be attributed to espresso alone. Thankfully, while they have expanded to an impressive new midtown location on De la Vina Street, authentically friendly service is something they haven't outgrown.
"Coffee is what might bring people in," explained Olson. "But helping those same people enjoy their day from great customer experience, great atmosphere, and offering a smile and friendship is what builds community."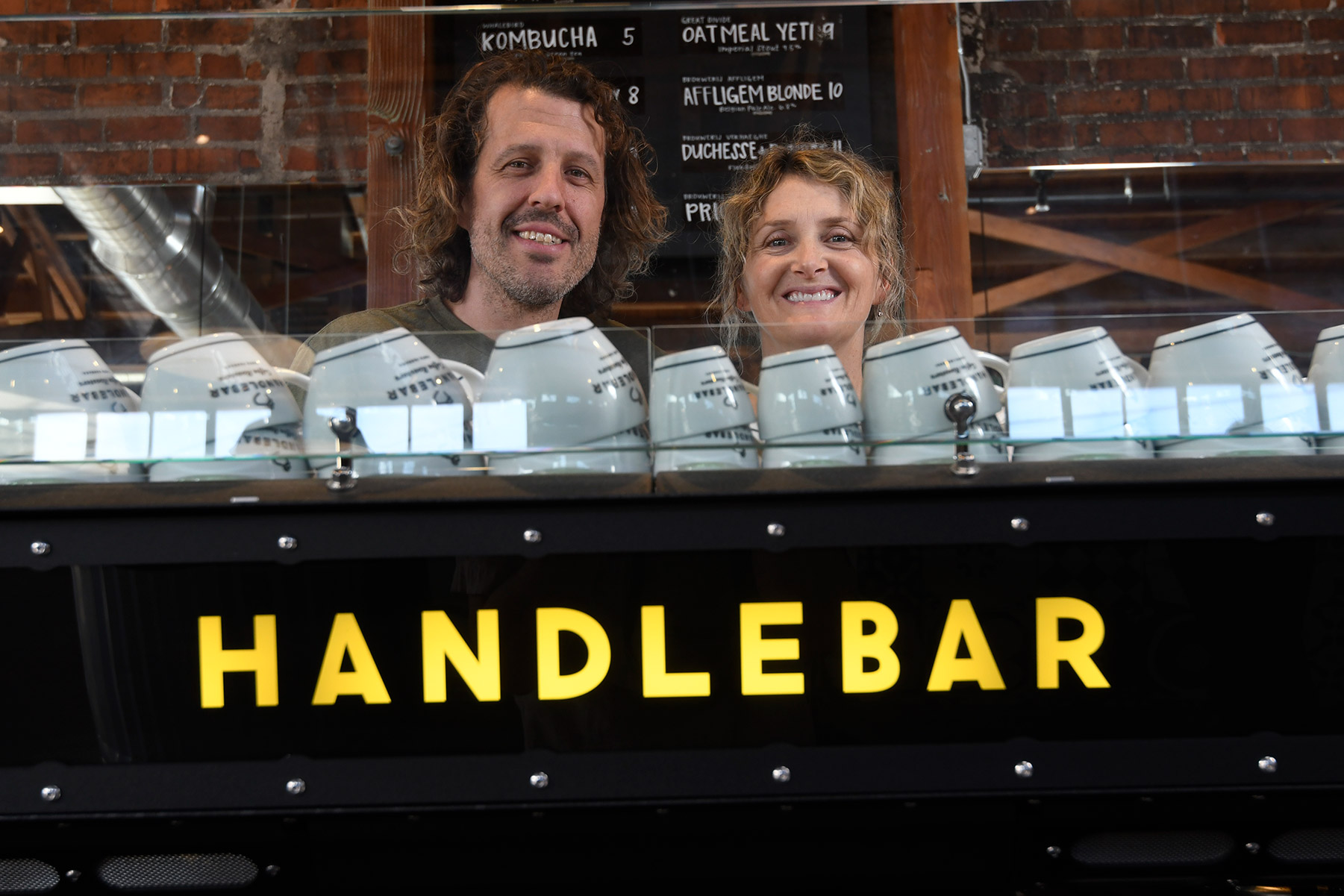 The new, larger location was the original Safeway grocery store in Santa Barbara. Built in the 1930s, the space has a modern, urban feel with high ceilings, plenty of natural light, exposed brick, and a bow-truss ceiling. "We let the age, character, and craftsmanship of the building speak for itself," Olson said.
There's also enough room to house their newly restored 1961 German-built Probat roaster and a full kitchen, where they bake about 50 percent of their pastries and offer breakfast, lunch, and small bites, such as their standout avocado toast. Not all avocado toast is created equal, and Handlebar puts its signature, high-quality spin on this masterpiece, jazzed up with tahini, pomegranate seeds, sprouts, watermelon radishes, and tomato. Add a soft-boiled egg to take it to the next level.
They also feature pop-up events such as a ramen night and Taco Tuesday, as well as live music. On a recent evening, they offered two varieties of fresh Roman-style pizza baked in-house by their head chef, Sandra Adu Zelli, whose husband is Italian. "She has a ton of skills, and, along with the team, she is baking the pastries, developing the breakfast/lunch menu, and always striving for more," Olson said.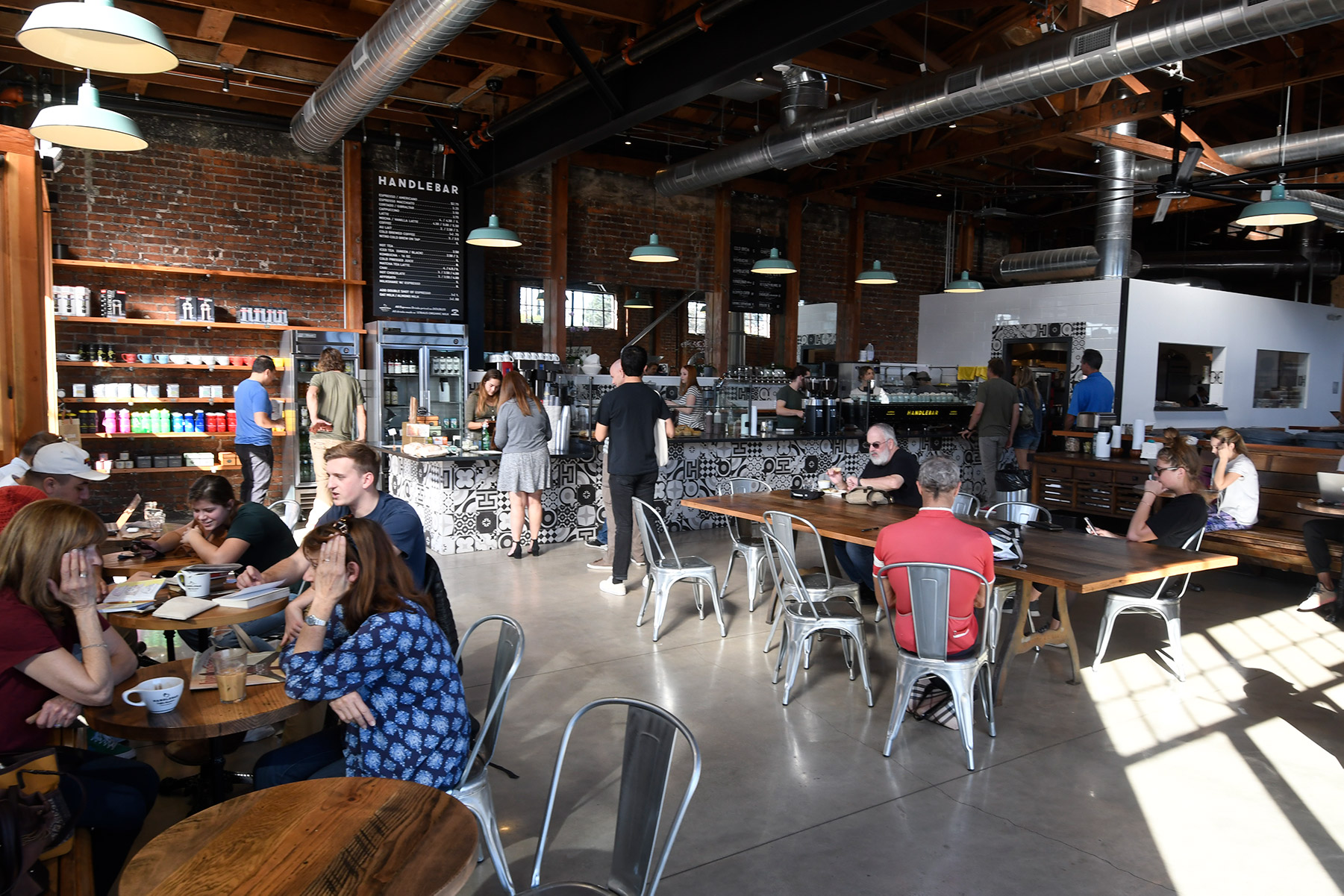 The pizza paired perfectly with their delicious Hocus Pocus syrah, but could be enjoyed with any of their eight beers on tap, cider, and seven notable wines. "Our friend Rajat Parr, who is a world-renowned sommelier, curated the wine and cider we carry, and we couldn't be happier with the outstanding local, small producers he turned us on to that excel at their craft," Olson said.
The café always oozed bicycle culture, as both owners were previously professional cyclists, primarily racing in Europe. But with the expanded beverage options and later hours, there's an even more European vibe now. [Due to the lingering effects of the Thomas Fire, Handlebar will be maintaining its traditional downtown schedule in the new location, 7 a.m.-5 p.m., though still with occasional evening events.]
The owners have no plans to open another location, with the focus being to simply improve on what they already do so well. "Quality over quantity every time for us," Olson explained. "Our hopes are the same as downtown: to make a place where the community can come together to share experiences, laughs, and time with each other."
2720 De la Vina St.; handlebarcoffee.com