Living
Big Crowds for Big Games
High School Soccer, UCSB Basketball, and Who's Talking at the Women in Sports Luncheon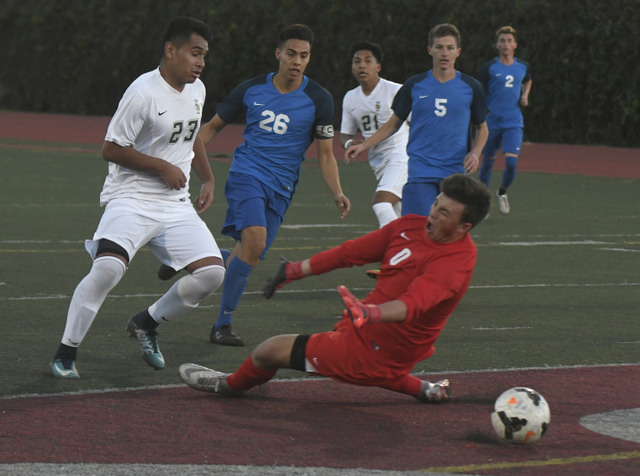 Good crowds enjoyed strong performances by hometown teams last Saturday night as Santa Barbara, while still heartsick over the wounds wrought by manmade and natural disasters, took itself out to some winter ball games.
HAT TRICK: Santa Barbara High's Dons, the no. 3–ranked boys' soccer team in the state, encountered spirited opposition from the San Marcos Royals in the fifth annual Super Soccer Showdown between the crosstown rivals. This one took place Saturday evening at SBCC's La Playa Stadium, as high surf pounded the nearby shore under a crescent moon.
Although the Royals maintained possession of the ball for much of the match, they were unable to crack Santa Barbara's final line of defense, and Dons forward Juan Carlos Torres made like his favorite player, Luis Suárez, the Barcelona FC striker.
"He goes for the ball and knows how to finish," Torres said.
Torres put strong finishing touches on three balls served to him in striking range, and his hat trick lifted the Dons to a 3-0 victory. "They set me up good," Torres said of the crossing passes from Heymar Hernandez, who accounted for two assists, and Jorge Ochoa.
San Marcos threatened on shots lofted by Owen Bates and Levi Sheffey, but Santa Barbara goalkeeper Ben Roach had the reach to punch them away.
The Dons are 10-0-3, with nine shutout wins. "Defensively, we're zoned in," coach Todd Heil said, "and we're opportunistic in front of the goal."
In the other varsity match of the Showdown, which raised money for both schools' soccer programs, a goal by Emily Trujillo gave the San Marcos girls a 1-0 victory over their Santa Barbara counterparts.
LATE SHOW: After UCSB's 70-58 victory over UC Irvine in a nationally televised (ESPNU) men's basketball game late Saturday night, Gaucho coach Joe Pasternack walked across the court and raised a clenched fist toward the students who packed the west grandstand of the Thunderdome.
"This was an awesome student environment," Pasternack said. "We've got to keep them coming back. They make the community want to come as well."
Senior guard Gabe Vincent was grateful for the student turnout. "There's a lot of things people of our age get into on Saturday night," he said. "Gotta love the 'Dome."
It was important for the Gauchos to put on a good show in front of the biggest crowd (3,823) of the season. It was an anxiety-inducing back-and-forth battle until the score was tied, 47-47, at which point UCSB unleashed a glorious 12-0 run to head for its ninth consecutive home victory.
Vincent, 11 months removed from knee surgery, scored 21 points. Forward Jalen Canty had 20 points and 11 rebounds, while Leland King ripped down 14 rebounds. The Anteaters were leading the nation in total rebounds, but UCSB topped them by a dozen.
Rebounding and defense, any basketball coach will tell you, are the keys to winning. The Gauchos were lax on defense in their Big West Conference opener at Cal Poly, when they blew a big lead and lost, 80-79.
"That was an eye-opener for us," said Vincent. "It was a blessing in disguise." Since then, Pasternack said, "Our guys have really bought in to the defensive side of the ball."
That commitment was evident last Thursday, when they quelled the attack of a high-scoring Cal State Fullerton team and won, 83-64. They also put up a nice offensive display as all five starters scored in double figures, led by sophomore guard Max Heidegger (24 points).
The two victories moved the Gauchos to 14-5 overall and 3-2 in the Big West. Their other conference loss was at Hawai'i, by a score of 77-76. They were happy just to be playing that game, hours after they had received a monstrous scare — the inadvertent warning of a nuclear attack on the islands.
Hawai'i will visit Santa Barbara on Thursday, February 1. The Gauchos hope to scare the Rainbow Warriors the old-fashioned way, with a big, noisy, hostile crowd.
STRONG WOMEN: The Santa Barbara Athletic Round Table has lined up three dynamic public servants to headline the annual Women and Girls in Sports Luncheon on February 5: Santa Barbara Police Chief Lori Luhnow, a former college volleyball champion; UCSB Assistant Police Chief Cathy Farley, who competed in track and field and attended the FBI National Academy; and Newport Beach Fire Engineer Erin Brown, a Gaucho basketball star in the '90s.
COLUMBIA-BOUND: John Harris, the outstanding running back on Bishop Diego's state championship football team, has made a verbal commitment to attend Columbia University. Harris, also a strong defensive player, said he's excited by the Lions' upward trajectory under head coach Al Bagnoli. They went 8-2 last year and had their highest Ivy League finish (second place) in 21 years.