Make Myself at Home
Make Myself at Home: Sea Horse Cottage in Summerland
Home on Golden Gate Avenue Boasts Beachy Vibes and Channel Island Views
I visited Portland last week and got to enjoy snow flurries, sunshine, pouring rain, and one crisp, cold afternoon that felt like a definitive winter day. I felt as though I experienced all four seasons within a span of just four days. When I got back to Santa Barbara on Sunday, I drove straight to the sunny hills of Summerland to visit an open house at 2370 Golden Gate Avenue. Even at the end of February, true to its name, Summerland was sporting clear blue skies, and the house played right along, sparkling in the afternoon sun, painting an idyllic picture of year-round summertime. I knew I was back home.
This adorable two-bedroom, two-bath cottage has been christened the Sea Horse House. It sits between Golden Gate Avenue and little one-block Emerson Street so that it enjoys entrances from both streets. Enter from Emerson through a decorative wooden gate set into a sandstone wall and framed by a handsome olive tree. A path leads through a winsome terraced garden dotted with boulders and showcasing dramatic succulents and takes you to either the main house or the separate, adorable guest cottage.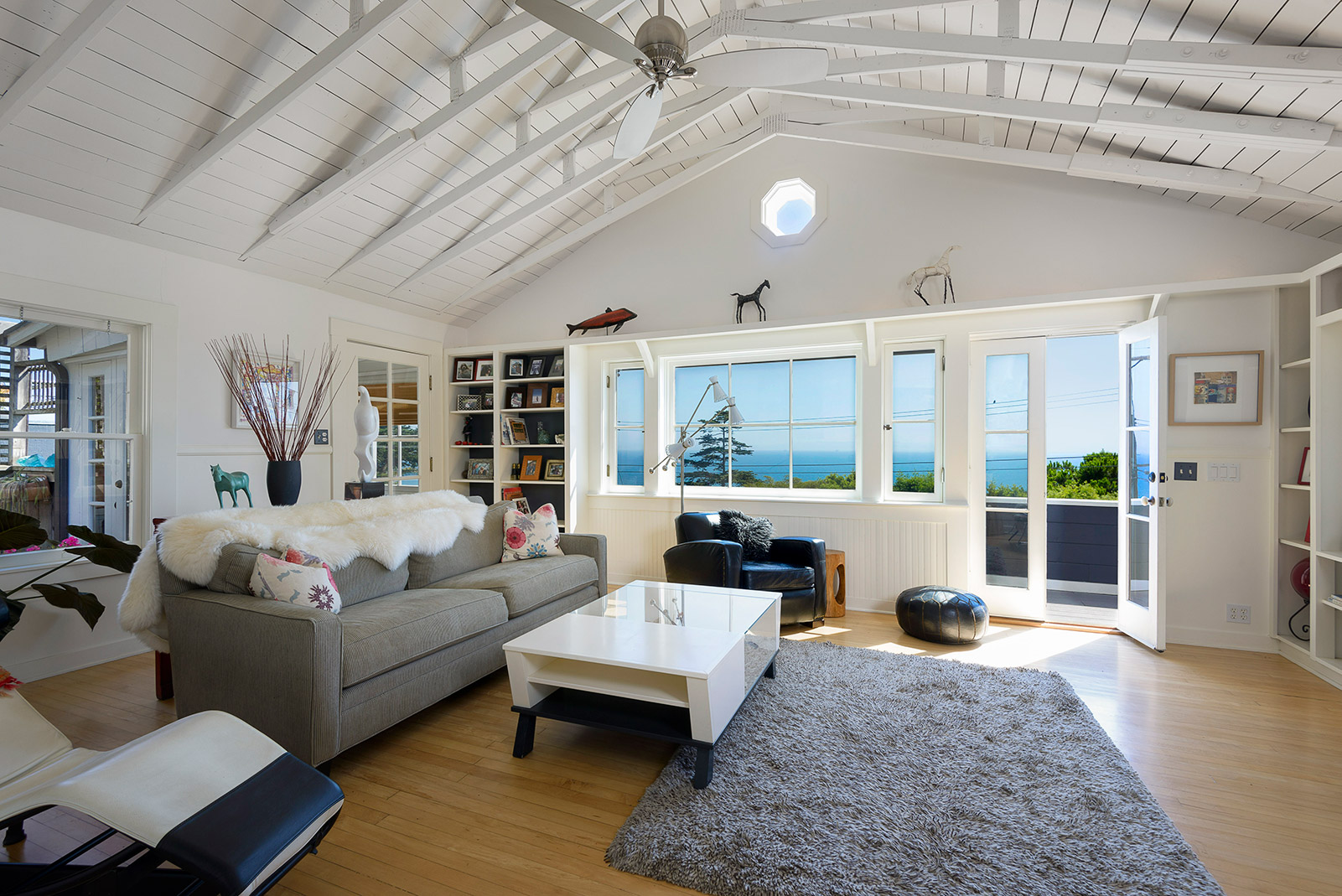 The main house is flooded with light and takes full advantage of its awesome ocean views from every room. The first floor consists of a great room with two distinct living areas, a large living room, plus an airy kitchen perfect for entertaining. One side of the great room is elevated up two steps and features a huge sandstone fireplace set into the far wall. Built-in benches on either side of the fireplace provide intimate seating nooks, and touches like a plate rail and niches for artwork create interesting details all around. This section of the house feels bright and beachy, with whitewashed, wide-plank floors and a huge deck outside to extend the space.
On the other side of the kitchen, a separate living room has hardwood floors and a dramatic open-beam white ceiling. Built-in shelves and bookcases lend additional notes of interest, and an octagonal window inset way up high adds a touch of nautical flair. A separate office just off the living room has an enclosed-porch feel and would make a perfect craft room or even a little library space.
But the view in this room really steals the show. The ocean and Channel Islands are framed by the living room windows, and a double door out onto the deck all but dares visitors to step outside for a closer look. After another minute or two of gazing out at the turquoise sea and sky, I tore myself away to tour the upstairs.
Fortunately, the master bedroom offers equally stunning vistas, with multi-paned, shuttered windows framing the ocean view. There's an en suite bathroom with a large shower and dual sinks. The whole upstairs feels a bit like a treehouse, perched high up in the house and on the hill.
That feeling is carried through to the adorable back guest cottage. A curved staircase winds from a lower bedroom to the upstairs, where another bedroom offers one of the most alluring details on the whole property. A little Juliet balcony opens up from the tip-top of the guest cottage for a view out over the backyard and a side deck area all the way to the ocean beyond.
As I walked down the stairs and out the front of the house toward Golden Gate Avenue, I was delighted to see that the front terraced garden is just as varied and beautiful as the back. Native plants mix with boulders and sculptures, with cacti adding dramatic touches. Looking back up at the blue-shingled facade of the house, I noticed a horse weather vane at the highest peak of the rooftop. He was holding steady in the gentle afternoon breeze, and I have a feeling that he points toward summer all year long.
2370 Golden Gate Avenue is currently for sale in Summerland, listed by Team Regan of Compass. Reach Team Regan at 895-2760 or team.regan@compass.com.