Food
Bibi Ji for Everyone
Jessi Singh's Aussie-Indian Food Settles Stylishly into State Street
Traditionally, women rule the Indian kitchen. So as a boy, the young Jessi Singh was considered a bit of a pest. Growing up in his native home of Punjab, India, and rural Australia, where his father worked on farms, he'd linger near his mother, grandmother, and aunties as they cooked, watching them make round after round of rice, dal, and curry.
"Every meal is made from scratch," Singh explained recently, sporting a white chef's jacket and green "SB" hat while standing behind the bar of his stylish Indo-Aussie restaurant Bibi Ji, which opened in February on State Street. Without refrigerators or microwaves, there was no such thing as leftovers, so once breakfast was eaten, the women started making lunch, and then dinner. "It's constant work," said Singh, whose female elders eventually "gave up" and entertained his culinary interests.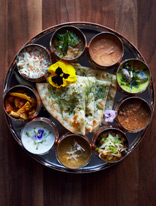 By the age of 11, Singh could make ghee and lassi — usually from the cows he had to milk at 4 a.m. — and would frequently be called to judge who had made the best saag or chickpea curry. "My aunties would test on me," he explained. Those were critical lessons in a land of no recipe books — "It's all passed on from generation to generation," said Singh, who was even allowed to make dinner from time to time.
Further education came in cooking vegetarian food every month for large crowds at Sikh temples — the religion mandates volunteerism and tithing — as well as being an immigrant in rural Australia, where no Indian restaurants existed. So when they cooked curries, it attracted all of the nearby Indians, which required even more cooking. "What happens when you leave India?" asked Singh of that feedback loop. "You become more Indian."
Imbued with a globe-trotting mentality, Singh decided to travel the world in his twenties. He worked low-paying cash jobs, such as dishwashing, to pay for the next leg to Europe, Africa, or the Americas, but frequently volunteered to cook at Sikh temples as well. "I felt very comfortable," he said of life on the road.
That's when he met his future wife, Jennifer, a nurse from Brooklyn who was living in San Francisco. One evening at her studio, Singh cooked an exquisite Indian feast for about 15 people on not much more than a hot plate. "No one could believe it, that it came out of this kitchen made from scratch," said Singh.
In 2007, they moved to Kyneton, a town about an hour from Melbourne. More friends encouraged Singh's culinary exploits, so they leased an abandoned steel mill with $7,000 to invest. "Watching YouTube, I built a kitchen and tiny little bar," said Singh, who opened Dhaba at The Mill as a to-go-only operation in 2008. He'd make six pots of curry — often with ingredients bartered for among friends who were farmers, shepherds, and so forth — and he'd sell them 'til they were gone from Thursday to Saturday.
Word got out that first week thanks to a glowing review in Melbourne's biggest newspaper. Lines suddenly extended around the corner and stayed like that for years. That led to two more successful restaurants around Melbourne, Horn Please and Babu Ji, which, like Dhaba, are still open today.
The Singhs then moved to New York City and opened Babu Ji in Manhattan's East Village in June 2015. For three days, business was slow, but then a critic tweeted about his experience, and the lines started, persisting even through blizzards. It's still one of the longest waits in the city. "Americans hadn't experienced flavorful, clean Indian food the way we did it," said Singh. (Labor lawsuits plagued the restaurant, but they were pushed by an attorney who sues every successful restaurant in Manhattan, said Singh; multiple media reports confirm as much.)
In 2016, they moved to San Francisco with their young daughters and opened a Babu Ji in the Mission District. But the location was challenging, and they didn't like how the Bay Area culture had changed, so they started looking for the next move. Despite offers to open prominent places in Los Angeles and London, the Singhs were attracted to Santa Barbara, which they'd been introduced to by superstar sommelier Rajat Parr, who lives here.
"This reminds me of beach towns in Australia," said Singh. That includes how easy and affordable it is to work directly with farmers and other purveyors, especially compared to shopping at the Union Square farmers' market in Manhattan, where chefs pay top dollar for everything. "That's what brought me to Santa Barbara," said Singh. "My fishmonger comes to me to drop stuff off. That doesn't happen in other places."
The food at Bibi Ji, which is a term of endearment for female elders, reflects that freshness through the lens of dazzling and delicious creativity: uni biryani served in the spiky shell, oysters with pickled green mango butter, tandoori spot prawns, Colonel Tso's irresistible triple-fried cauliflower, and many more traditional curry and masala dishes served on a metal thali. The beer and wine list, curated by Parr, supports that zesty style, with lively, obscure, acid-driven wines. And dessert, a cardamom and pistachio ice cream served in a metal tube that must be heated with your hands, shouldn't be skipped.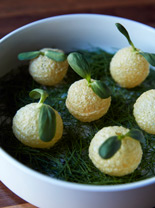 Altogether, Singh is walking a fine line between the casual style that Americans expect from Indian restaurants — "People think of ethnic cuisine as value driven, not as traditions that are hundreds of years old," Singh lamented — and a more white-tablecloth experience, which he opposes as well for this cuisine. "That doesn't make sense," said Singh. "Indian is third-world food, which is all about being loud and eating with your hands. You can't single plate curry." So Bibi Ji is "not a tweezer restaurant," said Singh, "and it won't break your bank."
That fun but focused spirit is reflected in the decor — dark hues with striking photographs and a stuffed peacock — and in the knowledgeable but not overbearing waitstaff, led by partner/manager Alejandro Medina, formerly of Loquita. "It's a place with high energy," said Medina, who's been happy to see so many other chefs and hospitality pros coming through the door.
Singh is excited about this new, hopefully less hectic phase of his career, and ready to raise his 5- and 7-year-old daughters in Santa Barbara. "My kids were starting to know that I was missing," he said of the past few years of scrambling from place to place. "I'm chasing life now."
734 State St.; 560-6845; bibijisb.com