News
UC Santa Barbara Workers Join System-Wide Strike
UC's Largest Union Reveals Income Disparities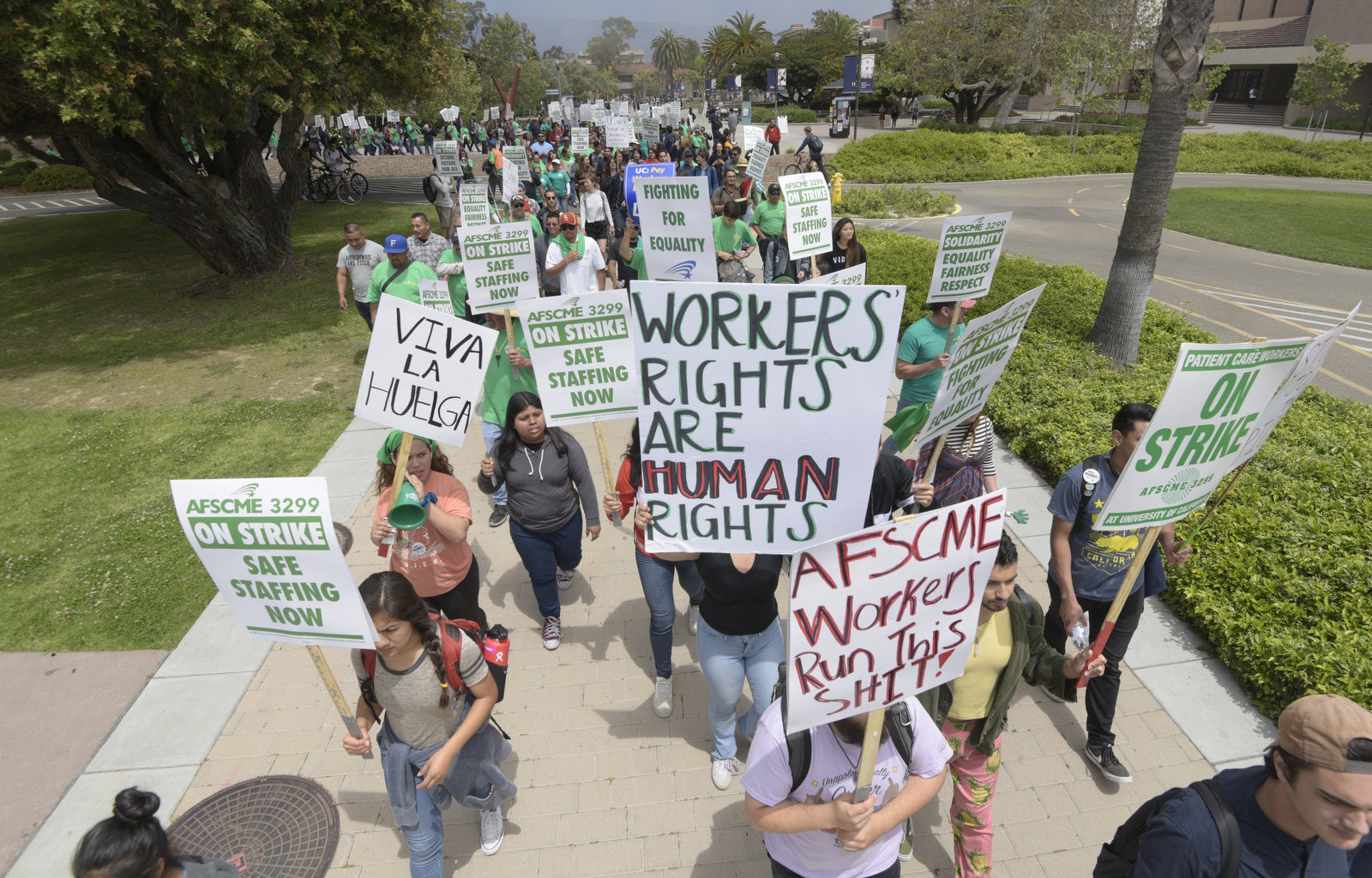 At 4 a.m. on Monday, American Federation of State, County and Municipal Employees (AFSCME) union workers (pictured above) gathered with students at the University of California, Santa Barbara's Storke Tower to begin a three-day strike against the university. They are one of the 10 UC campuses participating in the strike.
AFSCME Local 3299 is the UC's largest employee union, representing 25,000 employees. The workers voted to authorize a strike with 97 percent support after new research revealed growing income disparities among unionized low-wage workers and people of color. The research uncovered wage differences as large as 23 percent between black women and white men. The union has been attempting to address the inequalities through a year of negotiations with the UC. However, last week, the UC announced new contract terms that would delay the retirement age, permit the UC to raise health-care premiums, continue outsourcing jobs, and leave employee wages below the cost of living. "The UC has made it clear they would much rather continue to ignore [the growing inequality]," the AFSCME wrote in a statement.
At noon, students and workers marched through campus, chanting, "If we don't get it, shut it down." "Without us [the university] doesn't function," said Fermin Martinez, one of the two irrigation workers at UCSB. Given the campus size, the university should employ closer to 10 irrigation workers. Since the strike, Martinez reports seeing superintendents picking up trash and receiving calls about the toilets. "Just give us what we deserve; that's all we're asking," he said.
Francisco Garcia, a union member and custodian with UCSB for 22 years, was also at the rally. He cleans an average of 30,000 square feet a night, he explained. "You'd think it'd be enough," he said, "but the university doesn't pay us enough." Many of Garcia's coworkers work two or three jobs or are forced to move out of the city in search of cheaper housing. But the strike is bigger than low wages, he said. "We want to concentrate on more than a percentage or raise. It's about dignity."