Make Myself at Home
Make Myself at Home: Exquisite Upper Eastside Victorian
Playing Dollhouse in This Stately 1890 Residence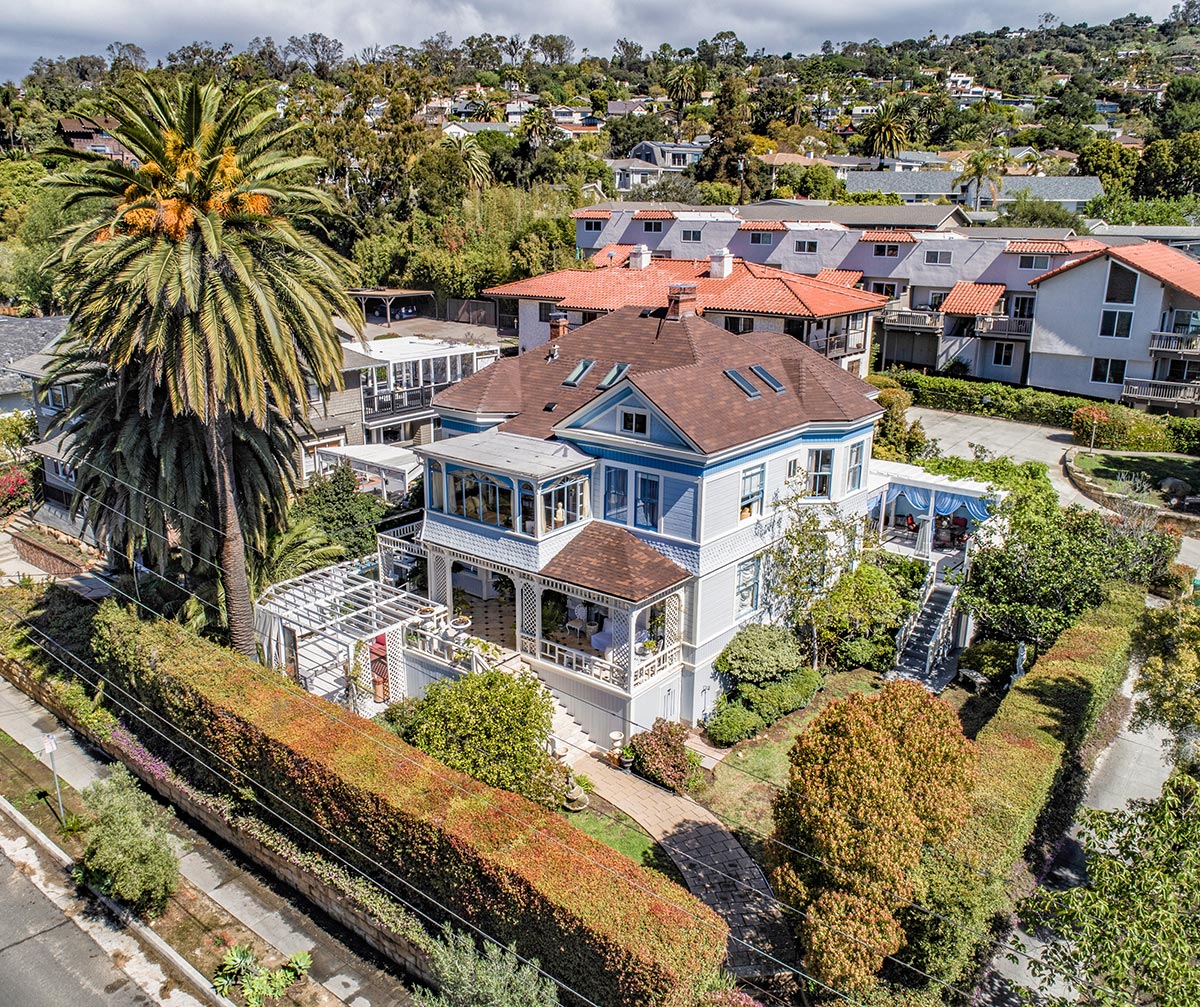 When I was a little girl, my friend Leslie had an amazing dollhouse. Playtime at Leslie's house almost always started and ended with the dollhouse. It was a three-story, Victorian-style mansion, elaborately decorated and furnished. We spent hours making up detailed scripts and scenes for our dolls, using the dollhouse as the backdrop for our glamorous productions.
Walking through the gate and up the steps of the exquisite home at 1600 Olive Street, I felt as if I were gazing up at the real-life version of Leslie's dollhouse. The exterior of this Queen Anne Victorian is a classic blend of scalloped gingerbread detailing plus horizontal and vertical wood siding, in a palette of baby blue highlighted by brighter blue and white trim. On the day that I visited, it rivaled the summer sky for spotlight status.
Built in 1890, this five-bedroom, five-bath home has been designated a historical structure of merit and holds court over the corner of Olive and Arrellaga streets on the upper east side of town. At the top of the stairs, a covered front porch runs the length of the house. The porch provides both an al fresco sitting room on the right-hand side and a spacious outdoor foyer on the left. The foyer leads to a walkway that winds down to a secluded lower front patio with a large, private hot tub. I was soon to learn that this area is one of several distinct outdoor rooms around the home, providing plenty of options for enjoying Santa Barbara's weather year-round.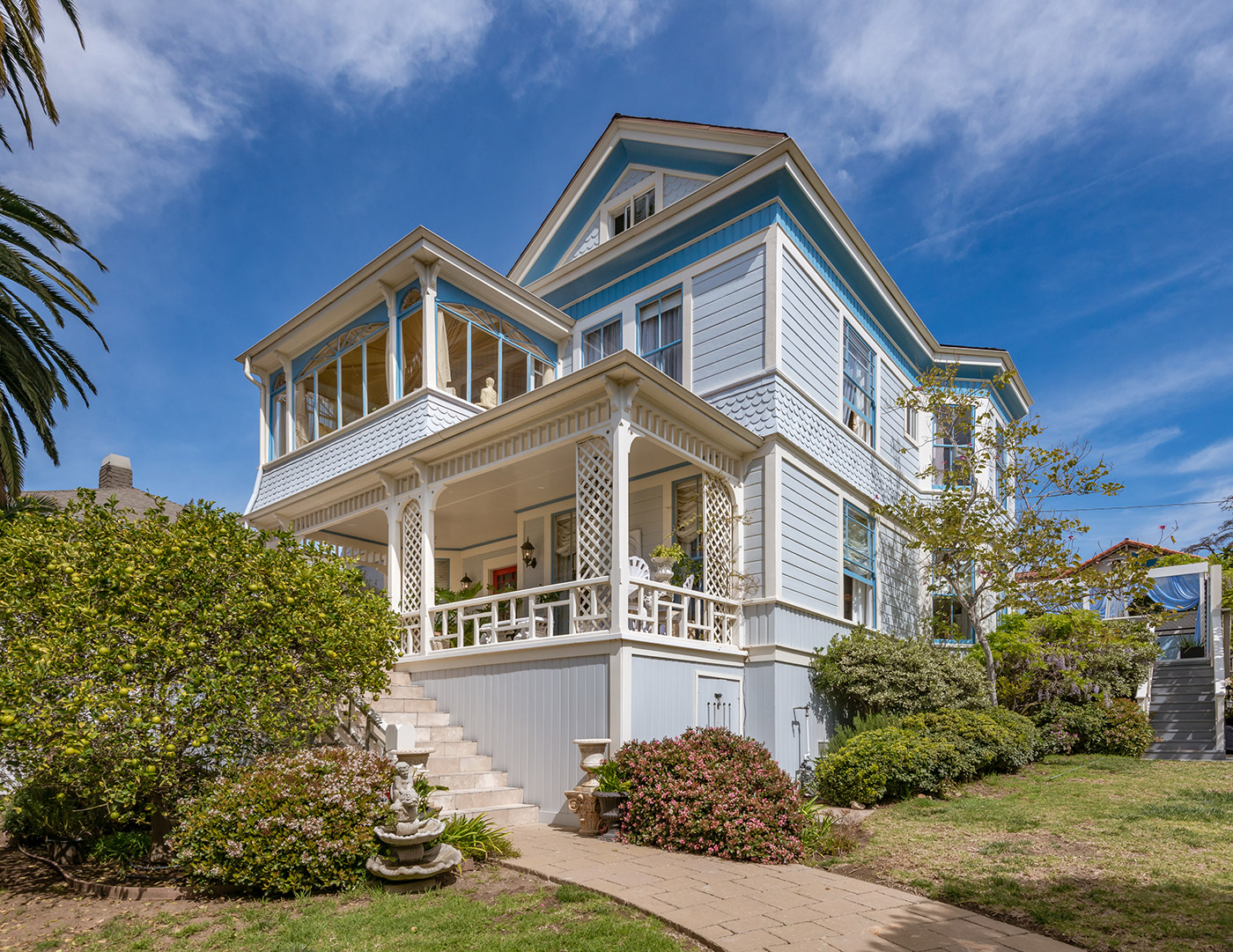 I stepped through the red front door, and that's when the dollhouse feeling really hit me. The interior is absolutely stunning. A gleaming staircase lies straight ahead, leading upstairs with three formal, 90-degree turns. Leslie's dolls would have performed a grand entrance walking down the staircase to meet their handsome dates, but in real life the staircase provided me with a perfect vantage point from which to better admire the designer details of the first floor.
Gleaming dark hardwood floors reflect the sparkle of chandeliers and gold-leaf detailing. Ceilings are swagged in fabric, and original crown moldings have been preserved and accented, lending an even more dramatic air. The formal living and dining rooms share a two-sided corner fireplace and are connected by sliding pocket doors framed by original detailed wood trim.
Beyond the dining room lies an immaculate kitchen outfitted almost completely in white, with marble countertops and stainless-steel appliances. To the right side of the kitchen lies a black-and-white-tiled outdoor dining room, with built-in banquette seating and circus-striped awnings. On the other side of the kitchen is a lush covered patio with statuary and a more enclosed feel. Both take advantage of the lovely grounds and lofty setting high above the street.
Back inside, I ooh-ed and aah-ed my way through the rest of the first floor. After admiring an office with bay windows, a bedroom with full bath, and a separate powder room, I decided I had earned the right to climb the grand staircase.
Upstairs, a central hallway opens onto three en suite bedrooms: one on either side of the house, plus a spectacular master bedroom up front. The spacious master suite offers ocean views, a large walk-in closet and bathroom, and my very favorite part of the house: an enclosed sunroom. Accessed by glass-paneled French doors, the sunroom sits front and center over the rest of the house and is surrounded by windows on all sides, promising both sunrise and sunset views. I'm told that the current owners enjoy this room as a meditation space, and after spending just a few minutes there, I can understand why.
I pulled myself away from the view and was about to head back downstairs when I discovered one more door off the hallway. A huge room in the back of the house, currently used as a stylish family room, contains both a back stairway leading downstairs and another smaller staircase leading up.
The third story is a finished attic: more than 600 square feet of sunny loft space with a sloping ceiling and ocean views out the window. An adjacent unfinished room could be used for storage or a perfect reading nook. Since my dollhouse memories were looming large, all I could think about was what a dreamy play room the attic would make for kids of any age.
I went back downstairs with my head full of ideas, imagining what I would do with each of the spaces in this home. From the fantasy white kitchen to the grand living room to the peaceful sunroom and the secret third-floor hideaway, Leslie and I would have spent untold hours helping our dolls fill this house with imagined stories. In the real world, a lucky new owner will have years to do the same.
1600 Olive Street is currently for sale in Santa Barbara, listed by Regina and David Magid of Village Properties Realtors. Reach Regina at sold@reginamagid.com and David at dmagid@villagesite.com or 451-0402.