Outdoors
Isla Vista Chaplain Scott Claassen Runs a Ministry of Surfing and Spirit
UCSB Students Get Close to Creation on the Waves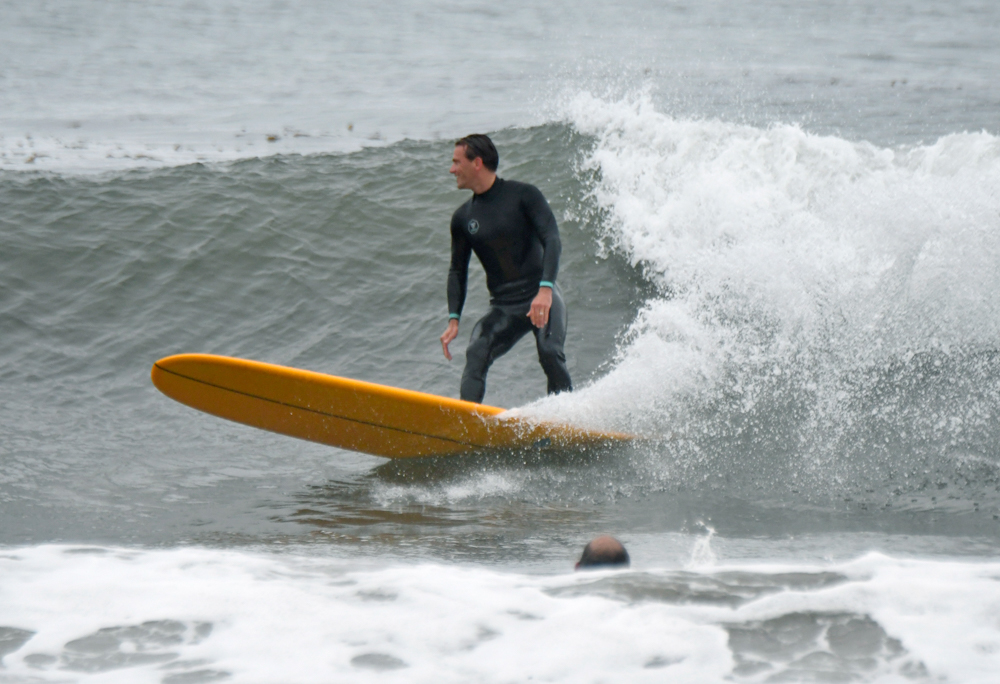 This is part one of this article. For a longer version of this story, click here.
I first met Scott Claassen, the vicar of Saint Michael's University Church in Isla Vista, when I was a refugee from Montecito's San Ysidro Creek debris flow. That swollen waterway, freighted with wildfire debris, had destroyed in a heartbeat my residence of some 40 years, along with my job, as well as an ecumenical chapel with a piano on which, every morning, I had developed a habit of venting my passion for Bach. So, putting first things first, I came to Scott seeking a piano.
Scott listened. He understood. And then he made it happen. After all, he used to play guitar alongside Willie Nelson and could not bear to see a musician divorced from his ax.
The first thing I noticed in Scott's office was an array of photographs hanging on the wall, with an iconic image of John Muir reigning above them all. That tells you a lot about Scott Claassen: with his concern for Earth almost utmost. Almost? Because atop his desk sit the photos of those closest to him: his wife, Maribeth Claassen, now pregnant again, and his two sons, Henry and James Muir.
The next thing you notice is a blue bicycle bearing signatures scrawled across its entire frame. These are the wheels Scott pedaled around these United States during what he calls his Carbon Sabbath: a year he eschewed cars and airplanes to cycle from town to town and talk about climate change. Though now living a less-mobile life, Scott has not given up on raising ecological awareness. That remains central in his present roles as vicar of Saint Mike's in Isla Vista, as chaplain to UCSB students ​— ​and as a goofy foot.
Being goofy foot means that Scott surfs with the right foot forward. And if you walk into St. Mike's Church, you will notice surfboards stacked along the walls five deep, making that sacred space appear more Polynesian than papal. This is because Scott leads a merry group of surfing students in a program known as Surfing and Spirituality. Every Wednesday morning, when most of Isla Vista is still dreaming, they steal down to the vast, mysterious, endlessly rolling Pacific.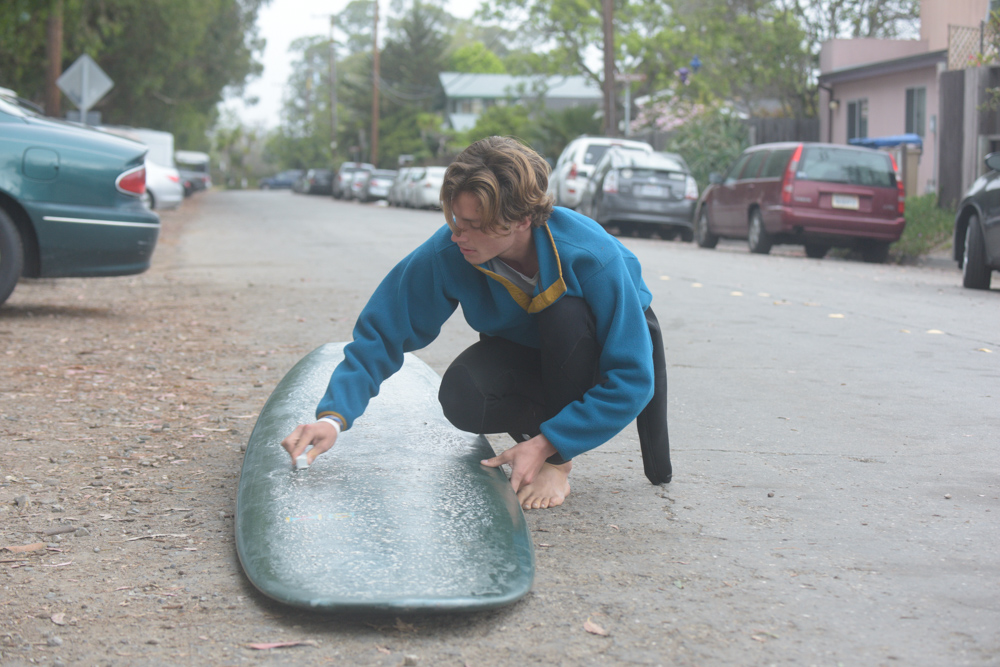 Perhaps you too reside by the sea. So perhaps you've seen surfers going down to the sea yourself. And perhaps you know that surfers spend countless hours inventing waves. Days and nights they're devoted to waves, desiring waves. At school, in the margins of their textbooks, they're doodling waves. In the darkness of night, in the oceans of their dreams, swells are mirroring constellations, endlessly blooming and contracting. In the predawn hours, you will find them paddling out, pushing through waves, ducking under them, and then sliding into and riding those pulsing watery ephemera. And so perhaps you have wondered why. You wonder what is it that calls surfers down to the sea so devoutly in the early light.
And so hoping this goofy foot who understood a musician's relationship to sound waves might have something novel to say about surfing, I returned to Scott's office a second time.
You can take you or me, blindfolded, and set either one of us down on a beach, anywhere in California.
Yes, blindfolded! And I will tell you exactly where I am. And my wife will say, "How? How do you do it?" And I think it really boils down to love. Because I love it so much! I grew up between Monterey and Salinas: an area with agricultural riches and the natural beauty of Monterey, Carmel, and Big Sur. And being around that, I first experienced the Divine in nature. That said, I also attended a Presbyterian church in Salinas, and so culturally I lived in Salinas. But I had both experiences. I was seeing and had a connection with this beauty of nature around me, which felt eternal, while also seeing and hearing what people were saying in church. And at a young age, I felt the two were somehow connected, but that nature seemed more true to me. Yet the religious part also took me to places such as camps in the redwoods outside of Santa Cruz. And being in those settings married those two things very deeply for me. Being around trees that are thousands of years old, and hearing people talk about the Rock of Ages, or talk about the Eternal: It's an easy step.
In addition to that, are there any experiences in surfing that make you feel more connected with Earth, with God?
We all have things that we do that connect us with the Divine. We all have things to do that help us keep in shape and make us feel healthy. And for me the thing that combines both of those best is unquestionably surfing. Surfing is unique, in that we are actually stepping into the wild. We are leaving behind our day-to-day world, and our little silos, and we step into an area where we are actually prey. Where we are subject to the wind, and the rain, and the tides, and the swell, and we are out in part of this interconnected system, with dolphins jumping around out there, and sea lions, and pelicans ​— ​and it's that! It's that!
In your Surfing and Spirituality outings, is a lot of your ministry based on dialogue, on listening?
Well, yes, that's one of the great things about surfing ​— ​that there's a lot more downtime than people usually anticipate. Where we go, we take the longer walk out to the break, where we can surf either a beach break or a point break, which is great for us. So it means that we have to walk to get there. So, we walk and we talk ​— ​about whatever comes up. It's providing that space where people can explore what is going on in their lives. And some of the most profound conversations happen at that time. Although you can be down to just a holler between sets, you also have that downtime when someone will tell you about what it was like after their mother died, and it's such a profound thing.
So we could say it's a ministry of listening, but we could also say it's a ministry of noticing: in that we're being together and listening and noticing what is going on with one another, but we are also practicing noticing what is going on with the ocean. Practicing noticing if the tide has changed, the wind ​— ​we are practicing noticing.
You go for a run, and eventually you get out of your headspace, to another spot. But surfing, the changes in the waves, the changes in everything around you, the act of noticing, is intensified. You have to pay attention to what is going on around you. Over time, that noticing takes over. It requires your noticing in ways that running or other physical activities do not. And in that practice, we step into what sports psychologists might call a flow state, what contemplative prayer people might call mindfulness. You are stepping into the eternal present. Stepping into nature, stepping into the wild. And then there are the feelings of grace and calm that I associate with the Divine. Which is not to say that the Divine is not in other things. But I would say that our partitioning would limit the experience of Unity that the mystics articulate.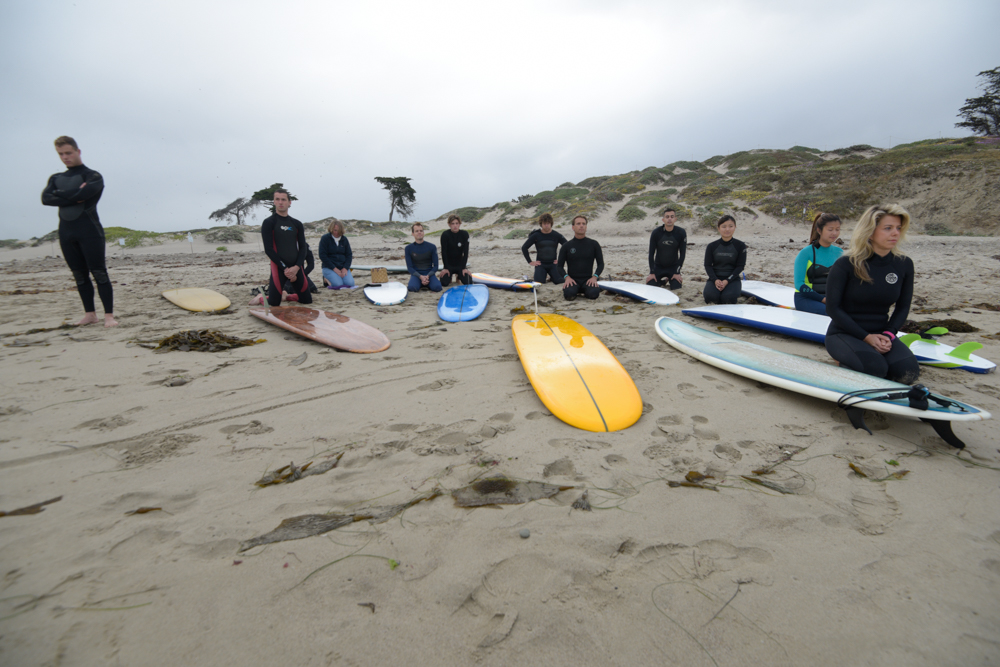 That's beautiful, Scott. I remember as an English major studying the Romantic poets, not only in England, but also in German Romanticism ​— ​and their concept of the Sublime.
Exactly! And that shows up a lot for me in surfing, too. Now, surfing, absolutely, you take those images in Romantic paintings of the small individual in the vast wilderness.
And those can be terrifying.
Yes, I think way more than terrifying. We tend to think of the Sublime as just this fearful bit, and I do think there is this fear of stepping into the ocean, and there is this great sense of humility, or … what is a better way of saying it? It's an attractional terror. You know … it's not just like, "Oh, I'm afraid!"
There's awe.
There's awe! That's it! The Sublime has that aspect of fear, but also of deep awe, where, you know, you are part of… a very small part of something that is … much, much bigger.
You hear a lot of surfers talk about surfing and spirituality, but it is mostly subjective and individualistic. But your approach is more interpersonal. I mean, it can be like when you are in dialogue with a person, and you listen to that person with the same quality of attention that you would listen to God.
Right! Exactly! Exactly! And you feel that internal tickle.
You must feel that a lot, in your ministry.
Oh, no question! That's a privilege of the work I do. Yes.
This is part one of this article. For a longer version of this story, click here.