News
2018 Election Endorsements
U.S., State, and Local Races: The Short and Long of It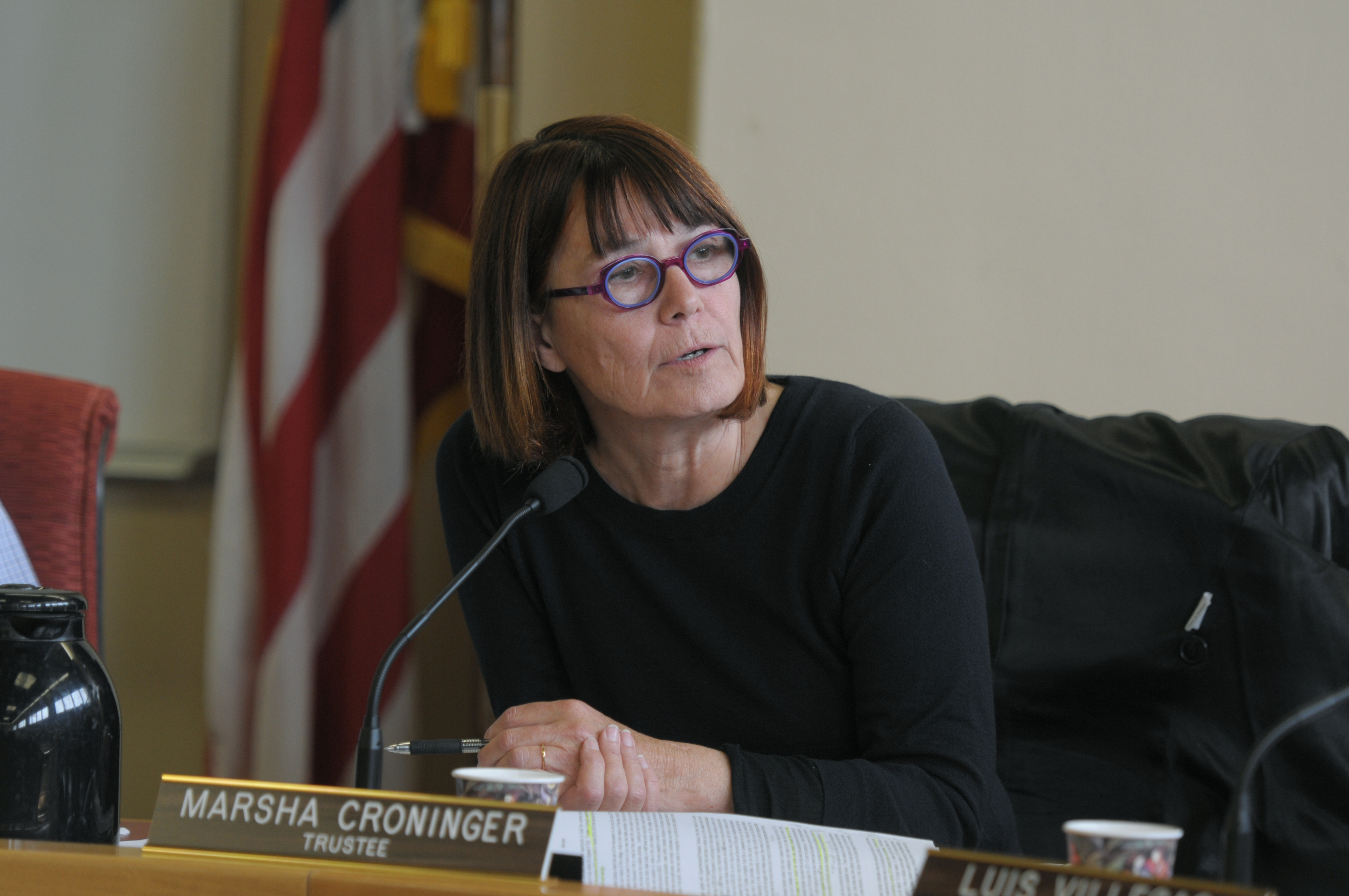 Endorsements in Brief
California Governor: Gavin Newsom
Lt. Governor: Eleni Kounalakis*
Secretary of State: Alex Padilla
Controller: Betty T. Yee
Treasurer: Fiona Ma
Attorney General: Xavier Becerra
Insurance Commissioner: Ricardo Lara
U.S. Senator: Dianne Feinstein
24th Congressional District: Salud Carbajal
California Assembly: Monique Limón
Goleta Mayor: Paula Perotte
Carpinteria City Council: Gregg Carty, Al Clark, Brad Stein
SBCC Trustee, District 5: Marsha Croninger
S.B. Unified School District Trustees: Mark Alvarado, Kate Ford
Santa Barbara Community College Board of Trustees, Area 2: Robert K. Miller
Santa Barbara Community College Board of Trustees, Area 7: Kate Parker
Goleta Union School District Board of Trustees: Luz Reyes-Martín
State Propositions
Prop. 1: Yes
Prop. 2: Yes
Prop. 3: No*
Prop. 4: Yes
Prop. 5: No
Prop. 6: No
Prop. 7: Yes
Prop. 8: Yes
Prop. 9: (removed from ballot)
Prop. 10: Yes
Prop. 11: Yes
Prop 12.: Yes
County Measures
Measure B: Yes
Measure G: Yes
Measure H: No
Measure W: Yes
Measure X: Yes
Measure Y: Yes
Measure Z: Yes
Endorsements in Full
24th Congressional District: Salud Carbajal
Maybe the race for the 24th Congressional District is as simple as this: a smile versus a sneer. Congressmember Salud Carbajal's default facial expression is a smile, while that of his challenger, Justin Fareed, seems to be somewhere between a sneer and a snarl.
Of course, there's more to it than that. Carbajal is an accomplished and professional politician, a nondoctrinaire moderate-liberal, pro-choice, environment-minded Democrat with nearly 30 years of government service under his belt. He was elected three times as county supervisor and is now wrapping up his first term in Congress. People talk derisively about career politicians and often for good reason ​— ​but that does not apply in this race. We think sending an unschooled amateur like Fareed to Washington makes about as much sense as hiring an unschooled plumber to fix your toilet. Some jobs demand skill and experience. This is one of them.
In the wake of the Thomas Fire and the January 9 debris flow, we witnessed Carbajal leap into action. No, he did not personally yank people out of the muck ​— ​as some candidates claim to have done. Instead, he picked up the phone and did what a congressional representative is supposed to do ​— ​he got help. Carbajal pushed every button available to him to secure all the money and aid Washington, D.C., could muster for Santa Barbara in its hour of need. We saw this with our own eyes, and, likewise, we have seen the fruit those efforts bore. Carbajal may not give the most rousing speeches we've ever heard, but few elected officials we've seen in 30 years have worked harder on behalf of their constituents.
By contrast, Fareed remains for us a riddle wrapped in a mystery inside an enigma. This is now his third campaign for Congress, and we still don't know who Fareed is, what he's ever done, or even what he believes. Our skepticism about Fareed does not derive merely from his party affiliation. We find the immigrant-bashing fearmongering of his latest advertising commercial both morally odious and politically bankrupt.
When voters leaf through the sample ballots and voter information guides mailed out this week, they will not see a candidate statement for Fareed on the same page as Carbajal's. This is the first time in this district in recent memory that a Republican congressional candidate has chosen not to submit one. It's peculiar, but it also makes sense. Fareed has nothing to say.
We do not wish to put Carbajal on any pedestal. But he is a hardworking, smart, experienced congressmember who delivers strong constituent services and has shown that he is willing to work with the other side of the aisle to make government function ​— ​qualities in very short supply in present-day Washington.
He has been a resolute defender of environmental protections for the Central Coast, particularly against the increasing threats of unregulated drilling. A former U.S. Marine, Carbajal has worked to improve the conditions of veterans as a member of the House Armed Services Committee. He voted against repealing the Affordable Care Act, is a longtime supporter of women's rights, and served on President Obama's task force on climate change, which developed ways to protect regional communities from the obvious dangers we are all facing.
The most practical and probably most important skill Salud Carbajal offers is that he knows the district he represents. He has lived here, gone to school here, and raised a family here, and he has served in county government for years. He has an intuitive grasp of the flow chart of the local government agencies, he knows how they work, and, more to the point, he has personal relationships with the people in those agencies. Those attributes are crucial if we are to have strong, effective representation in Congress. For the last two years, that is what we have had with Salud Carbajal, who has served this district well.
We urge a vote for Representative Salud Carbajal.
Carpinteria City Council: Gregg Carty, Al Clark, and Brad Stein
Carpinteria has been shortsightedly hostile to entertaining the financial possibilities of even a limited cannabis trade. Carpinteria greenhouse growers cultivate most of the cannabis on the South Coast ​— ​though just outside city limits; city leaders need to find a way to make what hitherto has been seen strictly as a nuisance pay for itself. We hope that incumbent councilmembers Gregg Carty, Al Clark, and Brad Stein ​— ​who together account for 52 years of elected service ​— ​can shift their focus in this regard. That being said, these three have provided a consistently moderate hand on City Hall's tiller, helping to maintain Carpinteria's fierce but gentle sense of community. Neither of the two challengers has articulated a vision that differs in key details. Carpinterians should stick with what's worked.
Santa Barbara Community College District Trustee Area 5: Marsha Croninger
Why mess with success? When Marsha Croninger joined the board eight years ago, she was part of a community insurrection trying to save Santa Barbara City College from well-intended administrators then making a host of budget-driven bad decisions. In the intervening eight years, City College has managed to reestablish faith with the community. Along the way, it also happened to be recognized as the best community college in the country with the 2013 Aspen Prize. Croninger did not do this on her own, but she did play a significant role in making it happen.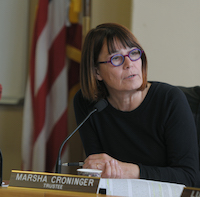 Croninger does not often craft a pithy sound bite, but no boardmember has worked as hard and as constructively as she has. She played a key role in addressing the concerns of Mesa and lower Westside residents who complained about the growing numbers of SBCC students from out of Santa Barbara and those causing a ruckus in the neighborhoods. She played a pivotal role in getting the board to reduce the number of international students and those from outside California. In 2014, Croninger first proposed adopting the Promise, a plan that offers every student graduating from high schools within SBCC's districts free tuition, fees, books, supplies, and equipment. She worked for this until it was finally adopted in 2016. Croninger didn't make this happen by herself, but she definitely gave a very strong assist. During Croninger's tenure, City College has hired two new presidents and has helped stabilize Santa Barbara's highly esteemed community education program ​— ​nearly deep-sixed by a previous administration dealing with a budget crisis.
Goleta Mayor: Paula Perotte
For the first time ever, Goleta voters get to directly elect their mayor. Up 'til now, the council as first-among-equals has appointed the position to what's been a largely ceremonial job. We are persuaded that Paula Perotte has the requisite grit, determination, and quiet strength needed for the post. Of the two candidates running, Perotte — a 35-year resident of the Goleta Valley — has a far better feel for how much development the community can abide. Old-fashioned wars over growth, always a Goleta hot-button issue, have flared up recently with the rapid retail and residential development that's transformed the city. Perotte has served on the council since 2010 and was instrumental in implementing the Safe Routes to School with the Sheriff's department. Before that, she worked for years with the Community Action Commission connecting those in need with available services. She's had a full life experience, having worked nights as a waitress at Joe's, started a homemade pie business, and raised a family. Given her temperament, values, and resume, we trust Perotte will do the best job balancing the competing agendas — neighborhood preservation vs. development — confronting Goleta and all California coastal communities. Her opponent Michael Bennett, a retired Fire Battalion Chief, has been a long, dedicated activist in Goleta politics and as a councilmember. But Bennett, backed by the Chamber of Commerce, has been more pedal-to-the-metal on Goleta growth than is sensible. In fact, he helped craft the argument against a 2012 ballot initiative — Measure G — designed to protect agricultural land from development. Measure G gave voters final say on whether any ag lands greater than ten acres should be developed. We supported Measure G at the time and with every major fire, we are freshly reminded how Goleta's Green Belt of farmland protects the city.
S.B. Unified School District Trustees: Mark Alvarado, Kate Ford
Mark Alvarado and Kate Ford will be important additions to the Santa Barbara school board. They have the background and determination to ask tough questions and demand answers. Our public schools are suffering from the current board's reluctance to challenge Superintendent Cary Matsuoka and his staff. This has to change, and Alvarado and Ford have the skills to do it.
Kate Ford is a five-star professional who grew up in Santa Barbara and graduated from our public schools. Her 40-year career in education spans from classroom teacher to administrator. For five years, she was principal of Peabody Charter School. She then worked for the Bill and Melinda Gates Foundation and most recently ran an 11-school district in Los Angeles until her retirement last year. She has the know-how and personality to help invigorate the board. As does Mark Alvarado, who also grew up in Santa Barbara, attended local public schools, and spent his professional career in government programs and nonprofits working in underserved neighborhoods. As former head of the PTSA at Santa Barbara Junior High School and as a father who has attended countless school board meetings, Alvarado knows firsthand just how serious the achievement gap is between students whose families have and those who don't — Alvarado describes it as "the grand canyon." And he is not exaggerating.
It is the school board's job to push administrators to improve school performance and to offer the community strong leadership, not to rubberstamp whatever the superintendent and staff put before them. Just look at this year's protracted mess at San Marcos High School. Of course, when students and principals face disciplinary action, strict confidentiality rules must apply. But the failure of the board to communicate — even imperfectly — with all school families has left them to draw their own conclusions. Alarmingly, those conclusions often fall along inflamed fault lines of race and class. The board must do a better job, and we believe Ford and Alvarado will help achieve that.
They, along with incumbent Laura Capps, will move the board into a more proactive role. The next time a school budget is presented, there will be hard questioning in public session about how the money is spent. Budgets won't be passed without inquiring why music programs are underfunded and why teachers are forced to subsidize their own jobs — which is what happened this year. Protect our schools. Vote for Mark Alvarado and Kate Ford.
Yes on Proposition 1: $4 Billion Housing Bond
This is that rare breed of ballot initiative, a genuine no-brainer. If passed, Prop. 1 would authorize the state to sell $3 billion in bonds to be used for new housing construction, rehabilitation, and purchase by low- and moderate-income households. If approved, the bond sales would set aside $1.8 billion to local governments or nonprofit organizations to build new ​— ​or rehabilitate existing ​— ​apartment complexes targeting low-income households. In exchange for this financing, the developments involved must continue to provide low-income housing for 55 years. Another $450 million would be spent on housing in existing urban areas or areas near public transportation lines. Another $450 million would be set aside to provide down-payment assistance to low- and moderate-income first-time homeowners. Lastly, $1 billion would provide home loan assistance to veterans seeking to buy single-family homes, condos, farms, or mobile homes. According to the state's legislative analyst, Prop. 1 would directly benefit an estimated 30,000 multifamily households and 7,500 farmworker households and help with down payments for 3,000 veterans and 15,000 home buyers.
Yes on Proposition 2: Housing People with Mental Illness Who Are Homeless
Back in 2004, state voters ratified Prop. 63, the so-called millionaires' tax designed to fund new programs to address the needs of people with mental illness. That program has not been without its difficulties. Prop. 2 allows the state to use $140 million a year of that tax money ​— ​maxing out at $2 billion ​— ​to fund a new initiative dubbed No Place Like Home that will create housing for people with mental illness who are homeless or at risk of chronic homelessness. No new bonding authority is being sought here, and no additional revenues will be exacted. Although many mental-health advocates were initially wary ​— ​or downright hostile ​— ​to Prop. 2, most have been persuaded that the new housing options generated will go to those suffering from chronic mental illnesses. The logic is both simple and irrefutable; without a roof over one's head, someone with mental illness is highly unlikely to experience successful treatment. Proponents estimate they can build 20,000 permanent housing units for people needing mental-health and substance-abuse treatment statewide. In Santa Barbara, the numbers are illuminating. Every year, county mental-health programs receive $19 million from the original millionaires' tax. If Prop. 2 passes, it will receive $1.4 million less. But in its stead, No Place Like Home will provide the county $2.7 million in housing funds. In addition, the county ​— ​and its nonprofit partners ​— ​will be eligible to compete for $250 million designated for medium-sized counties.
No on Proposition 3: $8.9 Billion Water Bond
Prop. 3 wants to set aside $750 million to help rectify massive subsidence problems along the Friant-Kern Canal system. Those problems are real and pressing. Unfortunately for Californians, the Friant-Kern system is owned by the federal government's massive Central Valley Project. It's up to the federal government to fix that canal system. That's just one critical reason to send Prop. 3 back to the drawing board.
No on Proposition 5: Expands Property Tax Breaks Eligible to Homeowners over 55
Prop. 5 is a bad idea. If passed, it will broaden special tax considerations currently afforded to property owners selling their homes. On paper, it almost sounds reasonable: Allow special tax breaks to people older than 55 and those with severe disabilities. In reality, it's a Trojan horse. According to the state legislative analyst, Prop. 5 will cost schools and local governments ​— ​who depend on property taxes ​— ​$100 million a year in lost property-tax revenues the first few years. After that, the cost will jump to $1 billion a year. Nancy Reagan wasn't thinking about Prop. 5 when she famously declared, "Just say no," but she may as well have been.
No on Proposition 6: Gas-Tax Repeal
Desperate times call for desperate measures, and California Republicans, desperate not to get wiped out by this November's much-anticipated midterm-election "Blue Wave," ginned up Proposition 6 to save themselves from what they perceived as their all-but-certain political annihilation. Prop. 6 proposes to repeal the gas-tax increase approved last year by Governor Jerry Brown and two-thirds of the State Legislature. As a short-term political gimmick, Prop. 6 seems to have succeeded only in unifying such unlikely bedfellows as the Chamber of Commerce and Big Labor in unalterable opposition. As long-term public policy, Prop. 6 would accelerate the deterioration of the state's crumbling road system, which certainly qualifies as suicide on the installment plan.
If Prop. 6 passes, road repairs and transportation funding will be forced to do without the $5.1 billion the gas-tax increase is expected to generate per year. To put that in perspective, California has a backlog of about $130 billion in road repairs, deferred maintenance, and other transportation infrastructure needs. One reason the backlog's so big is that gas taxes haven't been increased in 23 years. Another is because newer, more fuel-efficient cars generate lower gas-tax revenues.
We don't pretend the gas-tax increase — ​by 12 cents per gallon ​— ​doesn't hurt. Advocates for repealing the tax increase estimate that it will cost a family of four $779 a year. Vehicle registration fees have gone up as well, from $25 to as much as $175 per vehicle. The pinch people feel is very real. But until we stumble onto the pot of gold at the end of some rainbow, user fees are the necessary evil needed to cover equally necessary maintenance costs.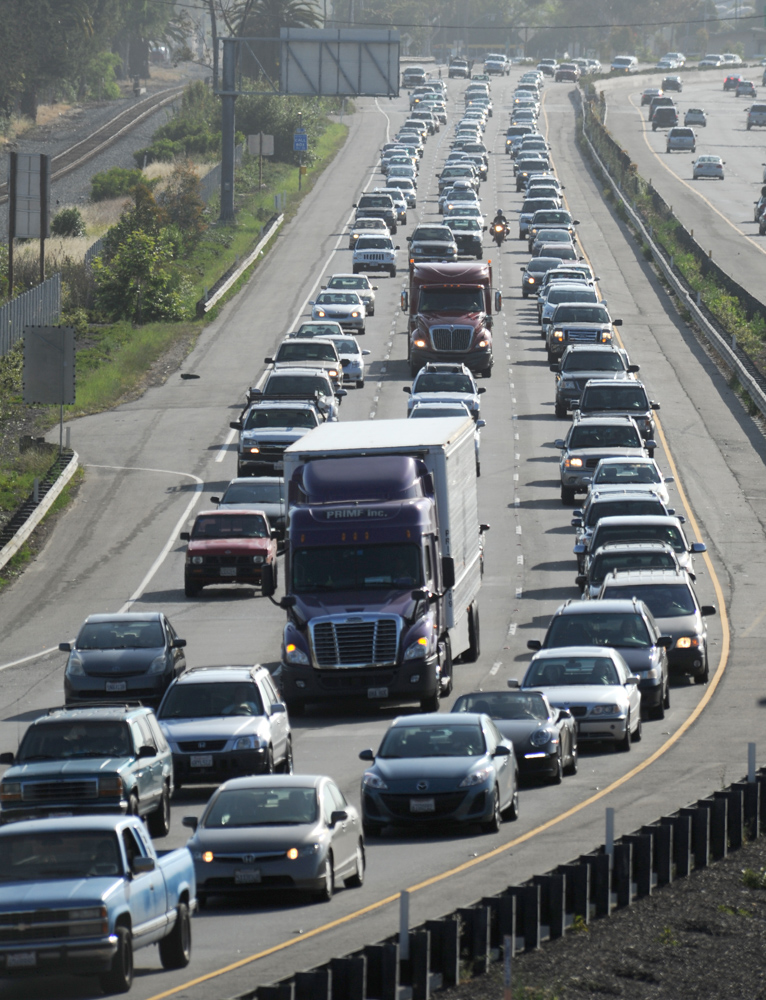 Conspicuously not counted in the Republican math is the cost of continued deferred maintenance. How much more will the average car owner have to pay out of pocket because potholes are allowed to become sinkholes? Those costs pale compared to the loss of life and limb inflicted by structurally unsafe roads, bridges, and freeway overpasses.
If Prop. 6 passes, Santa Barbara County will have to do without $12 million in annual road-maintenance revenues made possible only by the gas-tax increase. Of that, $2.6 million is earmarked for the City of Santa Barbara. More dramatically, Santa Barbara County will lose out on $417 million in state funds needed to finish not only the freeway-widening work now underway but also the projects needed to mitigate some of the inevitable consequences of freeway widening, such as a new roundabout at Olive Mill Road and a wider railroad bridge over Cabrillo Boulevard. Other projects include the new Class I bike lane along Modoc and Las Positas roads. And it's not just roads: Santa Barbara's Metropolitan Transit District will lose $1.3 million annually if Prop. 6 passes.
Statewide, of course, the picture is unimaginably worse. Opponents of Prop. 6 cite the state's 1,600 structurally deficient bridges and freeway overpasses. Currently, 6,500 transportation improvement projects now underway would find their future funding in free fall.
Proponents of Prop. 6 make many false and misleading claims. They argue gas prices will drop if Prop. 6 passes, but they have no say on what oil companies charge at the pump. They claim the state can cover the costs of these necessary road repairs with budget surpluses just lying around. Last we checked, the state's surplus was $16 billion, less than an eighth of what's needed. They also contend that state legislators will misuse the increased gas-tax revenues on pet legislative projects. This constitutes a knowing deception. This past June, state voters overwhelmingly embraced a ballot measure that mandated all increased gas-tax revenues be spent on transportation-related projects, and Prop. 6 proponents know that.
It's one thing to cut off your nose to spite your face. It's quite another to cut off your head. Prop. 6 would do just that. Vote no as if your life depended on it. It just might.
Yes on Proposition 7: Changes Daylight Savings Time*
There is something wonderfully pure about Prop. 7, which, if passed, would ask the California legislature to recalibrate the relationship of the state's 38 million residents to the clock and to the sun. There are no well-heeled special interests lining up for or against Prop. 7, and not a dime was spent on glossy mailers that will end up in the trash or commercials that serve only to vex and annoy. Prop. 7 was introduced at the instigation of State Assemblymember Kansen Chu, in response to a constituent who persuaded him that there are unforeseen health consequences to setting one's clock ahead by one hour every spring and then back again in the fall. Increased heart attacks, strokes, and accidents reportedly ensue shortly after such transitions. We object on more existential grounds; we are not hothouse chickens and our biorhythms should not be artificially manipulated as if we were. We are not arguing that humans should not get in planes because we were not born with wings. But we have grown perilously disconnected from our planetary cycles; the evidence is everywhere. Hawai'i and Arizona have already seceded from the tyranny of manipulated time. Many countries are considering similar abolitions. If passed, Prop. 7 would require the state legislature to examine the issue. If two-thirds agreed, they could make either standard time or daylight saving time year-round events. Assuming that were to happen, it would then fall to the federal government to ratify whatever they did. Prop. 7 doesn't end the discussion; it starts it.
Yes on Proposition 10: Enables Local Governments to Pass Meaningful Rent-Control Ordinances
Prop. 10 does not impose rent control throughout California; it merely allows city and county governments to pass expanded rent-control ordinances of their own if they so choose. It effectively repeals a law passed by the Legislature at the behest of the rental housing industry in 1995 ​— ​the Costa-Hawkins Rental Housing Act ​— ​that has severely hamstrung California cities in what kind of rent-control laws they could pass. For example, single-family homes were barred from any rent-control protections anywhere in the state. So too were all apartment buildings constructed after 1995. And lastly, the Costa-Hawkins measure allowed landlords unrestricted rent increases once a tenant moved out. If Prop. 10 passes, these exemptions will be gone, allowing local governments broader discretion in what kind of rent controls they seek to impose. Nothing in Prop. 10, however, repeals the court-recognized right of landlords to make "a fair rate of return" on their investments.
Right now, more than half the renters in California are spending at least 30 percent of their incomes on housing. That's the federal government's threshold for a "cost-burdened" household. More alarming, almost one-third of California's renters are paying half of their income for housing. Rents statewide are increasing at three times the rate of wages. The U.S. Census just announced that more than 9,000 Latino residents in Santa Barbara left town over the last six years. Nobody asked them why. Everybody already knows.
Rent control, admittedly, is a highly imperfect solution. But right now, market forces are such that tenants desperately need some countervailing pressure exerted on their behalf. We understand many landlords in Santa Barbara refrain from taking the most they can get. But increasingly we hear stories of new out-of-town investment companies buying up old rental properties ​— ​affordable by neglect ​— ​and evicting existing tenants ​— ​many working families ​— ​to make room for out-of-town students whose parents can pay top dollar. The passage of rent-control ordinances might, we are hoping, prevent such extreme abuses This, we understand, is only a stopgap approach that in isolation solves very little. But until local governments get more focused on a wide range of housing issues, such stopgaps are necessary.
Yes on Proposition 12: New Standards for Farm Animal Confinement*
Just because we kill animals before we eat them does not mean we need to torture them as well. Prop. 12 would require that mass-produced farm animals be afforded more space before their slaughter. For those of us who eat meat, it's the very least we can do. It's not just the humane thing to do; it's healthier too. If passed, Prop. 12 would require that egg-laying hens be allowed to roam cage-free by the year 2022. Before that, poultry producers would be required to give them up to one and half square feet to lie down, turn around, scratch themselves, give themselves dust baths, and lay their eggs. If Prop. 12 does not pass, the state poultry industry will remain guided by an initiative passed in 2008, which outlined more modest concessions to the living conditions of egg-producing birds and only in the vaguest of terms. Prop. 12 attempts to require similarly enhanced protections for pregnant pigs—taking them out of their boxed-in confines and ensuring they have at least 24 square feet. Likewise again with the calves raised for slaughter as veal, which would get 43 square feet of space. In addition, Prop. 12 will ban the sale of any out-of-state eggs, pork, or veal not harvested according to these thresholds. The poultry industry estimates these improvements will cost consumers an extra penny per egg. Given the obvious health benefits of not eating eggs produced under conditions that few of us can bear to look at, that's a bargain. As far as pork production, economic indicators show that there are actual cost savings associated with more humane cultivation practices. It's worth noting that the campaign against Prop. 12 has been waged by Californians Against Cruelty, Cages, and Fraud, who argue Prop. 12 doesn't go far enough and constitutes a sellout to the pork and poultry industry. Also in opposition to Prop. 12 is People for the Ethical Treatment of Animals (PETA). PETA, it should be acknowledged, takes an avowedly vegan stance, insisting that no egg cultivation be allowed in California. Don't be dissuaded by the hard-liners. Vote yes on Prop. 12.
Yes on Measure B: Santa Barbara Election Consolidation
Measure B will change the timing of mayoral and City Council elections within the City of Santa Barbara so that they will take place with even-year elections. That's when state, federal, and county elections are held. The most compelling reason to support it is voter turnout. Proponents of Measure B have noted that in November 2016, 85 percent of the city's registered voters cast ballots. By contrast, the year before, only 52 percent did. It's hard to argue that increased voter turnout's a bad thing. In the past, we worried that strictly local concerns might get overshadowed by state and national races, or that party politics might intrude on nonpartisan issues. But we are confident that in Santa Barbara, we will muddle through. And we think that such muddling is better done with more of us than less. It may not be pretty. But that's democracy.
Yes on Measure G • No on Measure H: Redistricting Commission
The easy way to understand these two dueling ballot measures is "G" is for Good and "H" is for Horrible. Both seek to create independent citizens' commissions that would redraw the political boundaries for the county's five supervisorial districts based on the new U.S. Census data. Oil and development interests paid to get Measure H qualified for the November ballot. It was written with zero public input by the Reason in Government Committee, a dubiously named committee with an even more dubious acronym: RIG. Measure G was formed by Supervisor Das Williams and political consultant Mary Rose as a last-ditch effort to thwart the backers of Measure H. The independent committee to be created by G is about twice as big as H's and more than twice as diverse, inclusive, and representative of the county's electorate. The H committee would guarantee two seats for registered Republicans even though they only make up 25 percent of county voters. To be fair to proponents of Measure H, their actions goaded county supervisors to draft a much better alternative. G is for good; please vote accordingly.
Yes on Measure X: Carpinteria Sales Tax
Of all the ballot items facing Carpinteria voters, the most important is Measure X, which will generate $2.3 million per year in much-needed city revenues by increasing the sales tax from 7.75 percent to a flat 9 percent. Measure X is not sexy, just necessary, the way sidewalks, street paving, and bridges tend to be. It takes a lot of money to run a city, even a small one famed for its cozy, down-home intimacy. Over the years, Carpinteria city administrators have been pruning services in the face of stubborn fiscal realities. Today, the sheriff's substation no longer maintains open office hours. But compared to road conditions, that's a small detail. When roads reach a certain level of deterioration, the decay accelerates, as do maintenance costs. Yes, Sacramento is covering most of the costs associated with the new freeway bridge, but the 14 percent in matching funds assigned the City of Carpinteria is still a very big gulp. Carpinterians have divined that half the sales-tax increase will be paid for by visitors, which might explain why there's no organized campaign against Measure X.
UPDATES
*The endorsement for Prop. 3 was changed from Yes to No.
*The endorsement for Lt. Governor was changed from Ed Hernandez to Eleni Kounalakis.
*We also corrected the sentence in our endorsement for Prop. 7 defining daylight saving time, which sets clocks forward one hour in the spring.
*Contrary to what was insinuated in our endorsement of a "Yes" vote on Proposition 12, which would lead to tougher regulations on factory farms, the Humane Farming Association and Californians Against Cruelty, Cages, and Fraud are not being "bankrolled" by the pork and poultry industries. Rather, the groups are opposed to Prop. 12 because it gives those industries what they want, and does not go far enough in the proposed restrictions.