Columns
Full Belly Files: Bottling Lines and Wines to Find
Giving New Meaning to Boxed Wine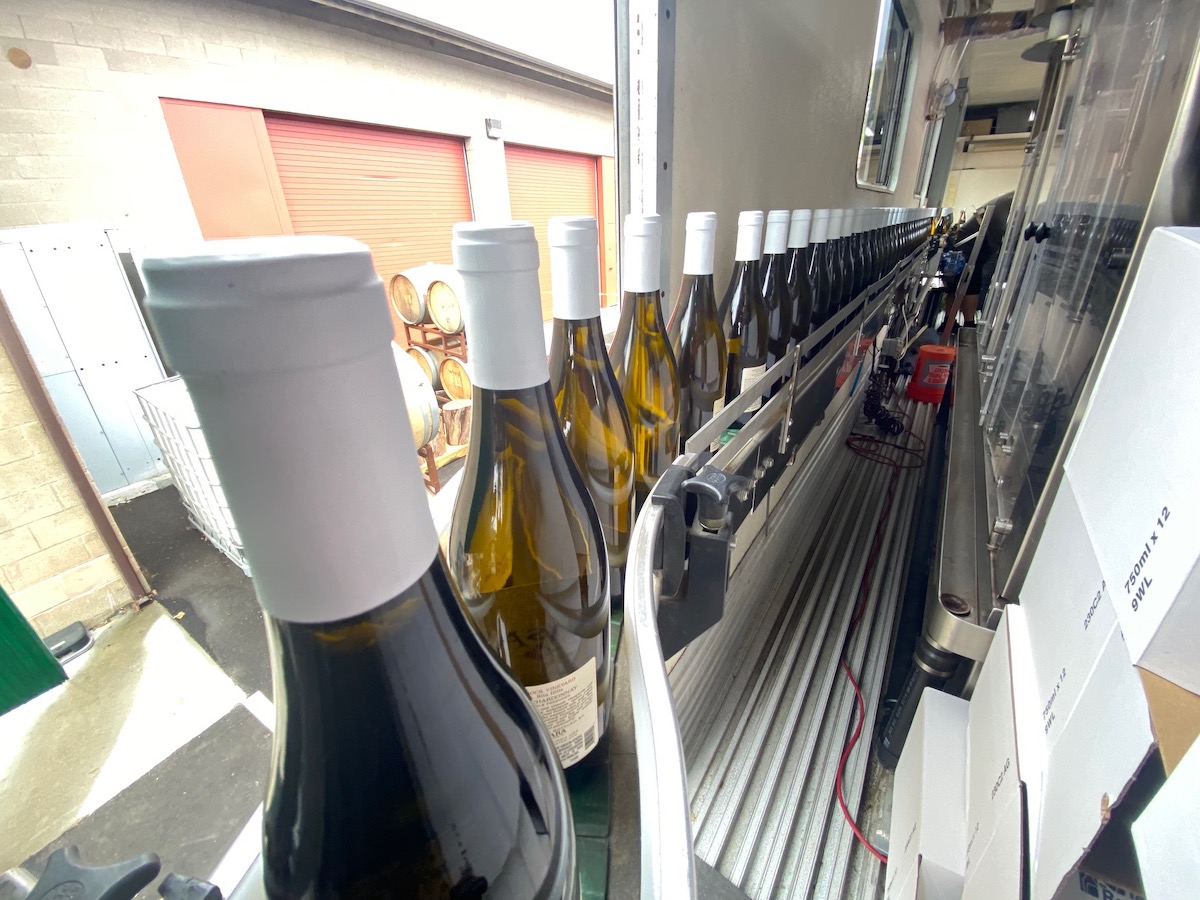 WORKING THE LINE
"Can you and Giuseppe handle putting the bottles in boxes?" winemaker Matt Brady asks me on a foggy morning outside of Samsara Winery in Goleta, where we'd come to volunteer our services on the mobile bottling line. The simple act of putting bottles into boxes sounded easy enough, so about 10 minutes and some basic advice later, we eyed the first of what would wind up being nearly 5,000 bottles to package by lunchtime.
It quickly became apparent that this act of stuffing bottles into the cardboard cases was the lynchpin of the entire operation — at least when it comes to volunteer labor. If we can't fill 12-packs, get them taped, and then send them down a rolling ramp out of the bottling trailer fast enough, the line immediately backs up.
And that's what started to happen right away when the line got up to full speed: we frantically pushed bottles into the tiny holding zone as more and more came down the conveyor belt. Our hearts started beating faster as we jostled boxes into place, grabbing two bottles at a time, and pushing the boxes down. Somehow, Giuseppe got a quick lesson on proper taping amid the chaos, and, then, we had it under control. But even just a second or two of day-dreaming, a slightly askew box, or a momentary break in rhythm would throw us back into disarray.
And it was also the most demanding part of the bottling, time-wise — as we remained stuck on the far trailer, out of the loop about when breaks were coming or going, other volunteers sampled wines outside, enjoying what appeared to be ample free time. But it was good, honest work, requiring mental attention and a bit of physical strength, and making the time fly by. I sample enough wine for my day job, so I'd happily do the bottle stuffing again.
By lunchtime — adobado burritos from El Sitio, for which we were adequately famished — we'd only barely chipped the glass on the neck of one bottle, never had to stop the line, and were being congratulated for jobs smoothly done. I'll be honest, though: I was glad to return to the relatively less stressful screen of my computer for the rest of my afternoon. 
I've made a tiny bit of wine most vintages since 2012, when I started a half-ton syrah project at Ampelos Vineyard with my buddy Giuseppe Bonfiglio. The point was to learn more about how wine moved from the ground to the glass, and we've kept it up as much as possible, given our increasingly intense work and personal lives. Some years, that means checking on the fruit regularly, foot-stomping the grapes, and helping with punchdowns before the wine even gets to barrels. In busier times of our careers, we merely arrange the fruit order, check in on the wine when we can, and consult for the final blends.
Along the way, I've done a bit of most parts of the process, even bottling smaller lots with simple devices. And in reporting on wine across the state, I've seen and even stepped into many mobile bottling lines. But last Thursday was my first time to actually work such a line, which is one of the ways that wine novices can start to interact with the winemaking process in a meaningful manner.
All across Santa Barbara County, wineries are bottling their wines with these mobile units almost every day, and so many rely on volunteers to help get the job done. So if you're interested in helping out, I'd suggest getting to know your favorite winery a bit more, and then inquiring if they ever need help. You may find yourself on their go-to list next time, and join a team of volunteers to get that next vintage in bottle. You'll be paid in experience and lunch, usually, plus a bit of wine to take home.
But when they ask if you'd like to "put bottles in boxes," be prepared for what will come if you agree.
---
Sign up to get Matt Kettmann's Full Belly Files, which serves up multiple courses of food & drink coverage every Friday, going off-menu from our regularly published content to deliver tasty nuggets of restaurant, recipe, and refreshment wisdom to your inbox.
---
WINES TO FIND
Credit: Courtesy
During lunchtime on our bottling adventure, there were a number of wines on the table, including a couple of fresh 2020 gamays that I brought to share: the Scar of the Sea Topotero Vineyard from San Luis Obispo County and the Russell Joyce Collection from old vines in San Benito County. And then out came the freshest of them all: the "Gramay Gamay" by Lily Hays, who works as the director of hospitality at Samsara. Light on its feet and super bright with snappy red fruits, it was ideal as the sun broke through the marine layer, washing down my burrito with glee.
The brand Future Perfect Wine just showed up in my garage, and the sunny, rainbowed packaging catches the eyes right away. (The proprietor's also sunny, as in Sunny Doench Stricker.) The first wine I tried was her sauvignon blanc, nicknamed "Breakfast Wine." It's well named, showing a richer side of the grape that goes down easily, any time of day.
FROM MY TABLE
---
Support the Santa Barbara Independent through a long-term or a single contribution.
---