Full Belly Files
Full Belly Files | Michelin Man Comes to Central Coast
Three Restaurants from Montecito to Paso Robles Won Stars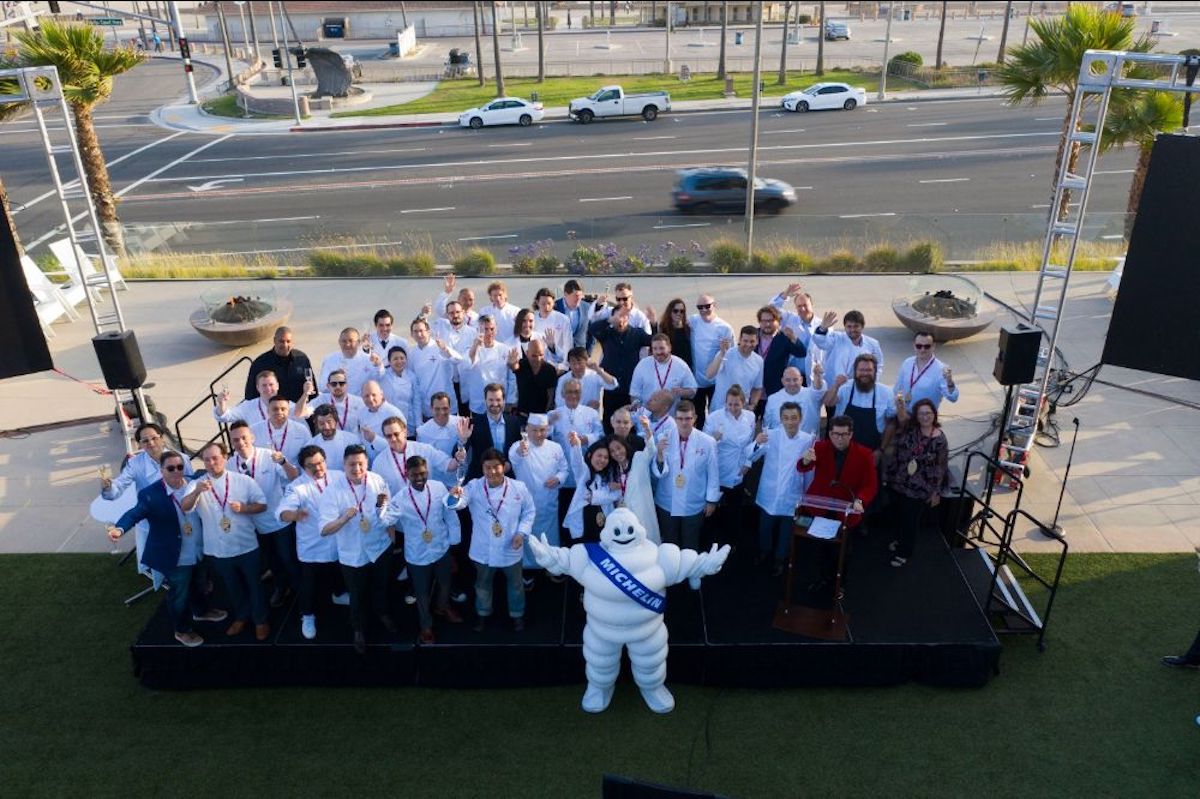 The Michelin Man now walks California's Central Coast.
For the first time ever, Santa Barbara County is now home to Michelin-starred restaurants, as Bell's in Los Alamos and Sushi | Bar in Montecito were both awarded with the coveted one-star designation by the Michelin Guide this week. A star also went to Six Test Kitchen up in Paso Robles, adding to the Central Coast tally. (Read my full report on the stars here.) 
Founded as a road map to restaurants by the famous French tire company back in 1889, the Guide is considered the go-to source for quality dining suggestions across Europe, Asia, Brazil, and North America. It first came to the United States by including New York City in 2005, then involved San Francisco and the Napa Valley in 2007.
Los Angeles was briefly under the microscope from 2008 to 2010, but the Guide expanded to covering all of Southern California and the Central Coast in 2019. The Central Coast didn't win any stars in that first year, though we did get two restaurants added as Bib Gourmands (Mesa Verde and Sama Sama Kitchen), which recognize great meals for under $40, and 11 establishments were listed as "Plates," where, according to Michelin, "inspectors have discovered quality food." 
This year's California awards were announced on Tuesday, and they can all be found here, including those listed as Bib Gourmand, Plates, and New Discoveries. The usually annual award affair, which skipped 2020 for pandemic reasons, always gets chefs, foodies, and food media Twitter, even amid attempts to tamp down the importance of one suggestion over another. For Southern California, the Los Angeles Times provided a thorough report and reaction, while the San Francisco Chronicle ran down Northern California's winners and losers.  
But what does getting a Michelin star even mean? Why is so much value placed on this system, which has elevated many restaurants from hidden gems to globally famous and, alternately, led to the suicides of chefs who lose their stars?
The Michelin Guide is quite transparent about the judging process. In this explanation, they list the five criteria — quality of products, mastery of cooking, representation of the chef's personality, flavor harmony, and consistency — and explain that numerous judges secretly visit every establishment multiple times before reaching a decision. The judges are supposed to remain anonymous, be independent, have hospitality expertise, and be passionate about food. 
In this anonymous interview with a Michelin judge by Food & Wine in 2017, we further learn that the judges are employed full-time, are very thorough (this one visited every starred establishment on the list in New York, San Francisco, Chicago, and Washington D.C.), typically order three courses (app, entrée, dessert) with a focus on a restaurant's specialties, and, like so many of us, they do take pictures of their food.
That all makes sense, but I wonder about how certain restaurants get and stay on their radar. From what I can tell, our Central Coast stars are all fully deserving.
I've eaten at Bell's numerous times with nothing short of delicious results each time, and then Chef Daisy Ryan got this prestigious national award. My mind was blown when I visited Six Test Kitchen back in 2016, when Chef Ricky Odbert was still serving out of his parents' Arroyo Grande garage, and I've heard their proper Tin City location only ups the ante. And if my experience at the short-lived Silver Bough was any indication, Sushi | Bar's attention to detail must be top-notch, as it thrives under the same ownership and focuses on a similar omakase, intimate service model. (I quickly booked a dinner there for mid-October upon learning the Michelin news, just in case it got too crowded; I'll report back.) 
Certainly, word of mouth and consistently decent online reviews must play a role in how the judges focus their attention, and traditional media reports don't hurt a restaurant's chances. But I have to imagine that social media buzz takes a seat at the Michelin Guide decision table now as well. Take a place like Bell's, which is much more casual than numerous starred restaurants — even co-owner Gregory Ryan expressed some surprise over the award, having worked at starred establishments elsewhere — yet it commands hipster attention like few other restaurants ever.
Whatever the criteria, the Michelin Guide picked some Central Coast highlights for 2021. But they're just scratching the surface, and it will be exciting to see what other restaurants rise to the occasion in the years to come.
---
Sign up to get Matt Kettmann's Full Belly Files, which serves up multiple courses of food & drink coverage every Friday, going off-menu from our regularly published content to deliver tasty nuggets of restaurant, recipe, and refreshment wisdom to your inbox.
---
What I'm Coming
Produce was piling up in my kitchen last week due to our usual Local Harvest Delivery boxes, contributions from neighbors, ripening fruits from my own backyard, and a visit to Crown Point Vineyards, which shared a bunch of their garden with me as well. 
So what did I do? Here's a visual report.
Bordeaux Fig Paste: Just homegrown figs, sugar, honey, and tangerine juice for round one, then added habanero and white pepper for the spicy version. Perfect for cheese plates.
Super-Thick Frittata: Loaded with potatoes, zucchini, bell pepper, Fresno chili, queso fresco, and caramelized shallots. Great Saturday brunch with friends from Eugene.
Fresh Bloody Mary: Grated tomato, dash of soy, vodka, and celery. Serve with NFL football.
Roasted Tomato Sauce: Roasted/broiled onions and tomatoes, finished with parsley and garlic on the stove. Made a nice base for scallops and cauliflower ravioli.
Not pictured: Endless rounds of gazpacho, bruschetta, and roasted red pepper and squash soup.
From Our Kitchen
---
Support the Santa Barbara Independent through a long-term or a single contribution.
---