Food & Drink
Six Test Kitchen's Garage Gourmet Stupefies
Arroyo Grande Chef Ricky Odbert Creates Gastronomic Wonder in His Parents' Tricked-Out Garage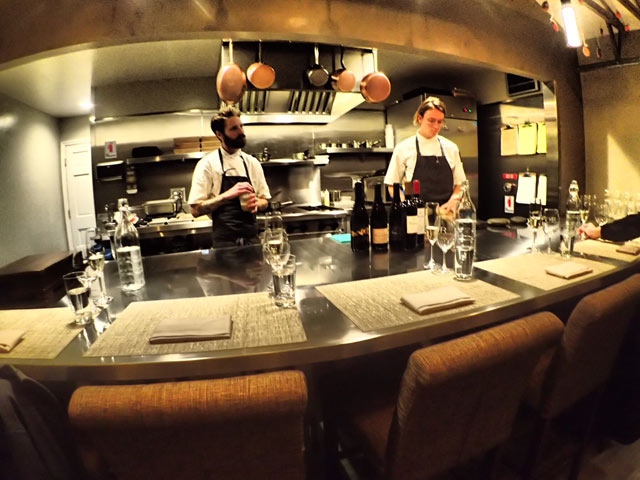 If exploring the possibilities of food through a 14-course meal in the tricked-out garage of a suburban Arroyo Grande tract home doesn't tickle your epicurean fancy, just stop reading now. If, on the other hand, you revel in food experiences where deliciousness is only the tip of the iceberg, where each dish opens your mind to the possibilities of what ingredients can be, where you uncover morsels of chemistry and windows into foreign cultures with every bite, then welcome to Six Test Kitchen, perhaps the most interesting culinary experience in California today.
Six Test Kitchen is the six-seat suburban experiment of 29-year-old Chef Ricky Odbert, who, after a decade of working in San Francisco's top kitchens, decided to literally come home. "I grew up in this house," he explained to me somewhere between the onion chicharrones and chicken/scallop chawanmushi courses a few weeks ago, explaining that his bedroom was behind the door. I'd joined five winemakers from the nearby Edna Valley for dinner in the garage turned commercial kitchen, where the sous vide station and stainless-steel countertops occupy the space once reserved for old records, faded pictures, and resident spiders. "I didn't want to work for anybody," explained Odbert. "I was just over it. I wanted to do my own thing."
As Toto and other '80s hits played in the background and multiple bottles of wine were uncorked (it's BYOB), Odbert explained each meticulously plated dish, from the flash-fried tapioca chips and aerated sunchokes with roe to the toothpaste-looking chicken liver squeeze and year-old persimmon dessert, which looked more like thick salami. Over the course of three hours, we were thoroughly entertained, educated, and amazed, including those of my companions who'd already been there, some multiple times.
"This is an accumulation of all the techniques that I've learned and latched onto throughout my career that I am now able to do in a more controlled environment," said Odbert, whose dishes pull from a panoply of culinary palettes. He relies almost entirely on seasonal Central Coast produce, but he incorporates traditional French and Japanese influences and employs techniques ranging from molecular (like the chicken presse that turns poultry into a dense, savory cake, or the white chocolate "dust" that decorates the yams) to homesteader (house-made vinegar, butter, bread, and even preserved citrus, more than two years in the making).
"It's the hardest thing to get people to understand," Odbert told me over the phone the next day, when we spoke for more than an hour. I was curious about what the average Arroyo Grande diner expects since creative fine dining has only recently been able to get a foothold there. "People say, 'I can't believe you make your own bread.' But every grandma makes bread. Who makes vinegar?" he laughed. "The whole idea of making everything in house is lost on many of them. People still think that the quantity of food you get is immediately correlated with the quality of food you're getting."
Odbert learned otherwise early on, his eyes opening to chef life during a home ec class in junior high. "I liked the freedom you get with cooking," recalled Odbert, who was also a fan of celebrity chef shows such as Emeril and Iron Chef and worked at Rosa's Italian in Pismo through high school. "You can make whatever you want, and there are no real rules, as long as it tastes good," he said. "I learned how to light stuff on fire, and it was purposeful."
In 2005, at age 18, he moved to San Francisco to attend the California Culinary Academy and then worked in a string of kitchens, including Wolfgang Puck's Postrio, Michelin-starred spots such as Cortez, and then Masa's, where he joined Chef Gregory Short's staff. "It was a totally different ball game," recalled Odbert, who'd sought a challenge and respected the restaurant's professionalism. "It wasn't necessarily a strict kitchen, but it was self-governed. People held each other accountable. You didn't need a tyrant."
He'd get a brief taste of the tyrannical at Meadowood in the Napa Valley, where he worked while the restaurant angled for its third Michelin star. "You would get shit thrown at you, or pushed up against a wall and yelled at in your face," said Odbert. "If you've ever seen Hell's Kitchen, it was like that, but in real life. At some point, it was really counterproductive." It's was nothing like Masa's, said Odbert, explaining, "It's like being taught by your father compared to being taught by someone who wants you to die."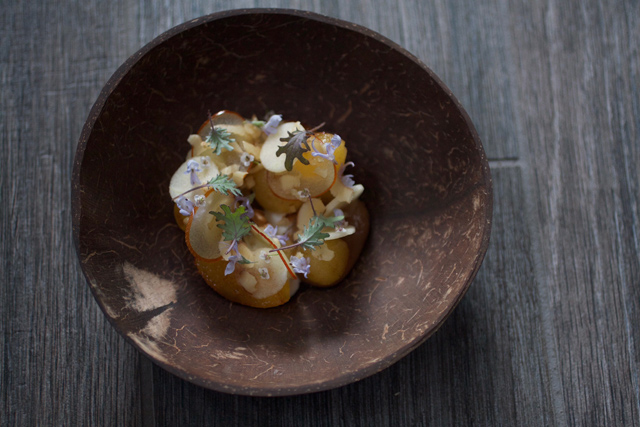 He returned to Masa's for a couple more years and then helped open Spruce and The Alembic. "Those were all me looking for my new Masa's, a place where I could grow," he said. "It never happened." He nearly opened a place with Orlando Pagan, now at The Village Pub of Woodside, but a lease fell through, and it was hard to get the momentum required without already being a star chef. "If you aren't already someone," he lamented, "then no one cares."
So he returned home to the Central Coast, where he found the food scene expanding into such places as Ember in Arroyo Grande and The Spoon Trade in nearby Grover Beach. That growth is thanks largely to the influence of the wine industry, a globe-trotting, restaurant-loving demographic that now makes up about 80 percent of Six Test Kitchen's business. Wine culture is also pushing culinary revolutions up the coast in Paso Robles and down this way in Los Alamos and the Santa Ynez Valley.
With his mom's begrudged blessing, Odbert and his dad, who does similar work for a living, turned the garage into a commercial kitchen and started serving in November 2015. Two months later, "on January 15, at 2:54 p.m.," said Odbert, representatives from the health, fire, police, and city planning departments showed up to shut him down for coloring way outside the rather strict restaurant-in-residence lines. Odbert then spent most of the next four months at City Hall, working out what was legal, and found that he could be classified as a cooking class, so long as he did not claim to be a restaurant. It may seem like a lucky loophole, but, in reality, I learned more about food during my three hours at Six Test Kitchen than I had in any previous experience of the past year. So while there aren't hands-on lessons, those who come with inquisitive minds will find an intellectual feast.
And that's exactly what Odbert hopes for Six Test Kitchen, which reopened on June 3 and has been serving a few meals each week. "There's more to it than the food tastes good — anyone who has salt on their hand can make food taste good," said Odbert, who dreams of expanding the concept to a proper 16-seat restaurant one day. "I want this to be thought-provoking."
Learn more and make a reservation by visiting sixtestkitchen.com.