Full Belly Files
Full Belly Files | Mushroom Mania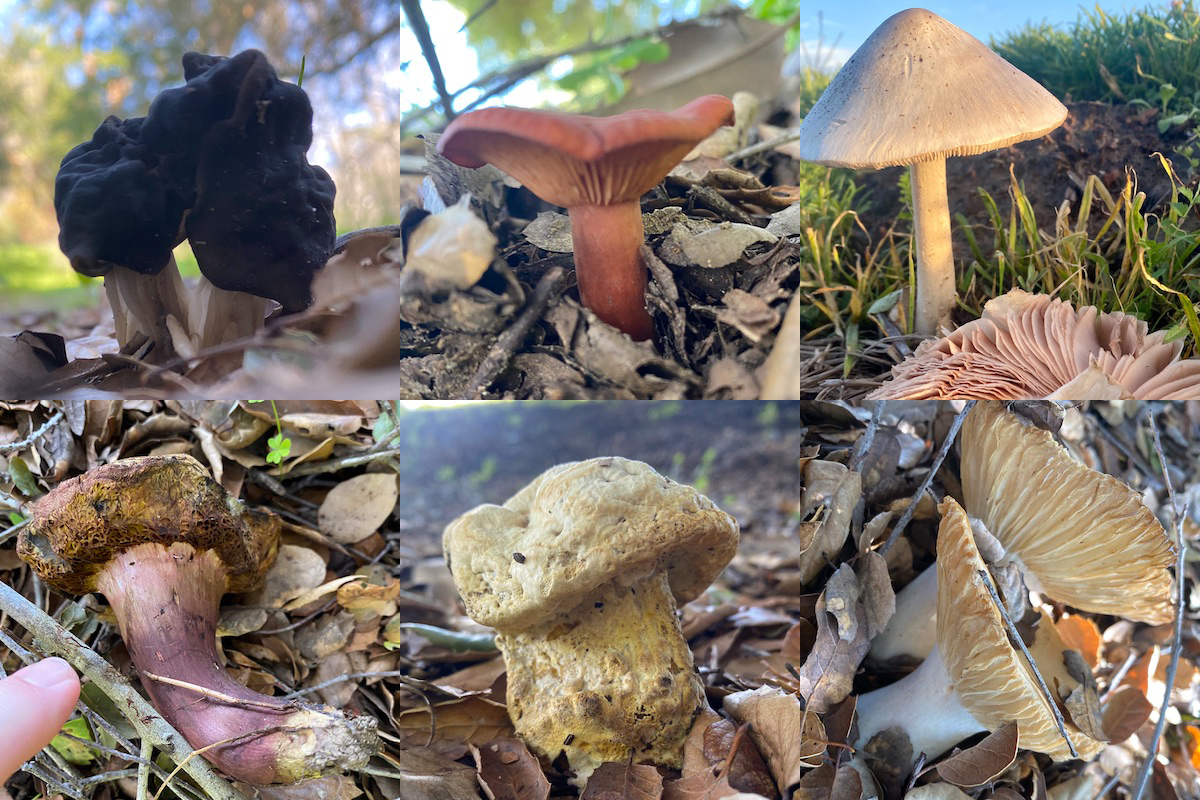 ---
This edition of Full Belly Files was originally emailed to subscribers on January 20, 2023. To receive Matt Kettmann's food newsletter in your inbox each Friday, sign up at independent.com/newsletters.
---
Like I assume it to be for most of you, I find mushrooms fascinating, and the recent rains have unleashed a more colorful and fantastic mycological showcase than I've ever seen. This goes for in-real-life places near my house — red and purple and bright yellow and proudly pale protuberances popping out of the grassy patches aside Goleta's many bike paths — to the reels of mushroom finds on social media.
Many of the Instagrammed shots center on chanterelles and other edible mushrooms, of which there are countless varieties. I also wrote about my recent chanterelle dishes in last week's Full Belly Files, and received a number of responses, with readers both admiring the dishes and wondering how to find wild mushrooms of their own.
The easiest and safest answer is to buy them from a professional. Plenty of restaurants are serving chanterelles in pastas, on pizzas, and alongside steaks right now, and the farmers' market offers a bounty of options as well, with connoisseurs particularly impressed with the consistent spread at Tutti Frutti Farms.
Meanwhile, the folks at Mighty Cap Mushrooms in Paso Robles grow a wide range of usually wild or at least rare mushrooms, including oyster, lion's mane, chestnut, king trumpet, and maitake. Though technically farmed, and a county away, they offer subscriptions with weekly or biweekly pickups in Paso or San Luis Obispo.
And for a serving of shrooms with education, head to Los Alamos on January 28 for winemaker Stephan Bedford's annual Mushrooms Gone Wild celebration at his tasting room. Apologies if it's already sold out, but any time you have to chat with Stephan about mushrooms (or history or books or cooking or…) while sipping on his earthy wines will result in eye-opening lessons on fungi and more.
For those inclined to go even deeper down the rabbit hole, there are numerous books out there to get newbies associated with which mushrooms taste good and which might kill you. When I was posting some photos on Instagram, winemaker Kyle Knapp of Stolpman Vineyards and his own Press Gang Cellars let me know that one pic was of a bicolor bolete. That is actually an edible species, it turned out, even though it was toxic shades of bright pink and chartreuse yellow. I did not eat it, nor did Kyle suggest as much, but he's excited about some recent candy caps that he collected and pretty sure that his secret lion's mane spot will go off this year.
When I asked about other mushrooms I'd seen, Kyle suggested picking up a copy of All That the Rain Promises and More…, which was published in 1991 by Santa Cruz–based author David Arora. I did and it's a fascinating, full-color, fit-in-your-pocket, nearly 300-page guide to the more common mushrooms — edible and otherwise — found around the West Coast. Arora actually published his more extensive Mushrooms Demystified five years earlier, but I'm not quite ready for those 1,000-plus pages yet.
Maybe that will change. I'm planning to join longtime SBCC mushroom expert Bob Cummings on a hunt this week. We first met in 2015 while preparing for a panel pairing wine with mushrooms and uni at World of Pinot Noir. (Here's an article about that by CentralCoastFoodie.com). This week, as I pondered mushrooms more, I reached out to Bob and he offered to take me on a walk. I'll write about that experience soon enough.
I also emailed another mushroom hero of mine, the wine expert and bon vivant Antonio Gardella, who's regaled me with tales of his mushroom finds over the years. (He's also a wizard on Santa Barbara restaurant history, as seen in this rundown.)
He agreed that 2023 "is the most bountiful chanterelle harvest season in years," although he lamented that he's not in the best health to get out there and traipse "through the steep, uphill, muddy, poison-oak-infested hills under the ancient oaks" like he used to.
He did agree to share a few of his favorite mushroom stories, though.
"Once deep into a local park forest in a light drizzle, I found a wonderful patch of dozens of chanterelles," he said of one such trip. "I bent down low to the ground and started harvesting them with my knife, slicing them from the base of the stalk just above the ground and gently putting them into my basket. With magical excitement, I got immersed into the harvest, only to look up and see a large deer with antlers just a few feet in front of me watching me. I froze, then proceeded to wait and watch until he sought other entertainment and scuttled into the forest."
He then recalled a drive toward Jalama Beach. "I noticed an ocean of gold beneath the immense forest behind a barbed wire fence with 'No Trespassing' signs posted," said Antonio. "I drove to the ranch main office, knocked on the door, and asked if I could jump the fence and pick some chanterelle mushrooms."
The manager declined, but then ran up to Antonio's car door when he was about to leave. "Usually, we have to stop folks who jump the fence hunting on our ranch, but you took the initiative to come and ask," the man said. "Go ahead and jump the fence and pick what you find. I will call off our cowboys and let them know it is okay for you to hunt the golden chanterelles."
Said Antonio, "I jumped the fence and filled many bags full of chanterelles, giving them to friends and held a potluck wine and chanterelle party that evening with wine- and chanterelle-loving friends."

Wish we were there!
---
Sign up to get Matt Kettmann's Full Belly Files, which serves up multiple courses of food & drink coverage every Friday, going off-menu from our regularly published content to deliver tasty nuggets of restaurant, recipe, and refreshment wisdom to your inbox.
---
Back to Bozeman
I took a quick trip to Bozeman, Montana, this past weekend to see Ethan Stewart and family, and catch some snow at Bridger Bowl. If you recall, I was just there in October, so it was fun to see the landscape totally covered with snow.

Food and drink was not on the top of the agenda this time, but I can wholeheartedly endorse the following:

From Our Table
In case you missed any of these stories:

---
Support the Santa Barbara Independent through a long-term or a single contribution.
---