Drink
The Santa Barbara Sips Scene
What's New and Newsy on our Ever-Evolving Urban Tasting Room Trail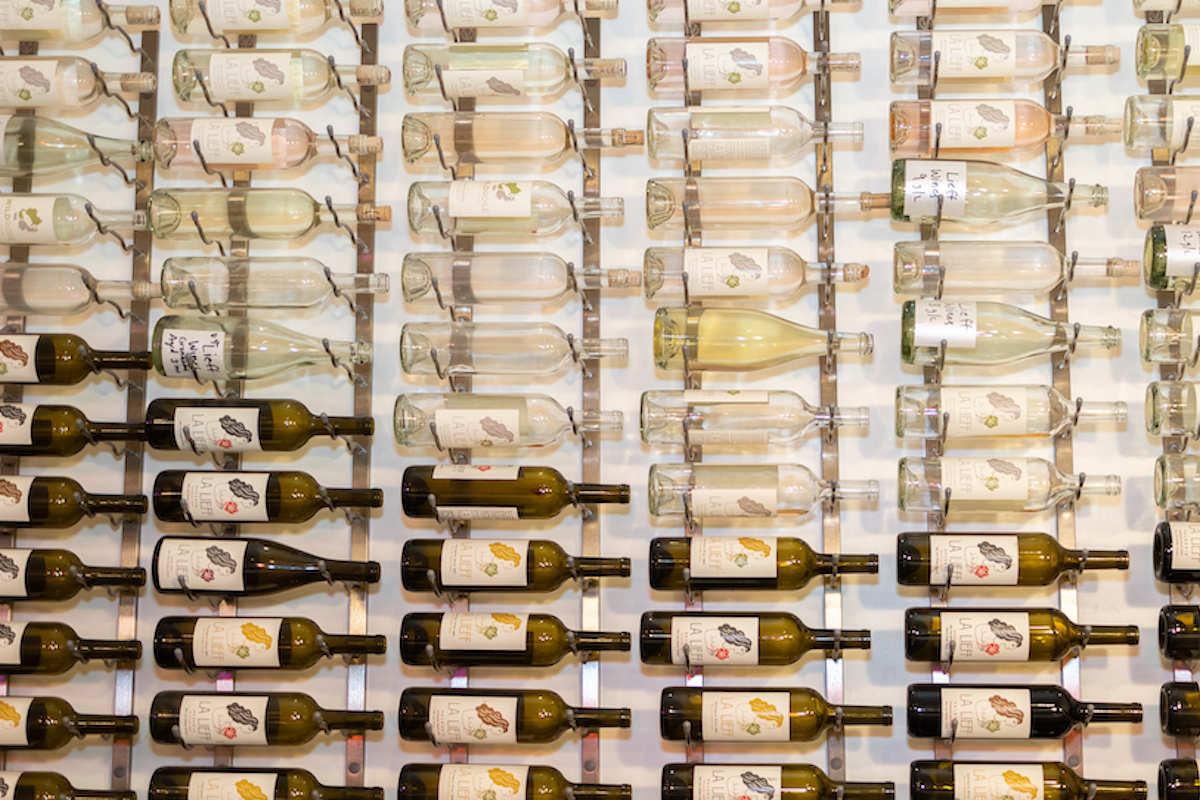 The SB wine scene has always been fruitful, but with a perennial growth of tasting rooms and recent Wine Enthusiast "Wine Region of the Year Award," the grape here truly seems to get better with age. To keep you updated on some of the hippest places to sip on the Central Coast, here's a round-up of some of the newest tasting rooms in town.
Fess Parker Funk Zone
When Fess Parker first opened in the Santa Ynez Valley in 1989, I was a one-year-old, and there were only 11 wineries in the Vintner's Association. Now I'm … (I'll let you do the math), and there are more than 200 wineries in the county. It's about time that a legendary winery like Fess Parker joined the Funk as well.
"We've long been fans of the vibrant Funk Zone neighborhood and are excited to continue our family's hospitality journey here," said Greer Shull, Director of Marketing at Fess Parker. That family hospitality was on clear display during my visit, as each tasting room associate made me feel at home in the former home of Pail Winery. The new spot has a light, bright, and polished feel with personable service warming up every corner. Folks who have only ordered Fess Parker wines at restaurants now get a chance to try their wide variety of offerings, including their Sta. Rita Hills pinot noir and chardonnay, their selection of estate grown Rhone varietals, and their Fesstivity sparkling wines which are made in the methode champenoise style.

"There's something for everyone at Fess Parker Funk Zone and you can get a real sense of how diverse a growing region Santa Barbara County is — all at one spot," Shull said. I was particularly taken with their full-bodied yet graceful mourvèdre, a varietal you don't see on every tasting room menu. The team plans to keep things fresh by changing up the wines in their flights fairly regularly and partnering with the community for music and food events.
Fess Parker Funk Zone, 116 E. Yanonali St., fessparker.com
Frequency Wine Company
"Frequency Wines was born in the belief that positive energy can be created, bottled, and shared." This credo on their website may sound far-fetched, but with one sip, it's hard to deny. Better yet, enjoy a bottle in their new pristine, yet homey, Presidio Building tasting room. Whether you're looking for a sunny patio showcasing Spanish architecture or a sleek modern indoor experience with vibrant art, the vibes throughout are as immaculate as the wines.
"The Old Presidio Building and Courtyard embodies the tradition that we cherish in our work at Frequency. It holds the heritage and history of the people who have created and served before us. Its architecture and décor is true to Santa Barbara's past, present, and future," said owner Zac Wasserman. "Frequency will evolve and drive the future of the Santa Barbara Wine industry, progressing the craft that has been handed down to us."

Wasserman started the Frequency label in 2010 (while working for winemaker Joey Tensley) and wine production is a family affair. The thoughtfulness of Wasserman's vision is clear in every tasty selection. Their delicate rosé is a sip from the heavens, while their deep, rich graciano feels indulgent and full-bodied in the best ways. Treat yourself to a flight to sample the spectrum of their wines, and don't miss the tasting notes — these engaging descriptions enhance the experience even more.

Frequency Wine Company, 804 Anacapa St., frequencywines.com
Kunin Wines
Kunin Wines has been around since 1998, but their charming new mountain-view location in the historic Presidio neighborhood feels like the perfect place to call home after relocating from the Funk Zone. "We're very excited to join the Presidio community. There's such a concentration of Santa Barbara creativity and history there. It's palpable," said Magan Eng, business partner and wife of the late Seth Kunin, who now runs the winery.
Kunin started out making bold syrah, zinfandel, and viognier, and over time the brand has expanded to include Rhone and Loire Valley varieties such as grenache, sauvignon blanc and chenin blanc. Eng fills the new space with her family's signature passion and grace, and finds kindred spirits with her neighbors at Cheese Shop SB. "Cheese is a flavor and texture bomb — a tiny morsel of it can really inform your impression and enjoyment of a wine. We think of food pairings all the time when we are making our wine, so how great is it that we can share those ideas with our guests?" she said. They have partnered to create plentiful cheese boards with heavy hitters like the Barber's Reserve Cheddar or Humboldt Fog to complement Kunin's bold syrah or the bright and balanced grenache. The sweet and spicy nuts are a tasting adventure in and of themselves. With abundant delicacies and warm hospitality, posting up at this cozy spot is the ideal way to spend an afternoon.

Kunin Wines, 831 Santa Barbara St., kuninwines.com
---
Sign up for Indy Today to receive fresh news from Independent.com, in your inbox, every morning.
---
La Lieff
Walking into La Lieff's tasting room on a cold rainy night felt like entering a spa. With candles glowing, little white tables, and a beautiful image of the mythological earth goddess Gaia blessing the freshly painted walls, La Lieff presents a luxurious softness and a welcome counterpoint to the warehouse vibes prevalent in the Funk Zone.
"The La Lieff Brand represents a commitment to the earth and environment," owner Gretchen Lieff said. "Gaia is the perfect representation of a strong female presence with a deep connection to the earth."
It's no wonder I felt immediately welcomed and nurtured in this space, not just by the service and atmosphere but also by the delicious wines made with Estate Grapes grown at Alamo Creek Ranch. Their flight starts with a crisp sauvignon blanc, moves into their delicate rosé of grenache and then shifts into some of the best grenache I've ever tasted with deep aromas of balanced fruit. The last is their "Valkerie" grenache syrah, a robust example of female power.
Lieff's championing of the feminine is not just symbolic. "All of my wines are crafted by women," she said, noting her team of Kris Curran, Sally Sigouin, and Lauren Rava. "Our goal is to provide encouragement and support to women, while being mindful of our impact on the world around us. This dedication is reflected in our affiliation with sustainable vineyards and low intervention winemakers."
Lieff will host a variety of community events with the hopes that their tasting room will serve as a safe and convivial gathering space for all. We were treated to an early taste of her sparkling rosé of grenache disgorged just three days prior. As we excitedly clinked glasses, hugged, sipped, and savored together, I felt assured that Lieff's dreams of opening an intimate communal space are already coming to fruition.

La Lieff Tasting Room, 210 Gray Ave., lalieffwines.com
Pali Wine Co.
Pali Wine Co. joins in the musical chairs of SB tasting rooms with its lovely Funk Zone Garden location in the former space of Oreana. Their new digs boast a big, bright, and minimalist style indoor and outdoor space, allowing their flavorful wines and frosés to do the talking.
Based in Lompoc, Pali was founded in 2005 and now has three brands including Neighborhood Winery, their line of natural wines, which focus on low-intervention practices such as refraining from including additives or chemicals, or even using conventional winemaking tools. These wines are young, fun and zippy, especially their Sparkling Pet Moon White wine. It's light, crisp and delicious, perfect for enjoying in their charming courtyard with a side of house-made hummus. Other stand-out wines include their tasty Carbonic Red, "My Fruit Trees." Traditionalists can still find their classic pinot noirs, rosés, and more from their 30 different options.

"Whether new to wine or an experienced oenophile, we have wines that will please everyone," said Tim Perr, co-founder of Pali Wine. It's this unpretentious, approachable and multi-faceted attitude that will keep fans coming back to Pali no matter where they are or what style of winemaking they embark on.

Pali Wine Co., 205 Anacapa St., paliwineco.com
Valley to the Sea Winery
For a market that's supposed to represent the epicurean delights of our town, since the pre-pandemic closure of Wine + Beer, the Santa Barbara Public Market was lacking representation on SB's robust wine scene. Enter Valley to the Sea Winery, a tasting outpost opened by Jamie Savellano in 2021 in the former space of Enjoy Cupcakes.
Savellano has had over 10 years working in the wine industry and sought the expertise of talented Samsara winemaker Matt Brady to create his tasty selections which range from a crisp sauvignon blanc to an earthy pinot noir, all made from different microclimates in the Santa Ynez Valley. "The name Valley To The Sea Winery refers to the only valley on the entire west coast that runs east to west all the way to the sea," Savellano explained.

He is quickly making friends with his neighbors and giving guests a new way to taste through his food and wine pairings, a collaboration with sommelier Lily Hays. Along with sniffing aromatic samples, such as a whiff of fresh pineapple to bring out the flavors in their full-bodied chardonnay, guests can employ all of their senses by pairing their wines with a meal from Fala Bar, Ca'Dario, or Corazon Cocina.
"It takes it to the next level," Savellano said. For an educational, sensual, and just plain fun experience, Valley to the Sea is an excellent option to spice up your next wine tasting adventure.

Valley to the Sea Winery, SB Public Market, 38 W. Victoria St., valleytotheseawinery.com
---
Support the Santa Barbara Independent through a long-term or a single contribution.
---