Community
Drag Queen Story Time Draws Protesters and Supporters to Downtown Santa Barbara
Counter-Protesters Outnumber Opposition at Saturday Rally Outside The Crafter's Library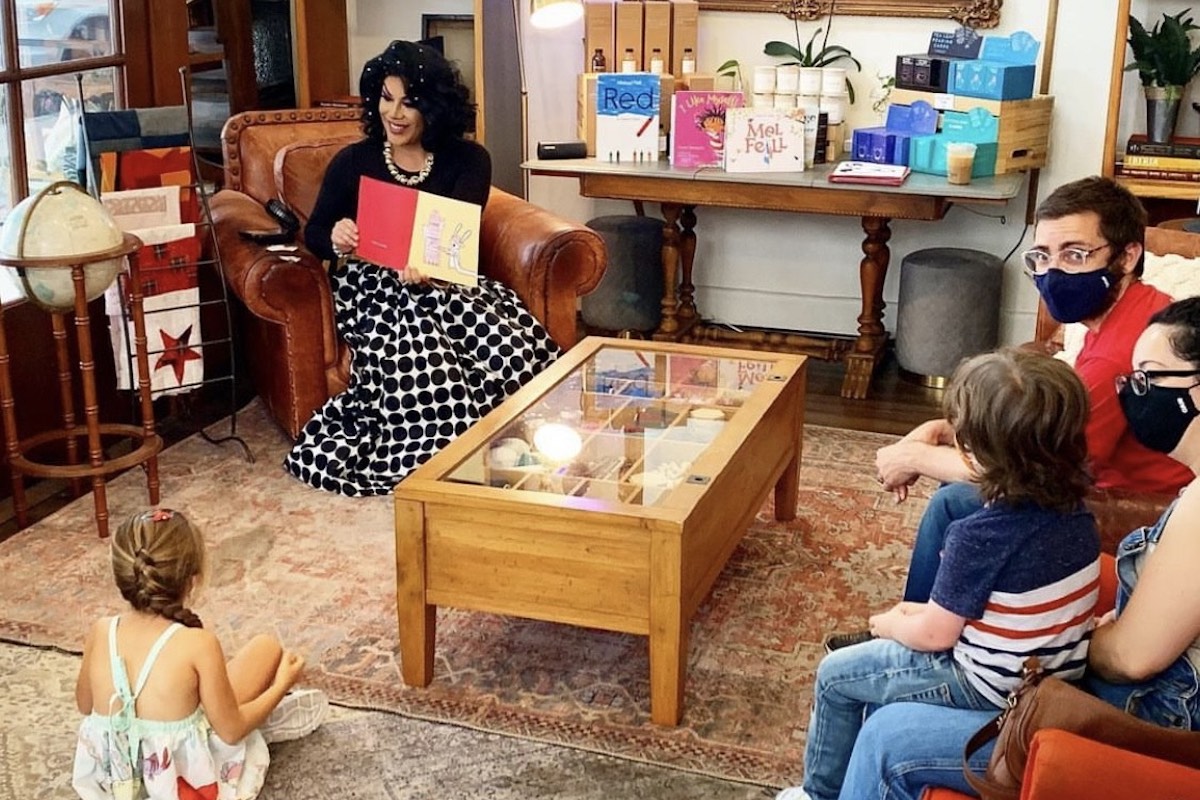 [Updated: Feb. 15, 2023, 1:40pm]
Supporters and protesters of a drag queen story hour gathered on opposite sides of State Street outside of La Arcada Plaza on Saturday morning. Inside the plaza, Santa Barbara drag queen Miss Angel D'mon was reading children's stories to attending families at The Crafter's Library.
The Crafter's Library has hosted its monthly Story Time with Miss Angel since December 2021 as a free, family-friendly event featuring storytelling and crafting activities. Saturday was the first time that the event had been met with active displays of opposition.
"Parents look forward to it once a month," said Andrew Rawls, owner and founder of The Crafter's Library. "Miss Angel does nothing but uplift and encourage children to be exactly who they are."
The protest was organized by the Santa Barbara County Republican Party (SBCRP), which sent out fliers early last week calling on members to "peacefully and respectfully protest" the event. The small group of protesters held signs reading, "Keep Kids Innocent," "Stop Mocking Women," and "Perversion Isn't Education."
SBCRP member Linda Foster said her reasoning behind organizing the protest was "non-political." She said that it was not "out of hate," but based on feelings of "sadness and fright" around children being "exposed" to the "radical" and "abnormal" image of drag queens.
"We're scared," Foster said. "I don't want my grandchildren to be exposed to child storytelling like this. It's not a big deal. It's regular storybooks; I get that. It's just the whole point of it."
Saturday's protest mirrors that of others targeting drag queen story hours around the country, coinciding with a recent uptick in anti-drag legislation in states such as Arizona and Texas. Many of the recently proposed censorship bills include banning minors from viewing or participating in drag shows, and a few explicitly ban drag performances at schools and public libraries.
The fliers state, "Drag queen story hours deliberately confuse and sexualize young children, to make them more accepting of sexually deviant behavior," and protesters said they were there to "protect children." The protest remained peaceful.
"The only sign that really got to me was the sign that said 'Crafter's Library, Stop Abusing Children,'" Rawls said. "Because I am a former educator…. And the fact that they would even allege that we were doing anything here that didn't have the children's safety first and foremost in our minds was insulting."
Protesters were outnumbered nearly three to one by the group of more than 50 supporters of the event and Miss Angel, who sang songs and cheered behind banners and signs with messages such as "Hate Is Such a Drag," and "We Love Angel."
"I was really nervous leading up to the event," Miss Angel said. "And when I got there, I was so shocked with the amount of allies and LGBTQ community that were out there in support, the amount of people that were in the library, and the amount of parents that continue to bring their children. I had a lot of kids do the activities and story time, and it just really filled my heart."
Miss Angel said that most people don't understand that she's been a teacher for the past six years. She currently works as a K-1 educator in Ventura and is in the process of publishing her first children's book. She said she uses inclusive stories and positive affirmations to teach kids to accept themselves for who they are and to be comfortable in their own skin.
"So this isn't just a story time for me. This is my career; this is what I do," she said. "And for people to make false accusations like that — it hurts. I really hope people understand that there are queer people who are teachers."
Rawls said the most disappointing aspect of the protest was that none of the protesters reached out beforehand to have a conversation with him or Miss Angel. At the end of the protest, Rawls crossed the street to approach those who were protesting and thanked them for being there and voicing their concerns.
"No matter what you believe, it's always sort of scary to put yourself out there," Rawls said. "I invited them to actually come and see what we do here at The Crafter's Library because it was clear from the signage that they were operating under false assumptions."
Despite Saturday's protest, Rawls emphasized that The Crafter's Library will continue to host story time events with Miss Angel. The next event is scheduled for March 4.