Food
We Want the Funk Serves Sparkling Style Amid Casual Vibes
Ted and Greer Ellis Bring Background and Personality to Their New Funk Zone Restaurant-Bar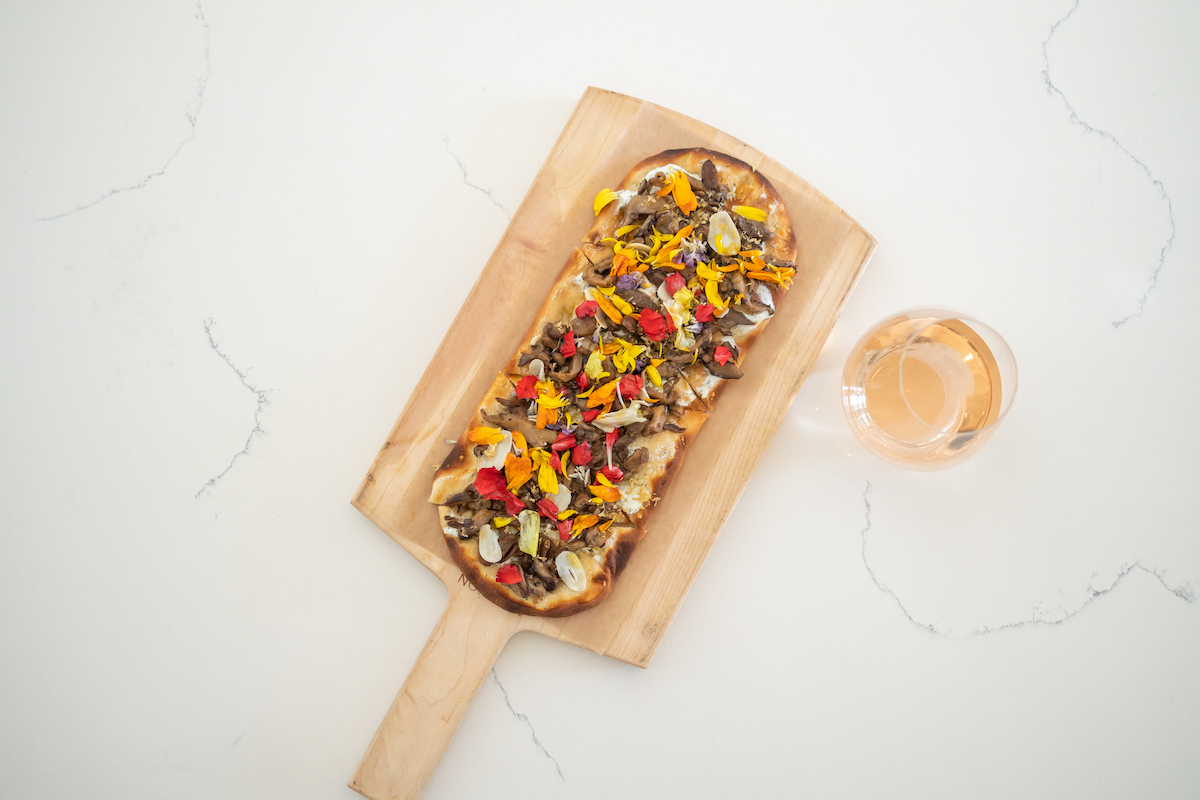 "We entertain a lot at our house," explains restaurant veteran Ted Ellis, who opened the lounge-like We Want the Funk toward the end of 2022 with his wife, Greer. "We wanted this to be an extension of our home."
With lots of bubbly and beer, myriad oyster options, and a menu full of flatbreads freshly fired in a food truck permanently parked on the patio, this new Funk Zone establishment echoes the soirees that they're known for throwing in their San Roque neighborhood. But instead of suburban backyard vibes, the decor here is '70-inspired, "mohair-and-mustache," with a psychedelic, Peter Max–ish mural created by Santa Barbara artist Michael Matheson (a k a Metal Teepee), Tom Petty lyrics in neon, glitzy gold lampshades, and a disco ball to twinkle the nights away. The setting — designed by Greer, built out by Ted — triggers a sense of fun and joy, the ideal forum for friends, families, and anyone seeking a bit of easygoing escapism.
That, too, was intentional, because the couple's last venture was more struggle than sunshine. Their nearly three-year-long quest to turn the old El Torito on Cabrillo Boulevard into the modern Cal-Asian restaurant Oku was a particularly savage planning-process horror story. And then, just months after its late 2019 opening, the pandemic pounced. The oceanfront eatery eventually emerged triumphant with the help of investors and their partner Tina Takaya, who also co-owns Opal Restaurant, but Ted and Greer were ready to move on by fall 2021.
A short time later, Ted was helping Gretchen Lieff locate a tasting room for her La Lieff Wines. They knew each other from more than a decade ago in San Francisco, where Ted, a Chico State grad originally from Walnut Creek, cut his hospitality teeth as a sommelier and manager in some of the city's finest establishments. When they found this warehouse on Gray Avenue — originally Wally's Auto Shop, most recently storage for Santa Barbara and Lafond wineries — they knew it was too big to just be a tasting room. By splitting the building down the middle, the Ellises were back in the restaurant game.
"It was just a box," recalled Ted of the simple structure. But he trusted the talents of Greer, who learned about design while visiting properties as a kid with her dad, a prominent developer in Tulsa, Oklahoma. "She knows how to see spaces," he said of his wife.
They met 15 years ago at the Bus Stop Saloon in San Francisco, where Greer had moved to be closer to her sister and work in venture capital. Though she liked the Cowboys and he liked the 49ers, a love affair and marriage ensued. (Her sister also found a husband at the Bus Stop.) Two years after having their first child, the Ellises traded skyscrapers for Santa Barbara sunsets in 2012. He nearly joined the opening team at The Lark — he did briefly work as manager there after leaving Oku — but opted to be food and beverage manager at the Bacara for a few years.
With Greer focused on the looks and feels of We Want the Funk, Ted concentrated on turning the box into a functional restaurant. Champagne and shellfish were top of mind. "We started with oysters first," said Ted. "They're always kind of an afterthought in other restaurants."
He crafted a wine list to match, with six bubblies (half of them by-the-glass), plus a few whites and reds and more than a dozen seltzers, ciders, hard kombuchas, and brews that lean hazy IPA. The frosé machine should land this month, adding adult slushies to the mix, and an extensive spritz menu is also on the horizon. "It's a much smaller wine list than what I've made in the past," said Ted, but he wants people to enjoy it all. "Except for high-end champagne or a couple of reds, everything will be by the glass."
The real challenge was providing more substantial foods. Though too small to build a commercial kitchen inside — plus, that Oku permitting shellshock lingers long — Ted realized the patio was big enough to fit a food truck. While Santa Barbara hasn't exactly been friendly to that trend, there's no prohibition from parking one on your own property. By connecting those dots and adhering to the applicable health codes, a permanent food truck became We Want the Funk's official kitchen.
Inside the truck is a Forno Classico wood-fired oven, hand-crafted in Goleta. "We love that we were able to buy something locally," said Greer. "That's the workhorse of the kitchen."
At the helm is Chef Juan Ramirez, formerly of Middle Child and The Lark. Working in the truck's tight space, he's pumping out an efficient array of starters like the straightforward-yet-satisfying focaccia with burrata, salty snacks like tempura green beans and truffle-parm fries, and crunchy, entree-sized salads named Janis Choplin and Voodoo Child.
Much to the owners' delight, Ramirez takes oysters in multiple directions. He serves them on the traditional half-shell, of course, but also developed two distinctive wood-fired options: one in a sake-soy glaze, the other doused in parmesan, garlic, butter, and cayenne with flatbread for soaking up the juices.
The flatbreads are even more expansive, ranging from classic margherita to the inventive Taco Truck, with carnitas, cotija, and pasilla. Most memorable is the Shroomin', where mushrooms, goat cheese, and chili crisp hide beneath a tapestry of edible flowers, offering a rainbow of sensations for both eyes and taste buds.
The Dream Cream dessert is downright revelatory: soft-serve vanilla drizzled with citrus-spiked olive oil and sprinkled with Maldon salt. It's a bit like We Want the Funk itself — a surprisingly simple formula that links readily available components into something we didn't even know we wanted.
Just take Tom Petty's neon words for it: "Oh My My, Oh Hell Yes." Then go grab that party dress.
210 Gray Ave., (805) 837-8584, wewantthefunksb.com