Food & Drink
Whiskey-Powered Pairings
Honoring Black History Month, Uncle Nearest Whiskey-Themed Dinner Brings an Inspiring and Spirited Evening to Finch & Fork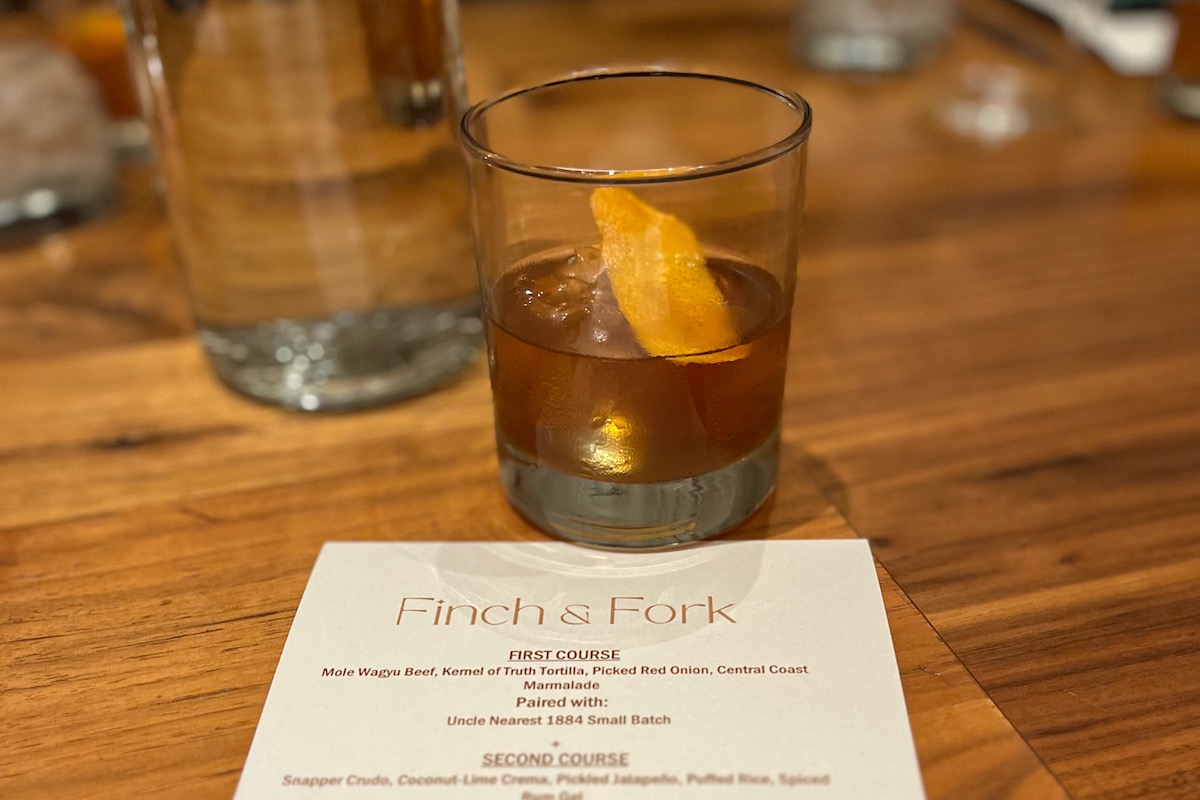 Uncle Nearest Whiskey and Finch & Fork Executive Chef Nathan Lingle made a powerful pairing at Friday night's special dinner in honor of Black History Month. I'm partial to dark liquors, especially in the winter months, and this duo did not disappoint.
We came out of the cold and rain and into the Canary Hotel lobby where we were warmly greeted with a "Barrel-Aged Old Fashioned," concocted from the classic ingredients of sugar, Angostura bitters, and Uncle Nearest 1884, which were mingled in a small wood cask prior to our arrival. Once we were seated in a private room with two intimate tables of ten, Matt Carlson — the California-based Uncle Nearest Ambassador whose job sounds almost as much fun as mine — gave us some of the history of the Uncle Nearest brand.
Nathan "Nearest" Green was a former slave who became Tennessee's premier master distiller, helping to perfect the process that is still followed today and passing on his craft to a long line of whiskey legends, including Jack Daniels himself. While Nearest's contributions have been long known in the industry, it wasn't until a New York Times article about Jack Daniels caught the eye of entrepreneur Fawn Weaver that a unique brand was built around the Nearest legacy. Launched in 2017, Uncle Nearest has become the fastest-growing independent premium American whiskey brand in U.S. history.
Not only does it have a fascinating history, direct descendents of both Nearest Green and Jack Daniels are involved to the level that, "every bottle has been touched by a hand of descendent," says Carlson.
And that great back story also involves paying it forward.
In honor of Black History Month, the Kimpton Canary Hotel's Finch & Fork has been taking part (along with bars and restaurants across the U.S.) in the Uncle Nearest HBCU Old Fashioned Challenge, aiming to raise $1 million for Historically Black Colleges and Universities. For every Old Fashioned sold at Finch & Fork in February, the restaurant contributed $1 to the campaign, with Uncle Nearest matching each donation across the country. Not only that, at Friday's dinner they announced that they would continue the $1 per Old Fashioned matching donations through March, in honor of Women's History Month.
My tasting notes:
First Course
Mole Wagyu Beef, Kernel of Truth Tortillas, Pickled Red Onion, Central Coast Marmalade
Paired with Uncle Nearest 1884 Small Batch
The Mole Poblano was barrel aged with Bourbon, shared Chef Lingle, which gave the meat a wonderful tenderness that paired beautifully with the brown sugar, honey, and orange notes of the whiskey. Another sweet note, the L.A.-based Kernel of Truth Organics tortillas are made with the traditional nixtamal process — using limed kernels of corn ready to be ground into masa — giving it a sweeter, toastier flavor than the corn flour tortillas found in most grocery stores.
Second Course
Snapper Crudo, Coconut-Lime Crema, Pickled Jalapeño, Cara Cara Orange, Puffed Rice, Spiced Rum Gel
Paired with Uncle Nearest 1856 Premium
While Snapper is not an obvious choice to pair with whiskey, this was actually my favorite course of the night, in part because of the exciting textures of the dish. The snap, crackle, and pop of the puffed rice with the alcoholic bite and gushy texture of the spiced rum gel was particularly fabulous and unique. The 1856 premium aged whiskey was the original offering from Uncle Nearest and is extremely smooth and quaffable.
Third Course
Rabbit Etouffee, Sea Scape Grits, Fried Okra, Kohlrabi
Paired with Uncle Nearest Straight Rye Whiskey
The distinctive spice of rye and richness of this whiskey complimented the excellent grits (sourced from Tehachapi, according to Chef Lingle) in particular. I also loved the nod to New Orleans of the Fried Okra on this beautiful plate. In addition to the rye, we enjoyed a New Orleans style Old Fashioned with this course, featuring Flora de Caña premium rum and bitters, along with Uncle Nearest Whiskey.
Fourth Course
Central Coast Olive Oil Cake, Rye Poached Pear, 1856 Chantily
Paired with Uncle Nearest Single Barrel Limited
The subtle pear flavors of this dessert were a great match for the strongest whiskey of the evening. Available in limited quantities and only sold online, this singular spirit is bottled at barrel strength and then triple filtered to capture every nuance. It definitely packs a punch.
Whiskey Tasting Tips
In addition to the delicious meal, Carlson also offered some whiskey tasting tips. The first thing you should do is smell, "breathe in through your nose and then open your mouth and breathe in again through both your mouth and your nose." Then take that first sip, which "shocks your palate." Roll it around in your mouth a little bit to taste the flavors. The second sip "offers different tastes and flavors in your palate." The next sip you should start to pay attention to the flavors in the finish. The length of time you can taste the flavors for is what determines whether it's a short or long finish.