Sports
San Marcos Rides Cliff Ficker's Hot Serving to Victory Over Dos Pueblos
The Royals Improve to 6-1 in Channel League Play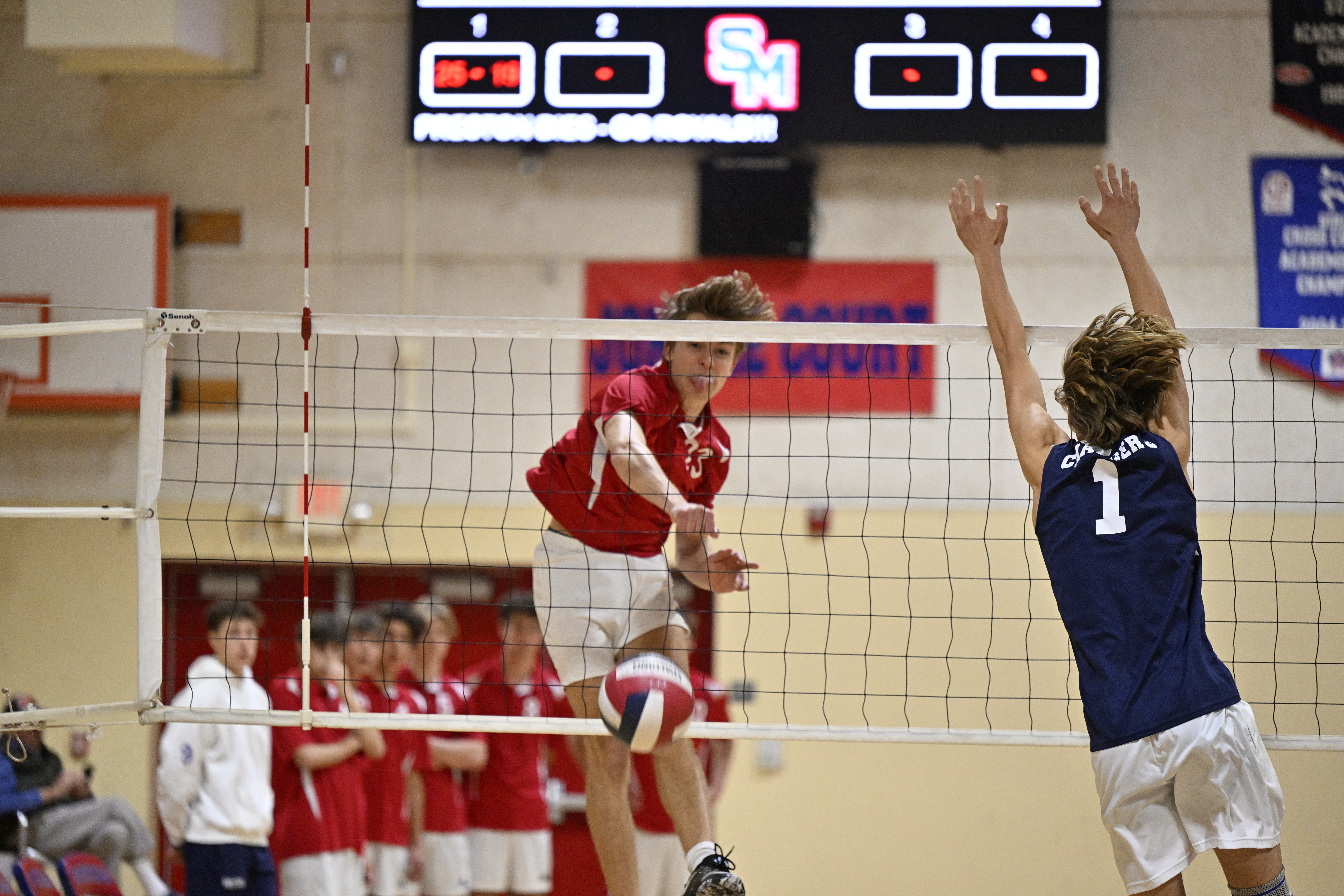 With first place in the Channel League on the line, San Marcos High libero Cliff Ficker put together a marathon serving run that put away visiting Dos Pueblos.
When Ficker started serving, San Marcos trailed 11-10 in set four and appeared in danger of being taken to a fifth set. When Dos Pueblos was finally able to side out on a kill by Matthew Wilcox, San Marcos led 24-12 and the Royals closed out the match shortly thereafter, 25-14, on a kill by Kyle Foley.
"Our coach said it was up to everyone to step up and do something special, and I guess it was my night to do something special," Ficker said. "It's hard getting in a rhythm [serving], especially for me, but once I get in it, I kind of sit in it."
The match had several momentum shifts that affected the final outcome. Set one was tied at 16-16, but San Marcos closed on a 9-3 run and clinched a 1-0 set lead on a Foley block.
The Royals jumped out to a 17-4 lead in set two on an ace serve by Mason Rice and clinched a 2-0 set lead on a Dos Pueblos serve error. San Marcos was locked in with its serve receive through the first two sets, which led to the strong start.
"I told them at the beginning it's going to take a little bit of magic to win the game against Dos Pueblos because it doesn't matter if you thump them the first two games or not; it's always going to be a battle at the end," said San Marcos head coach Roger Kuntz. "It always has been that way, so we got very fortunate to get out of here with the win."
Dos Pueblos flipped the script in set three as back-to-back ace serves by Micah Goss set the tone and gave the Chargers a 4-2 lead. A kill followed by another ace by Goss increased the Dos Pueblos lead to 17-22.
The Chargers went ahead 19-13 on a kill by Ewan Richards and capitalized on San Marcos errors down the stretch to force a fourth set. 
"I don't feel like we were locked in for the entire match, we just kind of had our moments with a lot of skills this game," said Dos Pueblos head coach Ehren Hug. "This is a tough place to play."
Set four started well enough for Dos Pueblos as a solo block by Grant Hughes evened the score at 5-5. An ace serve by Jan Schmidtchen increased the Dos Pueblos lead to 10-7. A kill by Luke Walker cut the San Marcos deficit to 11-10 and Ficker took over from there with his 15-point service run.
"I've never seen it in all of my years," Kuntz said of Ficker's dominant serve. "I don't know if I've seen him hit two or three in a row in all year long, so that is uncharacteristic of him and good for us."
With the victory, San Marcos improves to 18-3 overall and 6-1 in Channel League play. Jack Wilson led the way for San Marcos with 10 kills and four blocks. Goss finished with six kills and four blocks for Dos Pueblos.