Travel
Cozy as Could Be in Carmel-by-the-Sea
Residential-Style Villa Mara Carmel Is Perfect Base for a Peaceful Escape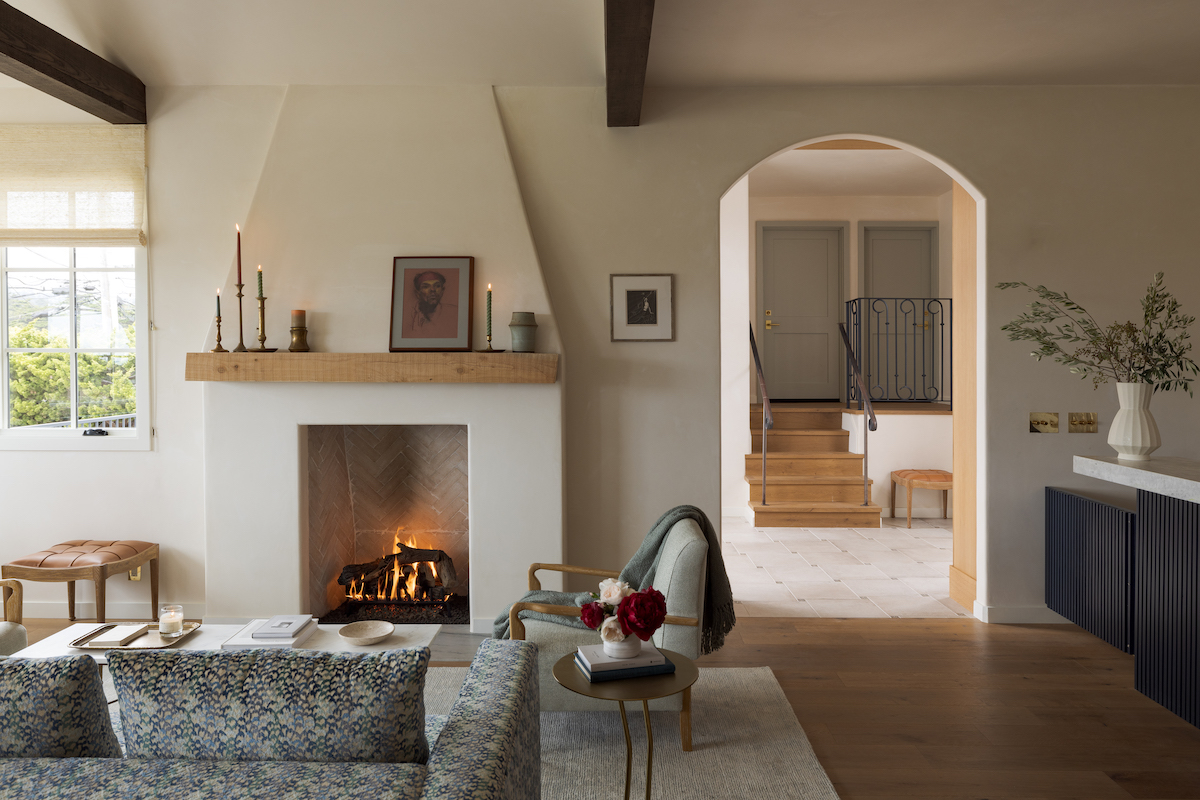 Early in the winter, I checked into the new, boutique-style Villa Mara Carmel for a two-night stay. Nestled in the upscale Carmel Point residential neighborhood located just steps from the main Carmel beach and the town's aptly named Scenic Road, the 16-room property exudes peace and tranquility.
The subtly stylish two-story inn is adults-only, catering to the 21+ clientele. Between the neighborhood ambience and the inn's airy communal spaces, I felt like I was having a proper "living like a local" experience. My Uber driver even commented that I had a beautiful home after picking me up to head to dinner the first night. I informed him it was a hotel, but was tickled by his first impression and felt lucky to be a guest.
I made myself at home in an upstairs room (Lobos) on the front corner of the building, with a window opening to the ocean views and a compact side balcony outfitted with a bistro table and chairs. After getting settled in, I sipped my welcome glass of wine outside wrapped in my heavy winter wool coat as I admired the cypress trees overhead and the sea in the distance.
The room itself complemented the beachy surroundings, appointed with shades of sage green, blue, and earthy accents — think blonde hardwood floors, rattan lamp shades, and a creamy marbled minibar cabinet. The luxurious bathroom was one of my favorite features — heated tile floors and a warming Japanese bidet, yes please!
While I adored my room, I spent the majority of my waking hours on the property in the inviting living room, be it enjoying a pre-dinner cocktail with my book by the fire or sipping coffee at first light in the morning with my laptop in tow.
Breakfast is included in all stays, and it was a perk I thoroughly savored. The inn sources delectable baked goods from Sweet Elena's Bakery & Café in nearby Sand City. The breakfast menu features two courses: your choice of pastry and a quiche, which are served with fruit and greens, respectively. The coffee comes from local roaster, Acme Coffee Roasting Co., a veteran-owned outfit in Seaside. Breakfast is served in the living room, where a row of small tables lines the large windows overlooking the courtyard and the attentive staff come by to take your order.
In the evening, the lobby turns into a low-lit cocktail lounge. A menu of bespoke cocktails and local beer and wine are available, alongside a limited menu of bites. The in-room minibar is also stocked with complimentary snacks and refreshments.
I had some dining "research" to do while in Carmel, so I didn't dabble in Villa Mara's evening menu. My first dinner was at La Bicyclette (highly recommended by Bob Oswaks of Bob's Well Bread), where I had the seasonal salad special and fish of the day. The next day, I enjoyed a light lunch of soup and poke salad at Pangaea Grill. Dinner that night was at a local institution, Grasing's, where I traveled back in time sipping a negroni concocted from the restaurant's vast vintage spirits collection. The bartender estimated the Gordon's London Gin and Campari he used were circa 1950s. It was the perfect starter course to my dinner of Caesar salad and the catch of the day.
Other fun discoveries on this jaunt to Carmel included a tasting at Wrath Wines — Carmel has several tasting rooms scattered throughout the walkable village district. I fell in love with a colorful home décor shop, House of Cardoon, which I'm following on Instagram now for design and art inspiration. Pilgrim's Way Books was equally delightful with its tightly edited selection of books, garden items, and spiritual staples. Somewhere in Carmel was the perfect shop to stock up on clever greeting cards and cool giftable goods.
Beach walks were another highlight of my time in Carmel. The first morning, I took the Scenic Road south to admire the oceanfront homes and walk down to Carmel River Beach, which, thanks to the drizzle, I had all to myself (well, it was me and the birds!). My final morning was gloriously crisp, sunny, and clear, and I walked up Carmel Beach as far as I could possibly go before turning back.
It was hard to leave Villa Mara when it was time to check out. The staff were genuinely friendly — they seemed to know every guest by name — and they all clearly enjoyed being hosts and looking after us. I was so smitten, I've been recommending the inn to everyone since my stay, and it's definitely going to be my go-to spot when I return to Carmel.
Dogs are welcome. Book via villamaracarmel.com and visit midweek for the best rates.