Food
Street Food Flavor Finds a Welcome Spot at the Santa Barbara Public Market
Three Monkeys Finds a Second Home with Thai and Vietnamese Casual Options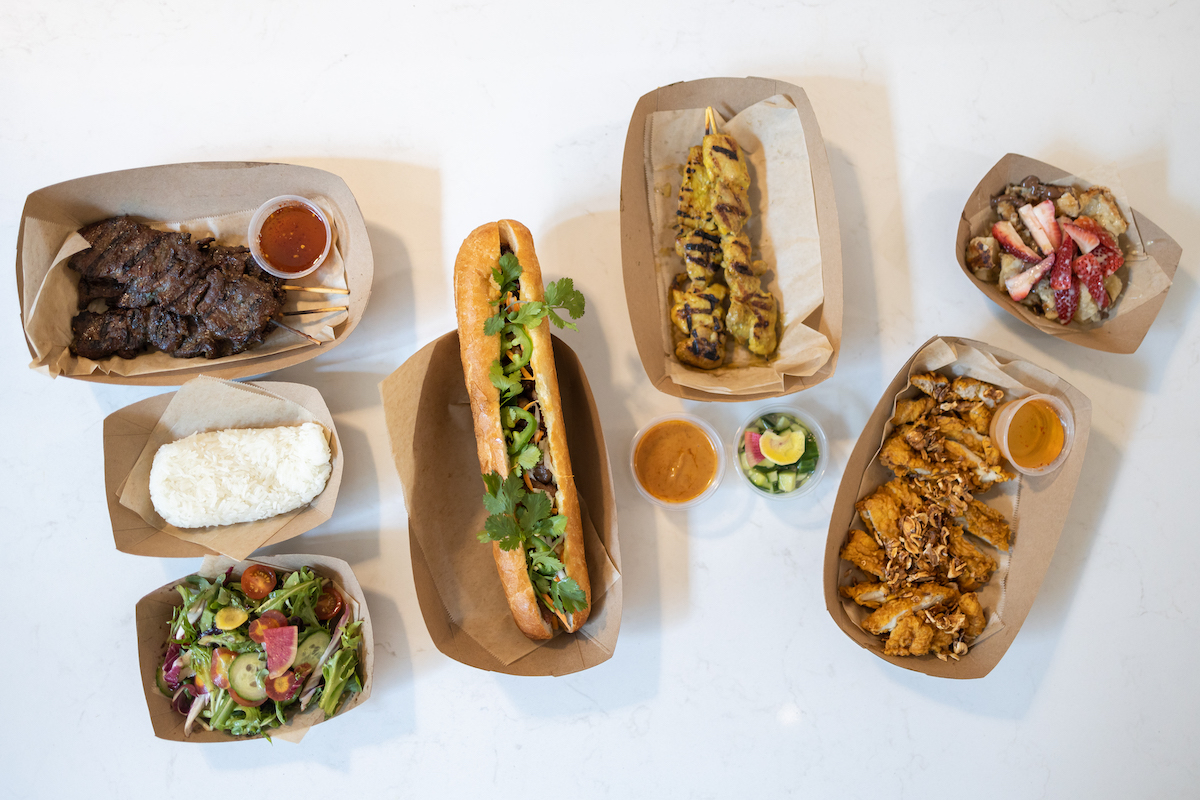 Chef Nui Pannak and her partners Jerry Lee and Emre Balli have a brand-new, additional culinary playground in the Santa Barbara Public Market, Three Monkeys, specializing in Thai street food.
After maximizing every single inch of available space in their Empty Bowl Gourmet Noodle Bar kitchen — which remains a destination hub of delicious activity just a few steps away in the indoor food hall — mouthwateringly exotic aromas now also emanate from the rear corner of the market, where the three partners have taken over an increasingly busy area that will soon be even buzzier when a planned cocktail bar takes residence in the area currently filled with big-screen TVs and communal tables.
Pannak created the menu with inspiration from her native Thailand, where "if you go to any corner of any street, they have something on the grill or on the skewer," she said.
An assortment of skewered meats — from the coconut-milk-marinated chicken satay that's so moist it's easy to pull right off the stick (served with a peanut sauce with just the right kick of spice and sweetness that puts every other Thai peanut sauce I've ever had to shame), to the Bangkok grilled beef (neua ping) and the Thai-style grilled pork (moo ping) — make an ideal light bite or shared plate for cocktail hour, or as a meal that's part of the Hungry Box offering, which comes with your choice of skewers plus sticky rice and a side salad.
Another Hungry Box option is the Hat Yai fried chicken, a delectable Southern Thailand fried chicken done with rice flour, which gives it a terrific light texture and also means it's gluten-free. Thai BBQ vegetables also come on a skewer and feature king oyster mushrooms, Japanese green onions, and Chinese shiitake mushrooms.
A Southeast Asian, Vietnamese street-food influence is also on the menu in the form of bánh mì offerings of pork, beef, chicken, and Chinese five-spice fried organic tofu, all on a gorgeous Vietnamese baguette baked especially for Three Monkeys. "It's different than a French baguette," says Pannak. The texture is a bit lighter. I tried the chicken bánh mì, which had a nice zing to the spicy avocado aioli sauce and great texture and crunch from pickled julienne carrots, daikon radishes, cucumber, and jalapeños.
"The bánh mì came about in part because we wanted to expand the menu a bit more, and looking around the market, there weren't very many sandwiches in here," said Lee. As one of the only two original Public Market vendors left standing after close to 10 years (Rori's Artisanal Creamery is the other), he is particularly sensitive to what works and doesn't work in that space.
Another thing that definitely works at Three Monkeys, and which I have to admit I would never have tried without Lee's insistence, are the pan-fried Thai roti desserts. Another popular snack found on the streets of Thailand, the roti I sampled was adorned with Nutella, condensed milk, bananas, and crushed peanuts — a super interesting combination of textures and flavors that you don't need to be a monkey to appreciate. Like everything I ate at Three Monkeys, it was simply delicious.
Three Monkeys is located at the Santa Barbara Public Market (38 W. Victoria St., Ste. 115) and is currently open daily from 11 a.m.-2:30 p.m. and 4:30-8:30 p.m. See threemonkeyssb.com.
Thai Roti with Nutella | Credit: Ingrid Bostrom

Three Monkeys decorated with colorful paper lanterns | Credit: Ingrid Bostrom

Chicken Satay with peanut sauce and cucumber relish | Credit: Ingrid Bostrom

Three Monkeys | Credit: Ingrid Bostrom

Hungry Box #1 with beef skewers, sticky rice, side salad, and Three Monkey dipping sauce | Credit: Ingrid Bostrom

Pork Bánh Mi | Credit: Ingrid Bostrom