Drink
The Mother-Son Masterminds Behind Terre et Sang
Duncan and Dalita Harmon Serve Powerful, Elegant Wines in New Los Olivos Tasting Room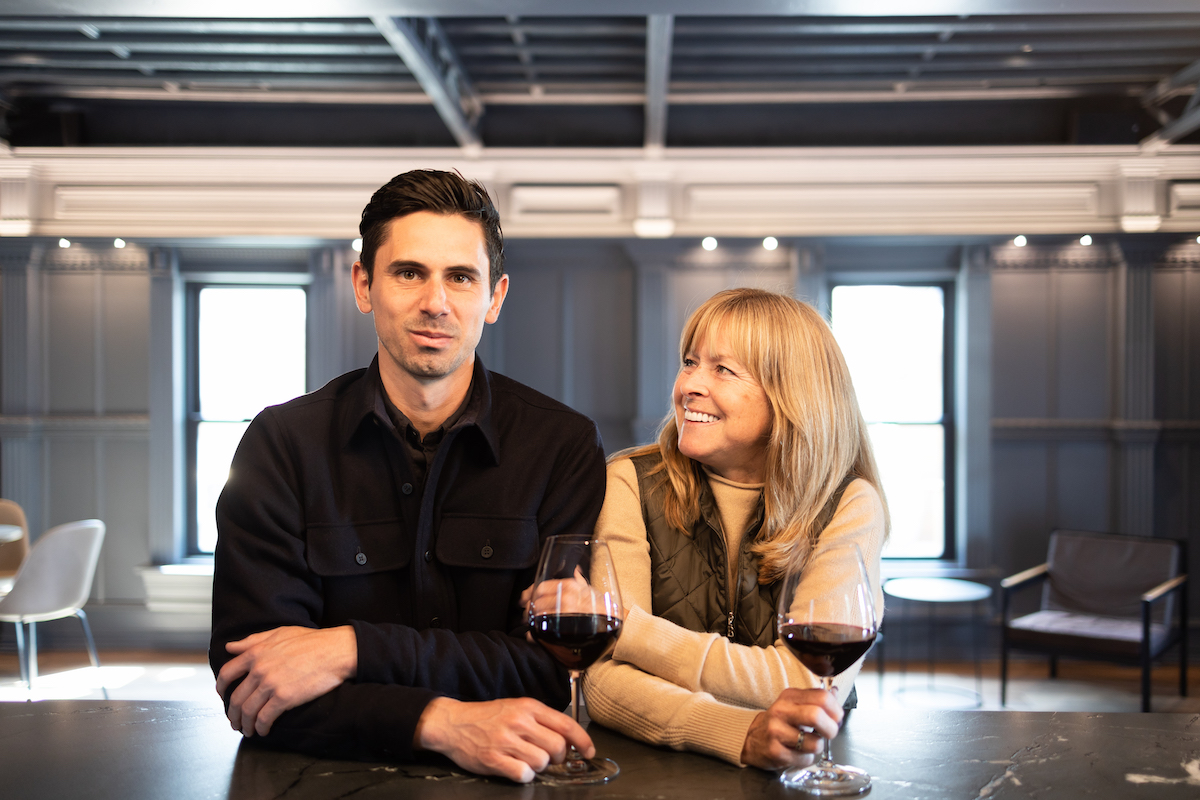 Wineries are launched by all sorts of partnerships between family members and friends of varying experience levels. But Terre et Sang is the first strictly mother-son project in memory, at least for this region, and one in which neither mom Dalita Harmon nor son Duncan Harmon had ever worked in a vineyard or cellar prior to their inaugural 2019 vintage.
Despite being newbies, those initial wines are attention-grabbing examples of ripe strength and textural suavity, sourced from top vineyards in Santa Barbara County, including Larner, Kimsey, Bien Nacido, and Peake Ranch. The Terre et Sang model aims to replicate the art-driven style and unctuous substance of cult wines such as Sine Qua Non and Saxum, and the smattering of initial releases are already coveted by those who've signed up for their allocation list. But unlike those other brands, which don't offer much opportunity for the general public to get a sip, the Terre et Sang bottlings are now available for all to taste at the Harmons' sleekly designed tasting room in Los Olivos, which opened in February.
"We had to research everything like hell and then make up our own damn minds," explained Duncan of their crash course in winemaking. Mother and son tasted countless wines together to chart their own course, and they found much agreement between their palates — hers originally honed on 1970s Napa while he stained his teeth in Paso Robles less than a decade ago.
"It was bang-on every time," said Duncan of how their tastes aligned. "It was very clear what we wanted to do." Said Dalita, effectively finishing her son's sentence, "We tended to like powerful while elegant."
The stories behind the wines they like, whether from the Rhône Valley or Central Coast, had similarities too. "The common thread was attention to detail, and then the way that they executed their decisions," said Duncan, as his mom nodded in the adjacent chair. "Everything was done at the highest of levels, with no excuses." They also found a kindred spirit in grower Champagnes (one bottle, one farmer) and serve them in the tasting room as well, an enlivening kick-off to a flight of their heavier wines.
They're now pouring 2020 releases like Kissing Vipers, a 95 percent grenache/5 percent syrah blend from Bien Nacido, and 100 percent syrahs called The Patriarch from Larner and The Shadow, also from Bien Nacido. They've also made a cabernet sauvignon from Moulds Family Vineyard in Napa, which comes with a heartwarming if tragic story, and are messing around with chardonnay too, which they aren't committed to bottling if it doesn't achieve their standards. "You have to give yourself the permission to make mistakes and not bottle it," said Dalita.
While this is the most serious venture in Duncan's young life, Dalita's résumé is expansive, involving work in film, as a corporate pilot, and in marketing, tech, and IT, currently serving as the chairman of TIAG, a company she founded in 1999. Now a resident of Los Olivos, with a small backyard vineyard just a couple blocks from the tasting room, she's deeply involved in Terre et Sang, which is made at a Santa Rosa Road facility west of Buellton in the Sta. Rita Hills on Rancho La Viña. Confirmed Duncan, "She's doing this with me full-time."
Terre et Sang indoor seating | Credit: Ingrid Bostrom

Terre et Sang bar | Credit: Ingrid Bostrom

Charcuterie and wine at Terre et Sang | Credit: Ingrid Bostrom

Terre et Sang merchandise | Credit: Ingrid Bostrom

Terre et Sang outdoor seating | Credit: Ingrid Bostrom

Terre et Sang outdoor seating | Credit: Ingrid Bostrom
She inspired his early interest in wine, which was further enlivened when a good buddy was studying to be a sommelier, cracking open dozens of bottles a night. "My palate exploded very quickly after college," explained Duncan, who graduated from Penn State in 2012, moved to the Central Coast three years later, and also worked in real estate.
He started "gate-crashing" at top Paso properties like L'Aventure and Saxum. "I rang the bell 'til they opened it," he laughed. "In '71 and '72, I was doing that in Napa," explained Dalita. "Duncan never knew that."
Once the duo determined what they wanted, the next step was reaching out to vineyard owners, hoping they'd take a chance on this new brand. "They caught onto our intentions and the seriousness of our drive," explained Duncan. "They all said yes. And at the end, everyone is excited about the results."
2982 Grand Ave., Los Olivos; (805) 325-6063; terreetsang.com