Health
Santa Barbara County Vector Control on 'High Alert' for Asian Tiger and Yellow Fever Mosquitoes
White-Striped Invasive Bloodsuckers Can Transmit Zika, Dengue, and Other Serious Viruses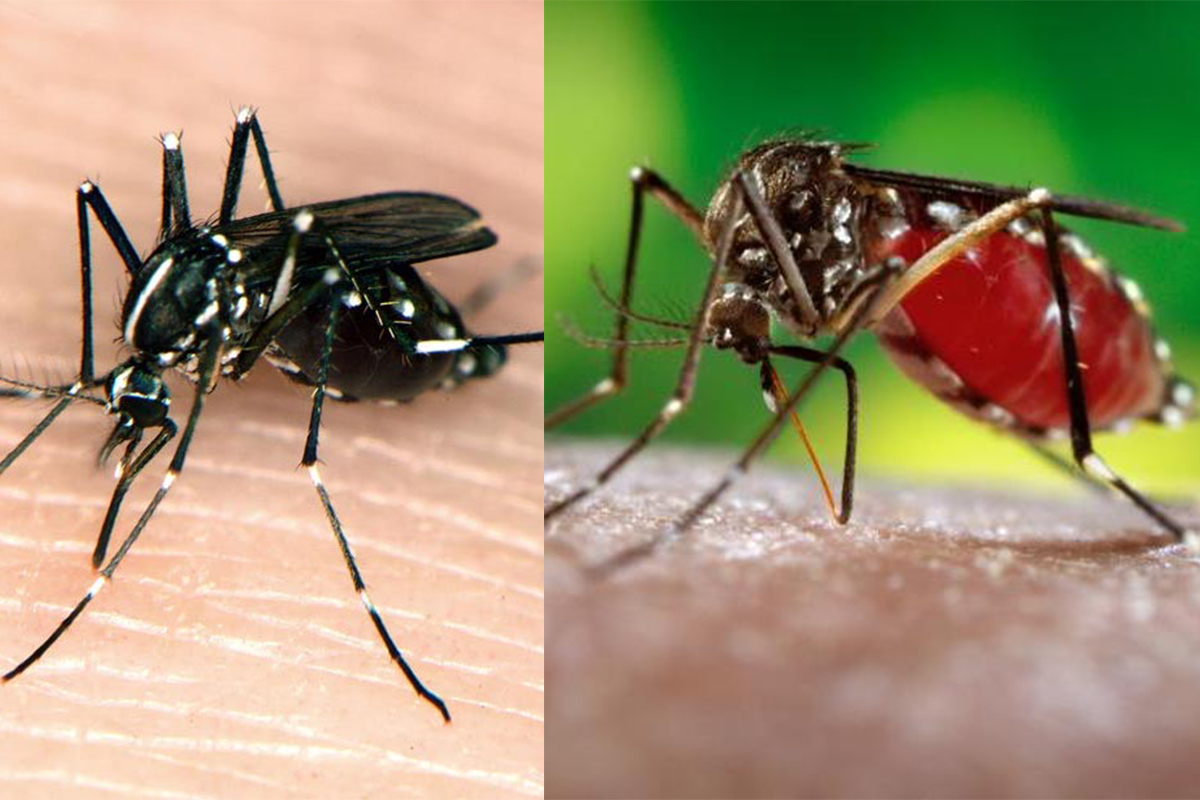 Californians are being warned to watch their backs, dry out their backyard, and arm themselves with insect repellent. As the weather warms and the region dries from recent heavy rains, pests are rearing their heads and laying their eggs.
Two particularly nasty species of invasive mosquitoes have been popping up around the country and in cities throughout California, according to the California Department of Public Health.
These bloodsuckers are known as the yellow fever mosquito (Aedes aegypti) and the Asian tiger mosquito (Aedes albopictus) — highly adaptable species of small, black mosquitoes with white stripes on their legs. 
Brian Cabrera, general manager of the Santa Barbara County Mosquito and Vector Management District, said the district is well aware of these mosquitoes and their presence in the state.
In late 2020, he said, the district first found the yellow fever mosquito in Santa Barbara County.
"And that was not good news for us," Cabrera said. "So we have been trying to determine how widespread they are. We haven't seen them for a couple of years. But with all the recent rains and now that weather in general is going to start warming up, we're on high alert."
According to state Public Health, these pests pose a risk to Californians because of their ability to transmit viruses such as dengue, chikungunya, Zika, and yellow fever when they bite (which these particular mosquitoes are known to do aggressively, in the daytime, and indoors).
None of the viruses associated with the mosquitos are currently known to have been transmitted within California, nor are they widespread in the United States. However, as Public Health warns, thousands of people are infected with these viruses in other parts of the world, including Mexico, Central and South America, the Caribbean, and Asia.
The mosquitos being in California pose the threat that the viruses can be transmitted in infested areas from returned infected travelers, Public Health says.
However, there is no need to panic. So far, only the yellow fever mosquito has been found in Santa Barbara, and as of May 1, only one case of travel-associated Chikungunya — out of all four viruses — has been recorded in the region this year. 
That being said, the Asian tiger mosquito — a native to southeast Asia believed to have first migrated to the United States through international trade in used tires — is rapidly spreading across America due to climate change and human transportation.
In California, it was previously detected and eradicated in 1971 and 1987, but has made a few reappearances in the past two decades. Recently, it has been found in a few of Santa Barbara's neighboring southern California counties. 
The Mosquito and Vector Management District is closely monitoring the county's mosquito situation. Cabrera said they are starting to trap again and are keeping an eye out for any yellow fever mosquitoes or any potential introduction of the Asian tiger mosquito in the area. "It's certainly on our radar," he added.
Right now, Santa Barbara residents just need to be vigilant and take necessary precautions to avoid growing mosquitoes in their backyard.
---
Sign up for Indy Today to receive fresh news from Independent.com, in your inbox, every morning.
---
"We should all be highly aware about mosquitoes in general, and in particular, those two species," Cabrera said. "I was just talking to a resident earlier today, and I was telling her that the public is going to be our eyes for us. Because there's only so much we can do.
"We're out there looking, but people that are living in the area certainly can do their part by reporting any mosquito infestations to us. As well as any incidences of mosquitoes being very aggressive and biting during the day, because that's what these two non-native mosquitoes do," Cabrera continued.
One of the most effective ways to prevent the spread of these invasive mosquitos is to eliminate standing water in and around homes and businesses.
The mosquitoes lay their eggs in standing water, which can collect in common items such as flower pots, buckets, and old tires — larvae can even develop in the amount of water that would fill a bottle cap, according to the district.
Santa Barbara County residents are encouraged to "dump, drain, and empty" stagnant water to reduce the pest's proliferation, both inside and outside their home, and scrub the insides of containers because the eggs can survive without water for months. 
"Asian tiger mosquitoes are quite lazy travelers," says California pest control specialist Zachary Smith, a k a The Pest Dude.
"If you're getting bit, it most likely means you are close to the water source. So look carefully in your vicinity for those hidden spots that are holding water. It can be less obvious than you think — a soda can, an old glass bottle, garbage can lids, a tarp piled on the ground — all those things can hold enough water."
Residents can further protect themselves from biting by using repellents approved by the Environmental Protection Agency, wearing long-sleeved shirts and long pants, keeping doors to the outside closed, and making sure their windows are fully screened.
To avoid hitchhiking mosquitos, travelers are encouraged to wear repellent before setting off to their destination. 
Residents can report mosquito sightings or bites to the Santa Barbara County Mosquito & Vector Management District by calling (805) 969-5050.