Music
Fenne Lily | Interview + Show Review
Fenne Lily Spills Her Thoughts on Tinder, Songwriting, and Couples Who Look Alike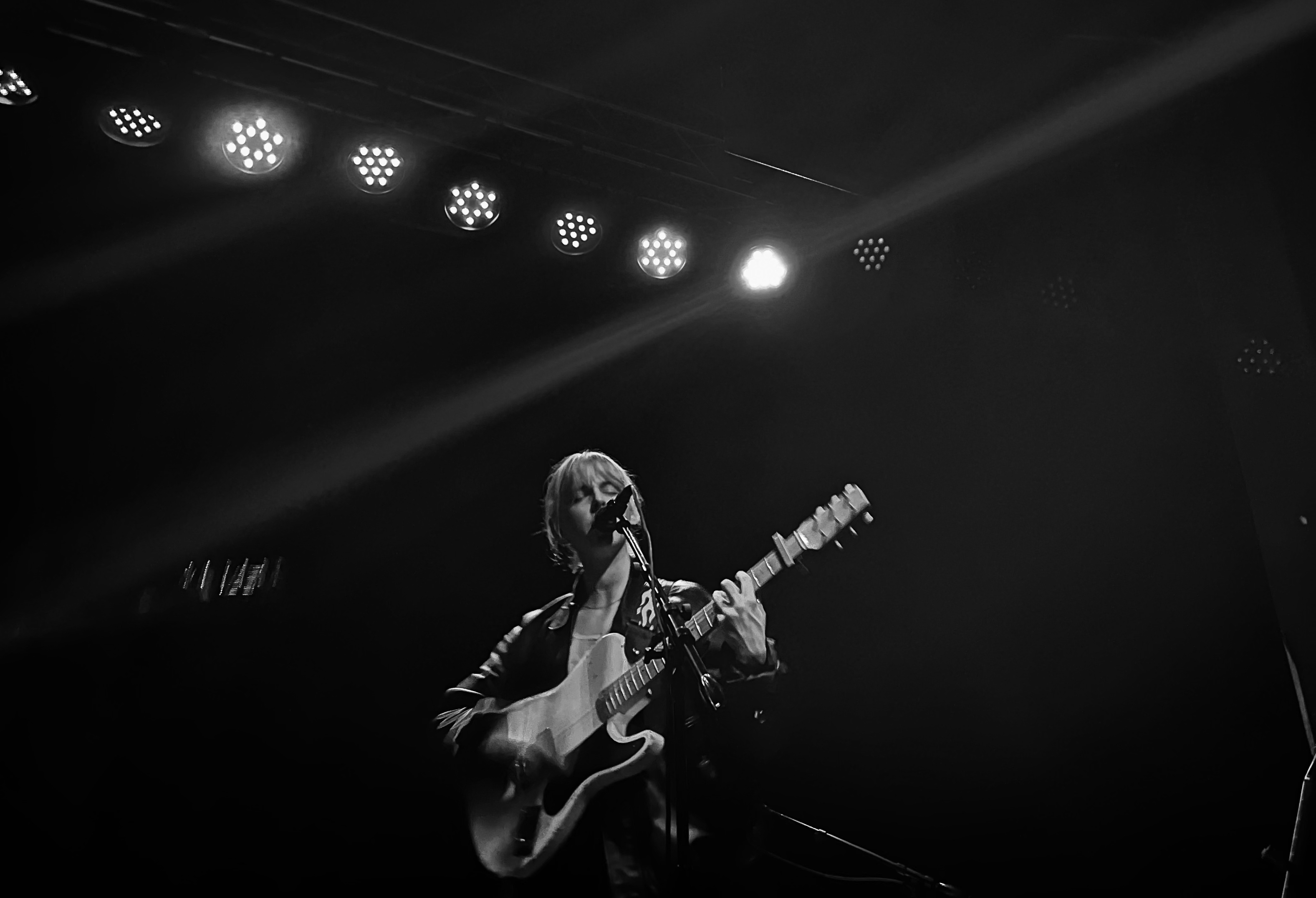 One could hardly tell it was the first show of tour for Fenne Lily and Christian Lee Hutson.
The show started out with Hutson, an L.A.-based singer-songwriter whose music is soft, introspective, and guitar led, reminiscent of indie acts such as Bright Eyes and Elliott Smith. He starts the night with the opening track of his latest album, Quitters, "Strawberry Lemonade." It's pensive and floats through its ruminations, as Hutson's hushed voice glides over the band's tight playing. His delivery is the perfect palette for the lyrics he sings, painting stories and searching for meaning; "Pain is a way you can move through time / and visit people that are gone in your mind / and smooth over every wrinkle you find." The gentle guitar strums of fan-favorite "Northsiders" elicit gleeful noises from the audience. He ends with a deadpan "That was so good," and the audience laughs.
Throughout the night, he makes similar quips with a monotone voice, almost as if he's on the verge of slumber. Hutson insistently asks the crowd whether a single, rogue microphone in the audience would be a good idea during a concert, and at one point (during an awkward silence when the sound team is fixing his mic) warns, "We're setting up the extra mic now … just kidding. That would be a terrible idea." The ensuing laughs echo along the room's walls, unmistakable sounds of sheer delight. He looks genuinely content and appreciative to be there before beginning his last song of the night, concluding his set on an upbeat note with "Rubberneckers."
"I'm glad you guys are here, and I'm glad that I'm here too."
Fenne Lily took the stage next, stepping out with a full band. Lily, an English singer-songwriter, sings with a soft, convictive voice, similar to acts such as Feist and Laura Merling. She writes with an open heart and sharp wit, pairing with Hutson's set charmingly. Indie folk with occasional rock influences, Lily's recordings come to life in a live setting. Shredding through her setlist, she plays expertly, with the band skillfully following her lead. Highlights include "Lights Light Up," "Berlin," and fan request "Hypochondriac." "We have some merch … playing cards … these are very cool. I designed them; they all have me on them. Because I have a huge ego. And … love the way my body looks in a drawing. So, if you want that, you can have it. Finally!"
Lily's song intros are hilarious as well, with both artists treating half of their set like a standup act. It's sad hearing fewer songs, but only barely, as both acts' music and humor go toe-to-toe. "This is a song about a Tinder date that I went on. And my friend Jen pointed out that it sounds like it's about someone I love dying. But it's not …. The guy was very hot, too hot, stressfully hot. And not that nice. Which is kind of my worst-case scenario. And I crashed my bike … sent him a nude with [a] broken kneecap and he didn't want to hang out again." Lily says his name was James, but the song is called "Henry," and the slow, sensually sad intro burns into the night.
An unexpected perk of seeing these two artists headline in one night, in addition to how perfectly symbiotic both sets are, is experiencing the heartwarming love and adoration Hutson and Lily have for one another as both people and artists. With more rapport than most co-headlining acts, the pair have frequently collaborated and become close friends.
In line with her quips between songs during her live show, Lily is hilarious, and I got a chance to hear some of her reflections on dating and creative fuel.
So. Anything you want to say about that Tinder date you went on? [Excitedly] Oooooh! I don't do Tinder anymore, but … it's basically been the fuel of everything I've ever made, because it makes me feel so self-conscious and weirdly confident at the same time.
Really?! I think it's good fuel, like … meeting people is good fuel for creating stuff.
Why does it make you self-conscious? Because someone's judging you on your face, and then seeing your face, and then deciding whether to see your face again. That's insane. That's, like, a crazy system.
It's like you're a product and they're online shopping. You're the product you're selling, and you are the only one that cares if it's sold? A crazy system! It's weird, yeah. But yeah. I endorse Tinder. I endorse dating for creative material. That's all I have to say.
My favorite song of yours is really basic, but it's "Top to Toe." Do you have anything to share about the inspiration, or what you were doing when you were writing it? How long it took? It took like a day. I was living with my parents, I was 15. I wrote it about a girl I had a crush on in my math class. We were best friends. She got a boyfriend, and they looked exactly the same. And I didn't have a girlfriend or boyfriend and it … was weird.
That's so intimidating when couples look the same. Dude! It's so weird. It's creepy.
And then it's like, for your situation … how do you compete with that? Do I just get the same haircut? Yeah. I didn't. And that's why we didn't end up together.
For more information on Fenne Lily and Christian Lee Hutson on tour, visit fenne-lily.com/live.