In the days leading up to the January 9 storm, Santa Barbara County officials wrestled mightily with how best to protect the residents of Montecito from the predicted flooding and debris flows that threatened the community: Should they simply warn citizens of the danger? Should they evacuate all 30,000 residents? Or should they attempt to clear out the most at-risk neighborhoods at the base of the fire-scarred mountains and put everyone else on high alert?
As the forecasts grew more threatening, county emergency managers decided to draw a hard line at Highway 192, ordering everyone north of it to evacuate and advising everyone south to be prepared to leave at a moment's notice. Nineteen people south of the line died when the explosive downpour pounded the denuded hillsides and sent fast-moving battering rams of boulders and mud exploding through their homes.
Montecito has five creek channels running north to south. Though no one had predicted the intensity of the storm, all agreed that the greatest danger on January 9 would be from gravity-powered, flood-fed debris flows coming down those channels. Yet the mandatory evacuation orders were drawn along the lines of Highway 192, a main road that runs east to west along a topographically irrelevant area in Montecito. Increasingly, residents are questioning why this decision was made and how evacuation decisions will be made in the future.
At a community forum last Thursday, February 8, some in attendance raised the issue. "Whoever was in charge of this was probably a good person, but good people fuck up," said audience member Dave Mackenzie. "I want to know who was in charge of this, and I hope we get some answers, because people were not looking at this properly."
Sheriff Bill Brown, whose department is ultimately responsible for drawing and enforcing evacuation boundaries, has struggled from the day of the tragedy to communicate the rationale behind the Highway 192 border. He's repeatedly stated that inquiries over the issue are a disservice to first responders. This week, county officials finally released the map they relied upon for their decision, but even this map tells mixed stories.
State scientists with the Thomas Fire WERT (California Watershed Emergency Response Team) supplied the damage forecast map to local authorities on the afternoon of Sunday, January 7, just a few hours before the final mandatory and voluntary orders were issued, 30 hours before the rain. WERT spokesperson Len Nielson said the team had recognized the impending danger and rushed to put together a best-guess prediction for where flooding and debris-flow hazards could concentrate in a storm that delivered up to one inch of rain per hour. Such studies typically take weeks or months to complete. "But we said, hey, we've got to get this information to the county to protect lives," Nielson said. County officials also say they initiated the study.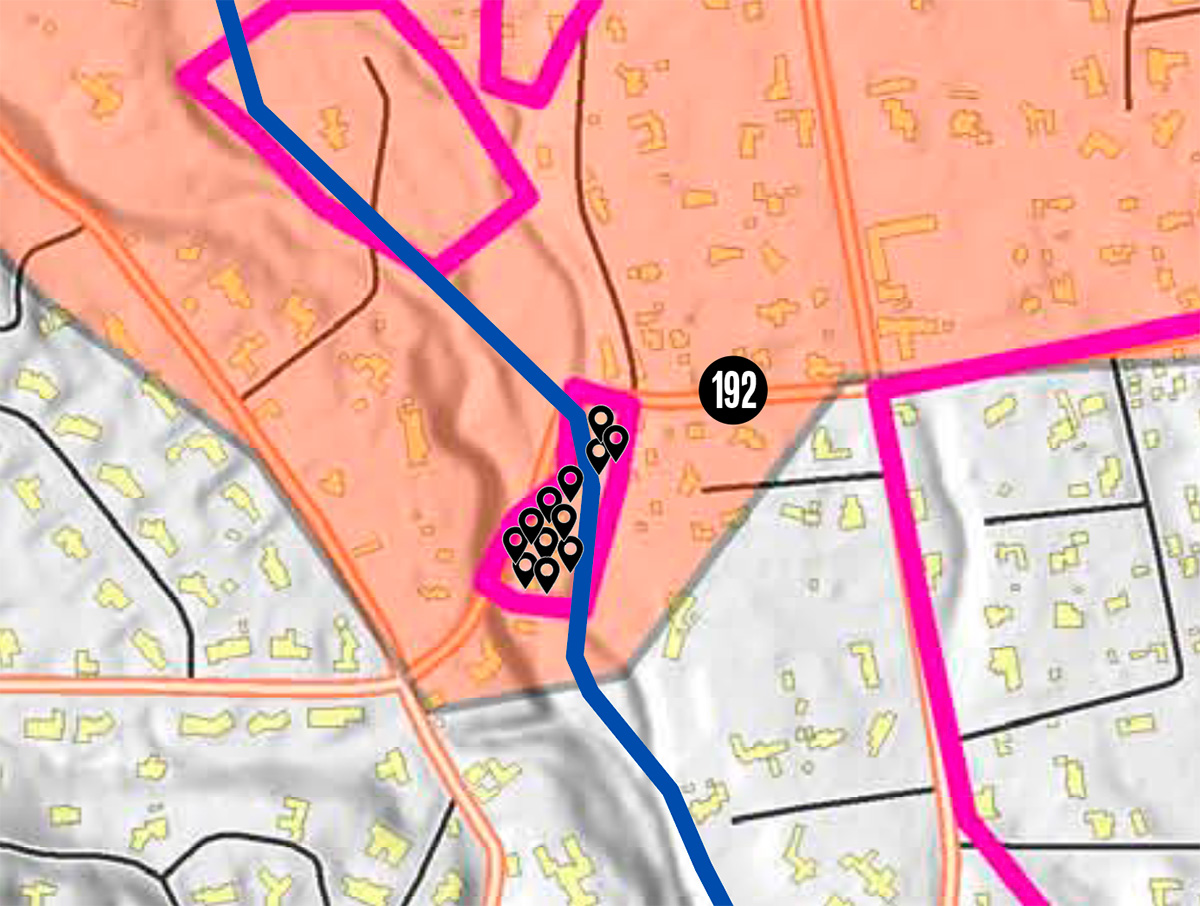 Thomas Fire WERT (California Watershed Emergency Response Team)