Soon after Sandra Newman purchased 100 acres of sandy hills just east of Lompoc in 2002, she visited a small farms expert in Santa Maria to inquire about planting wine grapes. The property touched the western border of the renowned Sta. Rita Hills wine-growing appellation, many of her neighbors had grapes, and, as a dedicated horticulturalist who studied plant science decades ago at the University of Delaware, Newman figured finicky pinot noir would be a worthy challenge to grow just 12 miles from the ocean.
The advisor, however, asked whether she had money and time to burn. As a widow approaching retirement age, lacking a fortune, and still paying bills through her Orange County–based digital SEC filing service, Newman had neither luxury. "I have a budget," Newman told me during a visit this past summer to the property. "My daddy didn't buy it for me; my husband didn't buy it for me. I'm probably the only one out here who still has a mortgage."
So the advisor suggested planting blueberries, which, if they ripened anytime other than when the blueberry market is typically flooded, would deliver nearly instant returns. In went two acres of the shrubs — they ripened exactly at the right times — and Forbidden Fruit Orchards was born. Newman was soon selling her organically grown blueberries to upscale grocers and through farmers' markets from San Francisco to Los Angeles, using the proceeds to grow her property from a few abandoned apple trees into a dynamic estate with multiple buildings.
And she kept planting, from more blueberries (now 8.5 acres) to Pakistani mulberries, avocados, apples, red and pink currants, figs, bananas, gooseberries, and more. Among the more interesting choices are the hardy kiwis (smaller than usual and hairless so that you eat the whole thing, but she's still getting them to flower at the right time), green tea (an experimental project in conjunction with the University of California), and hops for beer, which are tended to by Brian DeBolt and Casey Birthisel of Pacific Valley Hops. Many of these items will be integrated into the menu of the upcoming farm-to-table, four-course dinner at the property on November 7, when Chef Sally Ruhl will unveil many of the ingredients she's posting to Twitter under her handle @SallyRuhl.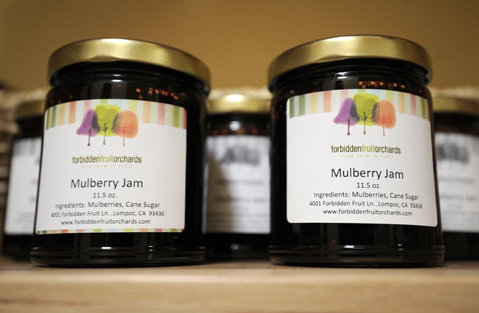 By Paul Wellman