It's early February, and I'm still riding my bike every day and waiting for El Niño's biblical deluge. I'm ready. I've got fenders on my Nishiki, a rain jacket, and new waterproof pants. Rain or not, we live in Southern California so endless summer is right around the corner.
While I write my first Pedal On column of 2016, I'm listening to Janis Joplin singing "Ball and Chain." The Monterey Pops Festival was the start of 1967's Summer of Love. Heroin and Southern Comfort made Janis's live performances unpredictable. They soared or they crashed. At Monterey, for almost six minutes Janis sings about the pain of abandonment and lost love as she pulls her anguished bloody heart out of her chest. Raw, real, and painful to watch and listen to, but we've all been there. From the audience, a mesmerized Mama Cass puts an exclamatory "Wow" to the end of the song.
Almost 50 years later, in Santa Barbara, 2016 will be the Summer of the Bicycle. Here's a look at some of the upcoming cycling events to put on your calendar now.
Approval of the Bicycle Master Plan by Santa Barbara City Council will require the strong support of hundreds of cyclists who are willing to show up and speak from their hearts and minds. Rain or shine, roll out to this critical meeting on February 23 at 6 p.m. at City Council Chambers, 735 Anacapa Street. Santa Barbara's transportation planners and consultants deserve huge thanks for writing a Bicycle Master Plan that will make our streets more accessible to cyclists and safer for all road users. The plan isn't perfect. What is? But it goes a long way to filling gaps in the existing bike network that will encourage more local residents to ride from home to work, school, errands, the beach, or friends.
Registration opens on February 1 for the SB 100 on October 15. In 2015, over 1,000 cyclists of all ages took on the challenge of riding either 100 miles or several shorter rides.
If you are going to ride 100 miles and climb almost 10,000 feet, now is the time to start training with a group of friends. If you need a team to motivate you try Goleta Valley Cycling Club, Echelon, B4T9 Women's Cycling Team, or Tailwinds Cycling Club.
For kids 10-13 years old the Riviera Youth Bike Team (RYBT) is now taking applications for 2016. Last year the inspirational kids on the team trained hard all summer and rode together on the 34-mile course of the SB100!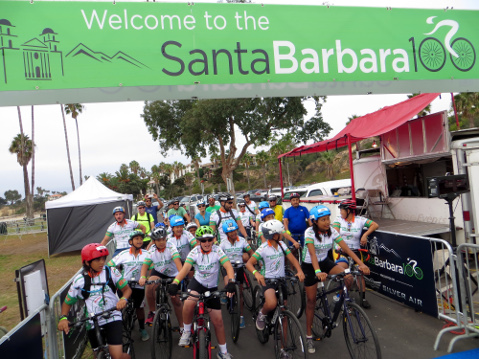 Christine Bourgeois