A person's tattoos convey their personal history, excerpts from a diary painted in ink. More indelible than memory, tattoos have been used since the time of early humans to tell aspects of a story: to denote social status or communicate accomplishments. The history of the American tradition of tattoo art, brought to this country in the 1850s by sailors who'd visited Japan and the South Pacific, continues to evolve. It's apparent on the streets; Santa Barbara has a thriving tattoo culture with reputable shops, world-class artists, and a population of willing participants.
Traditional American tattoo iconography had a sailor's code attached to it. The nautical symbols we recognize in modern tattoos were affixed with meaning: Anchors denoted that a sailor had crossed the Atlantic; swallows marked 5,000 nautical miles traveled; a clipper ship showed the sailor had been around the Cape of Good Hope. Sailors wore their travels on their sleeves.
In the 1930s and '40s, port cities like Honolulu and Norfolk, Virginia, were flush with tattoo shops and eager sailors, and artists like Sailor Jerry, Cap Coleman, and Paul Rogers began to distinguish themselves. Their work is the basis for many of the typical Americana-style tattoos that artists still incorporate into their modern work. The perpetuation of these designs and themes is a throwback to a now oft-romanticized period in American culture, despite the fact that sailors were seen as unsavory, which gave tattooing a deviant stigma.
Regardless of this association with a purported life of notoriety, the popularization of tattooing has continued at a steady pace toward mainstream. New generations of tattoo artists honed the craft and developed unique artistic styles. Mark Walters, a k a Permanent Mark, tattoo artist and owner of Golden Eagle Tattoo, described how the popularity of particular styles of tattoo art began to follow the trends of fashion.
"I remember when traditional tattoos weren't popular," Walters said. "When this Americana stuff started happening in the mid-'90s, I was in Amsterdam. It was the first time I'd seen a traditional American tattoo. There were only a few people still doing that stuff. In the early '90s, we were all trying to reinvent the tattoo. Artists like Eddy Deutsche and Freddy Corbin in San Francisco would take a tribal tattoo and put a tartan pattern inside it. Bernie Luther would do portraits with tribal coming off of it. But the only people I'd get to tattoo traditional tattoos on were other tattoo artists. Nobody wanted it."
Like the recurrence of high-waisted shorts and non-ironic moustaches, the popularity of the classic Americana tattooing style has recently returned to prominence. Santa Barbara, which boasts a thriving artistic community and conspicuous student population, is a perfect atmosphere for the gentrification of tattoo art. No longer on the fringes of society, tattoos that are considered a fashion choice rather than a utilitarian marking of status are represented by people along the entire socioeconomic scale. You see the ink peeking out from under women's suit jackets when they drop their children off at school or on the back of your veterinarian's neck when he adjusts his lab coat. The transformation of tattoos from acts of rebellion to expressions of beauty ​— ​from iconography to fine art ​— ​is apparent from The Biltmore to Del Playa.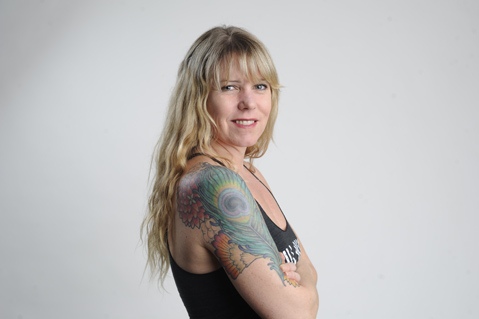 By Paul Wellman