An undocumented Mexican landscaper with no criminal record is facing deportation after a dispute with his wife landed him in County Jail for a night. Immigration enforcement agents picked up the 42-year-old on May 19, the same day he was released from custody with no charges filed.
His case could illustrate what immigration activists have been worried about since the election of President Donald Trump. While ICE (Immigration and Customs Enforcement) protocol has been to target serious felons, they seem to be arresting individuals without criminal convictions, said immigration attorney Marisol Alarcon. "In the most recent past, ICE was not picking people up simply because they were arrested." Though she was speaking generally, ICE spokesperson Virginia Kice confirmed Trump's executive orders on immigration has "opened the aperture wider" in cases where the arrestee has not been convicted.
Accounts vary of what happened. But according to the wife, Marissa, at midnight on May 18, she got into a heated dispute with her husband, Jose. (The Santa Barbara Independent has agreed not to publish the true names of the individuals involved.) The couple had been separated for 15 days, and Jose had shown up at their downtown Santa Barbara apartment to discuss the future of their relationship and three children ​— ​ages 5, 10, and 13, all born in Mexico. They got into an argument over money.
To avoid a confrontation, Marissa got into her car. He was "still talking and talking," she explained through a translator, "but I didn't want to talk to him." Still, she stressed, it was an "argument" not a "fight." According to Marissa, Jose never touched her. "No. Nothing," she said. Others familiar with the case say Jose may have told the police he shoved Marissa.
In any case, she called 9-1-1. "I had a really, really bad day," she said. When the dispatcher answered, she hung up. But the dispatcher called back, and a police car pulled up to their apartment shortly after. Jose thought it was a "game," Marissa said. She said he yelled, "'I'm here! I'm here!' He couldn't believe I called the police."
Marissa, who is 33, told the police officers she didn't want to press charges. Nevertheless, Jose was arrested. California law mandates that police arrest suspects in any case constituted as "domestic violence" even if the witness objects.
No charges were filed, and Jose was released the next day. ICE agents were waiting outside the jail to pick him up. "ICE requested notification when released, and we called them," confirmed Santa Barbara Custody Chief Vincent Wasilewski. The ICE agents transported Jose to a detention facility in Adelanto, where he is currently being held. He has a hearing before an immigration judge on Thursday.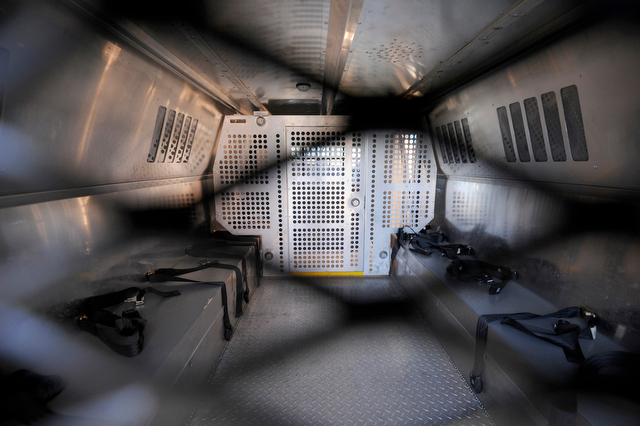 By Paul Wellman (file)