Francisco Aguilera was 14 years old when he set off from Durango, Mexico, eventually ending up in Santa Barbara, where he took a job as a dishwasher at the East Beach Grill.
For the next 33 years, Aguilera worked at the seaside restaurant on the first floor of the Cabrillo Pavilion Bathhouse, graduating to cook and manager, and finally to owner and leaseholder. He still arrives every morning at the crack of dawn to open the doors by 6 a.m. He has never missed a day. Over the decades he has gotten to know his regular customers and their kids who'd skip straight from the ocean to his counter, asking for ice cream. Now grown, those kids bring their own children and grandchildren to the restaurant, one of the last places in Santa Barbara with $5 hamburgers and a bathing-suit-welcome dress code.
Last Thursday, sitting in his tiny office perched above the Great Pacific Ice Cream Company that he owns next to Char West, which he also owns, Aguilera looked out toward the East Beach Grill a mile down the coast. "It breaks my heart," he said. In December his lease ends, and the city will close the public bathhouse building for a massive $15 million renovation of its upstairs event space, offices, gym, and restaurant. Aguilera had hoped to reopen his grill when the work was completed, but lease negotiations with the city failed. "I did my best," he said, throwing up his hands. "But I'm out."
Last September, the Santa Barbara City Council voted to give Aguilera first crack at resecuring a lease before the concession was opened to public proposals. The decision was made against the recommendation of Parks and Recreation Department Director Jill Zachary, who argued simultaneous bids would give the city the best deal. Whoever operated the bathhouse's restaurant would be required to open for dinner, provide a full bar, and generate much-needed revenue for her department, which had been recently forced to cut public youth and sports programs. A City Council chamber jam-packed with Aguilera's customers, all lobbying to allow him to retain the lease, however, persuaded the councilmembers. "When you spend 33 years in one spot," said Aguilera, "you make a lot of friends."
In his proposal, Aguilera outlined a plan to transform the East Beach Grill from a casual breakfast and lunch joint into an upscale restaurant. He would rebuild his dining room and kitchen at a cost of $1.5 million and then wait the two years of construction before the building could reopen. The lease was the sticking point. Aguilera said the city wants a guaranteed $400,000, more than twice what he pays now. He believes it would be impossible for anyone to afford that, even with the more upscale offerings. "It's just bad business," he said.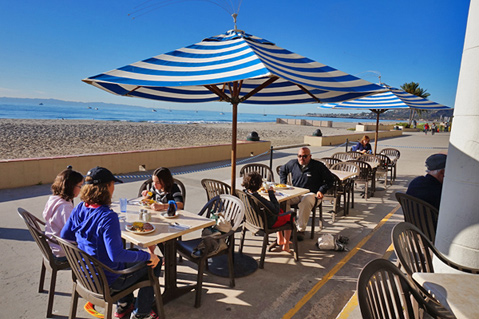 By Courtesy Photo