Business
Chamber of Commerce Meets Captain Electric
Chamber's Sustainable Breakfast
The highlight of the Santa Barbara Chamber of Commerce's Eighth Annual State of the City Breakfast on 3/29 was a clever film called Good/Bad. Directed by Tony Ruggieri, who is City TV 18's production supervisor and starring Chamber Executive Director Steve Cushman and Mayor Marty Blum, the film reflected the event's sustainability theme and earned plenty of laughs from the 600 businesspeople who filled the grand ballroom of Fess Parker's Red Lion Inn.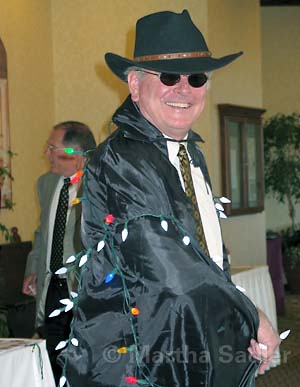 The first half was in the silent film genre, sepia-toned footage with lively piano accompaniment, showing old-fashioned office life: wasteful, energy inefficient, and overpackaged. An employee unwraps a huge package to find a memo inside about a meeting, to which the principal characters arrived simultaneously in large gas-guzzling vehicle then proceeded to eat take-out food from Styrofoam boxes while shuffling reams of paper. The crowd laughed somewhat nervously at this familiar scene, which featured Southern California Gas Company spokesperson Tim Mahoney and his counterpart at Southern California Edison, Jane Brown in addition to Blum and Cushman.
The second part, Good showed the same sequence of events but this time the characters turned off lights, used laptops, walked around State Street with bumper stickers on their backs that read Pedestrian Powered, and happily composted their leftovers in the city's new worm bin before the final shot, of a rainbow. The mayor-who received an honorary Captain of Industry embroidered cap-outlined the city's many accomplishments in sustainability including the methane-using fuel cell at El Estero wastewater treatment plant, a League of California Cities grand prize-winning project that generates enough electricity to power 500 homes. This appeared to be the cue for City Councilmember Brian Barnwell to emerge transformed into Captain Electric, his cape aglow with energy-saving led lights as he strode among the breakfast tables.
Less sugar-coated was a report from the city's finance director, Jim Armstrong, who said that there had been a "definite slowdown" in bed tax revenue over the past two years, retail was flat, and the state budget was $2 billion shy of predictions, all of which means that the draft 2007-2008 budget plan coming before the council in April will be "tight." The city's reserves are healthy, he added, but reserves don't finance infrastructure maintenance, government services-like paying police, who negotiated a 28 percent increase over the next 3.5 years-or nonprofit program funding. Each participant went home with a 100 percent recycled cotton shopping bag filled with goodies including a tire gauge, ceramic coffee mug, and zero-waste compostable plastic utensils made of sugar cane fiber and corn starch.
Chamber Visits China
About 130 members of the Santa Barbara Chamber of Commerce, and associates, returned on 3/16 from a weeklong tour of China, where they met with Chinese government officials and industry leaders in Beijing along with some 7000 other visitors from other chambers of commerce. The business people toured factories featuring traditional Chinese crafts including jade, silk, embroidery, carpet-making, pottery, and cloisoinne. Besides Beijing, the Santa Barbara group visited Suzhou, Hangzhou, Xian, and Shanghai. This is the second year in a row that the Santa Barbara chamber has visited the world's most populous country via Citsinc, a Chinese tour company that offered roundtrip tickets, all meals, and four-and-five-star hotels for the low, low price of $1400 per head. Nonchamber members were allowed to go also, but had to either join the chamber for a $300 annual fee or simply pay the chamber the same amount. Last year a few Santa Barbarans entered into trade, investment, or other business deals with Chinese but this year nobody did, according to Marcia Reed, the chamber's deputy director.
Cafes Go Organic
Since Java Jones began roasting its own at the beginning of March, all of the company's coffee is organically grown, according to owner Kara Wall, and more than 80 percent of the beans are also Free Trade certified. Wall and her partner Brett Winslow–both UCSB grads–opened their first cafe in 1995 in Isla Vista. In the years since they have added two Java Joneses on State Street in Santa Barbara, and one in San Diego, as well as a third partner, Mehrdad Homayouni. The beans are shipped up weekly from the company's new roasting facility in San Diego. Hall said she is still working on adding organic milk to the menu, but needs a source that can offer competitive pricing: She doesn't want to charge $8 for a latte. Incidentally, the plastic cups in which the drinks are served? One hundred percent compostable.
RAAF Choses Raytheon Radar
The Royal Australian Air Force has selected radar warning receivers created by Raytheon's Electronic Warfare Division in Goleta to outfit its F/A-18 tactical aircraft fleet, the company announced on 3/19. Initially used during Operation Iraqi Freedom on the US Navy's carrier-based aircraft, the receiver detects and identifies threat radar emitters. Including the RAAF's order, and the next anticipated US Navy procurement, as well as sales to the Finland Air Force and others, more than 400 of the receivers have already been contracted.
Mind Meets Computer
A device that translates neurological signals from the brain into speech won top honors at the fourth annual Spirit of Entrepreneurship and Enterprise Development (SEED) college competition. Ambient Corporation, the student biotechnology firm from the University of Illinois that developed the device, was selected as Best Emerging Investment Opportunity from among nine semifinalists who presented their business plans at the Andalucia Hotel earlier this month. Ambient's "wireless interface with the mind" is meant to improve the quality of life for the disabled. David Newton, professor of entrepreneurial finance at Westmont College in Montecito, is founder and president of TechKnowledge Point, which launched the SEED forum to put top collegiate business plans in front of a world class panel of evaluators, early stage investors, and product development specialists, according to Westmont's announcement of the winners on 3/14.
Escrow Complaint Amended
RICO (Racketeer Influenced and Corrupt Organization) conspiracy allegations were added to the class-action lawsuit filed in February against Qualified Exchange Services (QES) of Montecito and Southwest Exchange of Nevada. The amended complaint names nine additional corporate defendants including Nevada-based Medicor, Ltd., which had offices on Chapala Street. Up to $80 million entrusted to the companies for short-term escrow holds allegedly vanished. Santa Barbara businessman Donald McGhan, 73, is accused of orchestrating the financial shenanigans and of misspending the funds a private jet, mansions, a golf course, an avocado ranch, and Medicor's foreign medical device companies. The defendants have 30 days to respond to the amended complaint, which was filed on 3/7 in Santa Barbara Superior Court.
Computer Network Enters Singapore
Network Hardware Resale is opening a new office in Singapore. The Santa Barbara based corporation, which has been hailed as one of the US's fastest growing private companies for four consecutive years by Inc. Magazine, last month announced revenues of $138 million for 2006, representing a 31 percent growth rate in one year. As part of a reorganization to facilitate its expansion into the Asia-Pacific region, the company announced on 3/5 that Santa Barbaran Karen Anne Platt has added the duties of chief operating officer to her duties as chief financial officer. One of the first providers in the secondary market to offer one-year warranties on all of its equipment, Network Hardware Resale also has offices in Amsterdam and New York City, and boasts 10,000 customers worldwide for its refurbished networking gear.
Sustainable Entrepreneurs Do Earth Day
Green2Gold, a nonprofit incubator for environmentally sustainable enterprises, announced on 3/7 that it will sponsor a Green Soap Box at the Santa Barbara Courthouse's Sunken Gardens on Earth Day '07. Entrepreneurs, inventors, and other expert speakers will speak and answer questions hourly-including Henry Hewitt of Thousand Suns LLC, architect Mary White, Arnold Lund of Wind Flower, and Daryl Baltazar of Tuscon Transatlantic Trade, Inc., which structures joint ventures for US-based companies throughout the Americas, India, Europe, and Africa.
Frying Pan Films Plots First Feature
Frying Pan Films announced on 3/8 that it is leaping into feature films with a short funded primarily by the Northern Ireland Film & Television Commission. A division of Hub Media Development Ltd. of London, Frying Pan Films was born when Hub Media founder Gary Sugarman moved to Santa Barbara last September. After 12 years of producing multimedia marketing videos, Sugarman has raised enough corporate equity to start following his bliss by making features and documentaries, according to Frying Pan's Dawn Willson. Sugarman will supply the 25 percent of production costs that the Irish commission is not covering, and intends to show the film during the 2008 Santa Barbara International Film Festival. The script, called "The Morse Collectors," by Irish writer Paul Maguire, is about a boy who becomes obsessed with Morse code messages mysteriously transmitted to him during WWII.
Edison to Interrupts AC for Willing Customers
Southern California Edison is placing applications for its energy-saving Summer Discount Plan in Starbucks coffee shops throughout the South County, until 4/14. It is all part of an effort to eliminate the need to build a new 500-megawatt power plant, said Jane Brown, Edison's regional public affairs manager. Edison will automatically interrupt the air conditioners of willing customers during power-supply emergencies by installing a small, radio-controlled device that turns off the compressor either 15 minutes out of every 30, 20 minutes out of every 30, or for the duration of the power supply emergency. Businesses that enroll before 4/14 can recieve bill credits of up to $240-and a $20 Starbucks gift card.
Health Drink Company Sponsors Armstrong's Old Team
Carpinteria-based New Sun Nutrition announced on 3/5 that it has become an official sponsor of the Discovery Channel Pro Cycling Team, formerly led by world champion Lance Armstrong. New Sun will supply the team with its FRS health drink, whose primary active ingredient is quercetin, a bioflavinoid found in red onions, grapes, apples, and berries. One of the factors that persuaded the team to accept Sun Nutrition's sponsorship was a $1.1 million study at Appalachian State University last year, funded by the federal government's Defense Advanced Research Projects Agency. The double-blind placebo-controlled study concluded that quercetin reduced the incidence of viral illness and sustained mental performance in physically stressed test subjects. The 40 guinea pigs were all cyclists.
Receipts Displaying Nutritional Content Reel 'Em In
Nutricate Corporation, the first and only company to provide receipts that include nutritional information about the meal that the diner has just consumed, announced 3/2 that it has secured more than $800,000 in funding from a combination of investors led by Numenor Ventures LLC, which like Nutricate is headquartered in Santa Barbara. Silver Greens restaurant in Isla Vista recently reported a 25 percent increase in sales since it installed Nutricate's technology one year ago, saying that their customers appear to find the receipts fascinating. The printed receipts can display any four categories of nutrition information that the merchant chooses–calories, carbohydrates, fat, and protein, for example.
Development Lawyers Get Green Accreditation
The law firm of Hatch & Parent now boasts a land use planner–Eva Turenchalk–who has earned LEED (Leadership in Energy and Environmental Design) accreditation. The firm prides itself on representing the Santa Barbara developers to whom environmentally minded elected officials have the hardest time saying no, and Turenchalk's accreditation will help Hatch & Parent maintain that position. Partner Rob Saperstein said that many of the firm's clients are interested in environmentally friendly projects just for the sake of being good citizens. In addition, the law firm–one of the few with planners on staff-anticipates the advent of ever more stringent regulations for reducing energy use.
Rose Out, Chaconas In
The Santa Barbara Downtown Organization announced on February 29 that it has selected Mark Chaconas to serve as its new executive director, replacing the renowned Marshall Rose. Chaconas said that the organization's 1400 members represent the city's economic engine-encompassing State Street, Chapala Street, and Anacapa Street from Micheltorena to Gutierrez-adding that Rose, who headed the organization for 10 years, will be a hard act to follow. Chaconas takes the reins March 15. He has previously served as the executive director of the Foundation for Girsh Park, the director of workforce housing for Bermant Development, and as executive staff for former Third District Supervisor Gail Marshall. As for Rose, he said he will devote himself to establishing a new pub, to be known as the Hollister Brewing Company, with his son Eric Rose-former brewmaster of the Santa Barbara Brewing Company and the Anacapa Brewing Company-and Elements owner Larry Kreider.
Wells Fargo Funds Women's Ventures
Women's Economic Ventures, which specializes in microloans to underserved would-be entrepreneurs – particularly to female ones, though not exclusively – has itself received a $250 million low-interest loan from Wells Fargo bank's Community Development Corporation. WEV cofounder Marsha Bailey said her nonprofit will use the financing to increase the number of loans it makes for the start-up and expansion of small businesses, especially those that do not qualify for conventional bank financing. WEV has made about $1.5 million in such microloans since its inception in 1995. The interest rate on the Wells Fargo loan-of a type known as an EQ2 investment-requires WEV to pay only a relatively low two percent interest.
Eco-Travel Uses Carbon Credits
A Santa Barbara-based business launched on February 22 represents a new concept in eco-travel. Instead of sending travelers exclusively to resorts that use solar energy and recycled toilet paper, for example, Green Pleasures uses the Environmental Protection Agency's "carbon credits" system of assigning points for energy use. Green Pleasures assesses the impact on global warming that would result from an excursion they book and then allot a proportional amount of their revenue toward global warming prevention endeavors, such as wind energy or reforestation. Green Pleasures acts as a web conduit to Travelocity, explained founder Eric Woodroof, and customers pay not a cent more than they would if they went to Travelocity's website directly.
Yardi Acquires UK Company
Yardi Systems, already an international leader in property management software, announced on February 23 that it has acquired UK-based Advanced Program Base, another leading real estate management software company. The 22-year-old Yardi is a privately held corporation headquartered in Santa Barbara, with offices throughout the United States, Canada, Europe, Asia, and Australia.