JAZZED IN THE NORTH: In her 1987 essay on Montreal, "The One That Got Away," inspired travel writer Jan Morris extolled the city's elusive wonder, noting that it has successfully "defied homogenization." All these years later, Montreal is more heterogeneous than ever, and more French. It's the place to go for a quick fix of the European, but it has a peculiarly North American continental flair as well, demonstrating kinship to another polycultural North American city, New Orleans, its Cajun/Acadian cousin.
It was shortly after the publication of Morris's essay on Montreal that this music scribe began treasuring the cultural feast that is the Montreal Jazz Festival and joining the critical chorus that has anointed this the world's best all-purpose jazz festival. For hopeless jazz fans-and especially hopeless jazz festival fans-Montreal's hard to beat, settled in several closed-off city blocks and multiple venues in easy strolling distance.
One quick 21st-century measure of the soulfulness and basic human decency of an airport or a coffee shop is the availability of wireless Internet access. It should be free and available everywhere, like relief stations. By this measure: McStarbux = bad; Coffee Cat, Java Jones = good; LAX = bad, Portland and Montreal airports = good. Other free stuff in Canada includes healthcare (as noted in SiCKO, Michael Moore 's latest doc-on-a-shtick) and music, on numerous outdoor stages in the festival zone. Every year, one massive outdoor concert brings more than 100,000 people into the streets. This year, Seun Kuti served up Afro-funk with his late father Fela 's band to the undulant and peaceful multitudes.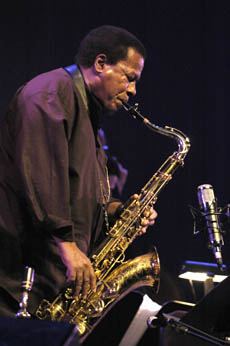 One clear festival highlight this year came courtesy of Wayne Shorter . An odd bird, Shorter is unquestionably an influential genius, but his bands have rarely conveyed his entire slippery vision. For two decades now, his bands have often been either too stiff or too loose. (Santa Barbara has witnessed both extremes, in a Fleischmann Auditorium concert in the '80s and at the Lobero a few years back.) This enticing new project, launched in Montreal, boasts Shorter's commanding voice as composer and player, with thrilling, complex chamber jazz for his quartet and the Imani Winds .
ECM Records, the veteran Munich-based label which has often out-arted Stateside jazz labels, had a strong footprint in Montreal this year, starting at the top of its roster with promethean pianist Keith Jarrett . Jarrett's way-sold-out trio concert was predictably captivating, if somewhat conservative. It included one of his signature rants. When a paparazzi-style blitz of camera flashes went off at concert's end, he responded "No fucking photography : When will people stop being lobotomized by toys? You don't need to take pictures to listen to the music." His words quickly zipped around town: The next day, a man was reciting the rant verbatim into his cell phone while ambling through the quartier chinois. It's all part of the theater of a Jarrett concert, plus his anti-technology point was well-taken and plainspoken, from one who swore off electric instruments in the early '70s.
Also from ECM's ranks came some pianists new to the label: Israeli-born and NYC-based Anat Fort is a promising new voice, working through a debt to '70s-era Jarrett; Norwegian moodmeister Tord Gustavsen , with a rabid following, is a better composer and calibrator of ethereal dynamics than he is improviser; and wily Italian wonder Stefano Bollani is an improbable mixture of virtuosity and Roberto Benigni-style farce.
In quasi-local news, the Ventura-raised David Binney -one of the finest and most underrated alto saxophonists alive-riveted a full house in his festival debut as a leader in an all-star band with keyboardist Craig Taborn , bassist Scott Colley , and drummer Brian Blade , whose inner Tony Williams was unleashed. Santa Barbara-bred drummer Tom Rainey -a fascinating, uncompromising player-grounded a band led by texturalist guitarist David Torn (also on ECM), along with alto player Tim Berne and, again, Taborn.
At 28, the Montreal Jazz Festival is in a groove, not a rut: It ain't broke and needs no fixing. It's just there for the long-haul loving.