Books
Montecito Author Stephen Murdoch's IQ: A Smart History of a Failed Idea
Intelligence: Overrated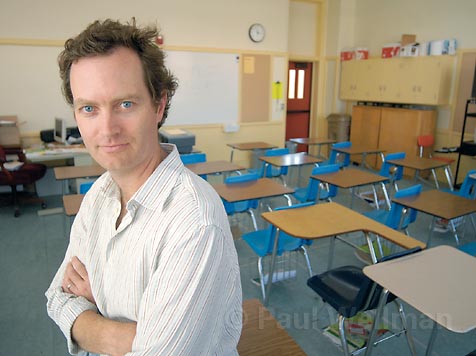 Intelligence, to put it bluntly, is a stupid idea. Though the concept is deeply embedded in our culture, intelligence is really just a historical coincidence, a measure of nothing at all, save for possibly test-taking skill. Nonetheless, for the past century, tests of intelligence have been used to order society, not to mention oppress, imprison, sterilize, and kill. To this day, intelligence tests dictate the educational trajectories of our youth, classify different categories of "feebleminded" souls, and remain a pervasive figment of modern society. Testing for the nebulous notion of an intelligence quotient began in the 1880s; it's about time we stop.
That's the essential argument of IQ: The Smart History of a Failed Idea, the engaging expose and debut book from Montecito native Stephen Murdoch. A lively, revealing read, IQ takes us on a historical tour of intelligence tests, showing at each step why they've been more detrimental than beneficial to civilization. Though other critiques of intelligence testing exist, Murdoch's account-which officially hit the streets earlier this summer-is the first aimed squarely at a mainstream audience. Murdoch has already been on multiple National Public Radio shows and received rave pre-release reviews from Publisher's Weekly, Kirkus, and Booklist. The attention is well deserved: The book is a clean, quick read, and the topic desperately needs some serious, informed debate. Plus, Murdoch, 39, who graduated from Santa Barbara High and was a human rights attorney in Cambodia and labor lawyer in Washington, D.C. before becoming a writer, is an all-around nice and-yep-intelligent guy.
Over coffee a couple of weeks ago, Murdoch explained that he started working on the book more than four years ago after realizing that an accessible tome on IQ didn't exist. As he worked on the book, he discovered that it wasn't just his background as an undergraduate psychology major that propelled him.
"It took me a year or two into the project to realize that I really just hated taking these tests," said Murdoch. "I guess, like most people, I had a fear of negative scrutiny." Not that he wasn't good at taking the tests. "I did well," said Murdoch, who tested into the GATE program at Santa Barbara High. But the experience was horrid. "I still remember the office-there was this guy with a big black mustache," Murdoch said with a chuckle.
As he researched the topic in the Library of Congress, he found that before these tests began in France in the late 19th century, the Victorian concept of intelligence included such considerations as "zeal" and "talent." It was a more dynamic and realistic assessment of thinking ability, in Murdoch's eyes, because it accounted for the different ways in which people are "smart."
But then history rolled along, people became afraid of the threat of stupidity, and the need for standardized tests grew. This was particularly true in America, where thousands needed to be quickly processed at Ellis Island and the military needed to grow tenfold for our entry into World War I. An undercurrent of eugenics-keeping "feebleminded" people out of the gene pool-held sway from Ellis Island to Nazi Germany, and psychologists found these tests the perfect tool for popularizing the concepts of their nascent field. "Psychology seems to have forgotten its own history," said Murdoch.
Though IQ is stocked with evidence that it's time for a change, intelligence tests remain central to much modern psychological practice. Part of the problem is that no one knows what will replace the tests. "It's like we're caught between VHS and Betamax," said Murdoch. "We're not quite sure which model we're going to next, but we're pretty sure the old method doesn't work anymore." Murdoch finds the cognitive processing tests that measure a wider range of brain functions to be the "most promising" solution. He explained, "We've had a whole revolution in the cognitive sciences, and we know more about the brain than ever before. Plus, it's based on science! But most psychologists have ignored it." Furthermore, the companies who sell the tests make millions if not billions annually (they wouldn't tell Murdoch how much, however), and there's no incentive for them to switch now.
When asked if he thinks the book will influence testing practices, Murdoch replied, "I didn't when I was writing it. I was too cynical to believe it could change anything." But now, after appearing on popular radio shows and seeing how interested people are, Murdoch is more optimistic. "I think people are tired of these tests," he said. "It was a brilliant idea 100 years ago. It's just that we've moved on." Thanks to this expose, that may just happen soon. It would be a good sign for society's collective IQ.
4•1•1
Stephen Murdoch will read from and sign copies of IQ: A Smart History of a Failed Idea at the Faulkner Gallery on Monday, August 6 at 7 p.m. He will also answer questions at this free event. Call 560-8785 for details, and see stephenmurdoch.com.