News
Witness: Armed Eastsiders Attacked First
Teenage Testimony in Hearing for Alleged Stabber Juarez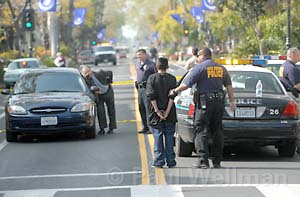 Drama pervaded the courtroom Friday, August 10, as the prosecution brought a 13-year-old boy to the witness stand in the preliminary murder hearing of Ricardo Juarez, the 14-year-old accused of fatally stabbing Luis Angel Linares in a gang fight on March 14.
The witness had told detectives he was with Linares – his friend and neighbor – moments before he was stabbed to death during the brawl that pitted teenagers from Santa Barbara's Eastside against those from the Westside. Now Jose H. – a Westside resident, identified by his first name and last initial as are as are all the underage witnesses – looked out on a courtroom audience made up largely of Eastside teenagers. Most of the other eyewitness testimony during the preliminary hearing, which began Monday, has been related under oath by the detectives who questioned the witnesses. Judge Brian Hill gave Jose H. immunity from prosecution, explaining to the soft-spoken child, "Your testimony can't be used against you."
Shortly after the prosecutor began his direct examination, one of the Eastside onlookers was ordered out of the courtroom by bailiffs, one of whom explained that it looked to him as though the audience member was shaking his head "in a way that could be interpreted as intimidating the witness." Once outside, a representative of the District Attorney's office told the evicted man that he was "that close" to charging him with felony witness intimidation. The evicted man – a former Eastside gang member who did not give his name to reporters and asked not to be identified for fear of losing his job- has served as a youth mentor with local a local organization that steers kids away from violent gang activity. He told bailiffs and the DA investigator that he was in the courtroom as a youth advocate because he believes that Juarez should not be tried as an adult, which could mean a life sentence if he is found guilty. The man explained that he was not signaling the witness but shook his head in disapproval because he felt the witness was too young to understand the court proceedings.
The young witness, because he was so short, was not even in his line of sight, the evicted man argued. Several armed bailiffs assigned to the courtroom had been keeping a conspicuously close watch on the man and his two companions ever since they started sitting together the previous day, forming a polite but tough-looking trio. The men wear baggy pants, have shaved heads, and sport extensive indigo tattoos covering the arm of one of them. (Indigo can suggest prison tattoos because, extracted from newsprint, it is typically the only color available to inmates.) An officer dressed in black special agent gear, including an extra gun strapped to his leg, entered the courtroom and perched near to the men for about an hour on Thursday. Ultimately, the man and his two companions – who followed him out of the courtroom when he was evicted-were banned from the courtroom for the remainder of the day but told they could return on Monday.
While that conversation was taking place on the sidewalk in front of the courtroom, Jose H. described to the court how he came to State Street from La Cumbre Junior High with a group of friends after school let. out early throughout the district due to faculty meetings. There, he ran into additional friends on State, including "Nacho," a nickname by which Linares was sometimes known. Jose said that he himself is not a gang member but was aware that some of the kids in the crowd were. He said he did not see any weapons, fights, or even any gang signs being thrown, but he heard bottles being broken and ran west on Carrillo Street toward home, along with many others in the crowd. He believed that Linares, who was pushing a bike, and with whom he had been walking moments earlier, was behind him. He ran as far as the Greyhound Bus Station at Carrillo and Chapala, he said, then walked back to the parking lot of Saks Fifth Avenue., where he saw Linares lying on the ground.
Also on Friday, Detective Alexander Cruz relayed the account of a second witness and friend of Linares's. That witness, Luis L., whom Cruz interviewed at Cottage Hospital, told Cruz that he and his girlfriend Vanessa were walking up State Street behind Linares when Eastside teens, who had been flashing signs and identifying themselves as "Eastside motherfuckers," poured out of cars in the intersection of State and Carrillo streets and rushed toward the Westsiders. He heard his girlfriend scream, "They're coming! They're coming!" He said he heard Linares answer "Where from?"
Luis L, who came under attack by a bat-wielding teenager whom he later identified in a lineup as Jose M., nevertheless noticed another teen whom he later identified as the defendant come at Linares with a knife matching the description of one detectives pulled from a trash can at State and Carrillo. However, Juarez was not the only Eastsider who was wielding a knife that day, according to Luis L., who told Cruz that he saw a 13-year-old, referred to in court as Ricardo R., swinging his right hand at Westsiders, and he believed, but he wasn't positive, that he saw something shiny in Ricardo R.'s right hand. Luis L. fled toward the MTD station but backtracked, he told Cruz, when he realized Vanessa wasn't with him. In the Saks parking lot, he found Vanessa standing over Linares.
Defense attorneys Karen Atkins and her co-counsel Jennifer Archer are trying to establish that a second stabber, other than Juarez, delivered the one fatal blow out of the eight stab wounds inflicted on Linares.
Following the day's testimony, another Westside teenager, cuffed hand and foot, was brought before Judge Brian Hill, having spent the day in custody after being cited for contempt of court. Erik G., a Westside resident, was arrested Friday morning after failing to respond to a subpoena and refusing to testify. He was taken to Juvenile Hall. Hill released him with an order to appear in court the following Wednesday and an admonition not to discuss the case with anyone. He is to be sentenced on the contempt citation at a future date, Hill told him.