Outdoors
Zaca Fire Morning Update
Last Updated: August 14, 2007 7:00 am.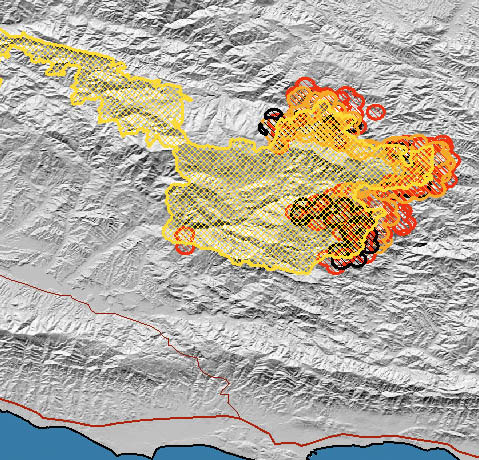 Last Updated: August 14, 2007 7:00 am
Date/Time Started: July 4, 2007 10:53 am
Administrative Unit: Los Padres National Forest / Santa Barbara County Fire
County: Santa Barbara
Location: 15 miles NE of Buellton
Acres Burned: 101,472 acres
Containment: 44% contained – 101,472 acres. Full containment expected on September 7, 2007.
Structures Destroyed: 1 outbuilding destroyed
Threatened: 483 homes and 112 outbuildings threatened
Evacuations: Please call 805-961-5770 for current information on evacuations.
Cause: Human
Cooperating Agencies: Santa Barbara County Fire, Los Angeles County Fire, Ventura County Fire, California Highway Patrol, American Red Cross
Total Fire Personnel: 2,783 (829 CAL FIRE)
Fire crews: 74 (30 CAL FIRE)
Engines: 95 (15 CAL FIRE)
Airtankers: 8 (3 CAL FIRE)
Helicopters: 21 (0 CAL FIRE)
Dozers: 41 (8 CAL FIRE)
Water tenders: 69
Costs to date: $69.2 million
Major Incident Command Team: Unified Command
Conditions: Live Oak Zone: A red flag warning has been issued for San Luis Obispo, Santa Barbara, Ventura, and Los Angeles Counties. The weather pattern of high temperatures, single digit relative humidity (RH) and poor RH nighttime recovery is expected to continue through Wednesday morning. Richardson Zone: Extreme fire behavior and wind pattern has pushed fire to within a mile of dozer line. Extreme terrain driven fire behavior when wind aligns with drainages.
The evacuation order for residents of the Paradise Road community, Los Prietos Boys Camp, Paradise Store and the Rancho Oso Guest Ranch has been downgraded to an evacuation warning effective Sunday, August 12 at 7:00 p.m. The Lower Santa Ynez River Recreation Area campgrounds, day use areas and trailheads will remain closed.
PLEASE CALL 805-961-5770 FOR THE MOST CURRENT EVACUATION AND FIRE INFORMATION.
Phone Numbers: (805) 961-5770 (Zaca Fire Information)