Theater
George Lopez. Star. Spanglish. Banter.
At the Santa Barbara Bowl, Saturday, August 11.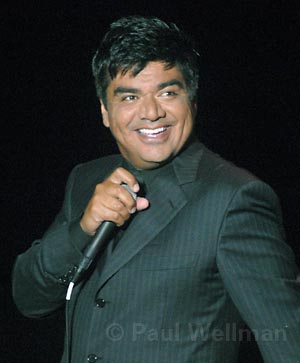 "'Member? You 'member." The rallying cry for George Lopez was introduced to me a little over a year ago when my roommate and I sat down to watch Why You Crying?, Lopez's 2005 standup show. Since my roommate's a first-generation Mexican-American, it made sense that Lopez would have her cracking up; I, on the other hand, was pretty certain Lopez's humor would go right over my Caucasian head. But the video and Saturday's performance at the Bowl proved the success of Lopez's standup comedy is not contingent on race or ethnicity.
Although Lopez satirizes the Latino experience-specifically that of the first-generation Mexican-American-he manages to cut across cultural boundaries, leaving anyone with a sense of humor (black, brown, white; young, old; gay, straight) in stitches. The appeal of his jokes knows no bounds because Lopez himself has no boundaries that he isn't willing to cross.
Nevertheless, on Saturday, there were never any titters of nervous laughter or moments when the people in the audience shifted awkwardly in their seats. Indeed, Lopez's humor is so self-deprecating, so merciless in its derision of where and how he grew up and the nature of his familial interactions that anyone can laugh at his stories.
As Lopez came onstage to his signature "Low Rider" entrance music, he received the first of many standing ovations from the sold-out crowd (Lopez said he was the first comedian to sell out the venue). The 46-year-old joked about the "pigmentally challenged people" in the audience who were afraid of the large grouping of Mexicans. Lopez also spoke to the ridiculous trend of constant text messaging by youths. His response to BFF, LOL, and OMG? "FTP," meaning "Fuck That Puto."
When he wasn't getting us laughing with stories from his childhood or by speaking in his signature "white male voice" about different approaches to raising children-Mexicans instill fear in their children, while whites want to be friends with their kids-Lopez rallied the audience with criticism of both President Bush and Governor Schwarzenegger, even at one point shouting, to raucous applause, "If you didn't need us, we wouldn't be here!"
And it's true. We need Mexican-Americans to keep America running both economically and culturally. And we need people like George Lopez to make us laugh at ourselves.