Visual Arts
Im(press)ions: Contemporary/Modern Prints 1960-Today.
At Edward Cella Art+Architecture. Shows through September 16.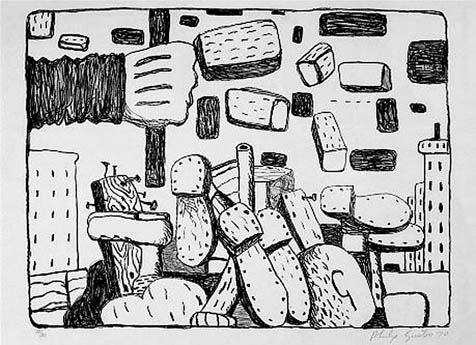 While the ubiquity of reproductions of great modernist classics has made it easy to imagine that the late 20th century was dominated by large images and grand statements, connoisseurs know that some of the best work of even such familiar names as Jasper Johns and James Rosenquist was done in the more subtle but no less imaginative arena of the print studio. In Santa Barbara, the tradition of the painter/engraver is particularly vital due to the presence of Atelier Richard Tullis, an important print studio that has been located in the Funk Zone for more than 20 years. The quirky and high-caliber character of this particular show is largely due to the dense network of connections within the printmaking world, and the generosity of printers with the often unusual works they collect personally.
A big part of the appeal of Im(press)ions is seeing things that really deserve the label "genius." Josef Albers was never more focused or successful with his iconic squares than in "Day and Night Study" (1963). It employs the strict formal conceit of squares within squares that is Albers's artistic signature, and it investigates color in a way one would expect from the author of the widely respected Interaction of Color (also 1963). But spend some time with these squares and let the uncanny effect of their complex balance of shades between day and night work their magic. These four squares may be the most interesting landscape painting currently on view in Santa Barbara.
Nearby and on the same wall, Nicole Strasburg's "Overpass Series" (2001), printed at Tullis, commands a similar response. Strasburg crops these views so the space behind the figure opens at the same time the surface achieves an admirably abstract overall flatness. Walton Ford's wacky and more than a little kinky "Nila" (2000) is surely the most elephant-positive image I've seen, celebrating as it does the "eight excellences of [elephant] must." It's a great image-subversive, hilarious, and beautiful.
Finally, Richard Diebenkorn's series of Five Aquatints with Drypoint Portfolio, Plates 5-1 is shown in its entirety, and demonstrates something essential about the role of printmaking in modern art at the same time that it reveals Diebenkorn's exquisite mastery of multiple techniques. The Cella gallery has provided a useful glossary of printing terms for those who wish to know more about aquatint and drypoint.