SONG AND A PRAYER: Diana Krall, the queen of current jazz singers any way you slice it, is no stranger to the Santa Barbara Bowl, where she makes a return visit on Sunday. The idyllic venue feels just right as a forum for the special gifts displayed by Krall, a vocalist who relies not on gymnastics but signature textures and nuances, and who has deftly tapped into standards, bossa nova and selective pop songbooks-including some amazing forays into songwriting of her own (more, please).
Jazz fans could reasonably complain that little of their favorite music finds its way into the seemingly pop-monopolized Bowl. On the other hand, Krall's summer visits there have become little feasts to be cherished and close encounters with the real stuff of jazz. It's not only Krall's warm, instantly identifiable voice that says jazz, because her band and her own tasteful and right piano-playing are also the real thing. Nevertheless, it's all done in a way that draws in listeners from beyond the ranks of die-hard jazz fans.
When she was last in town, two years ago, it was on the heels of her album The Girl in the Other Room (Verve)-a detour from her usual musical approach, with songs by her idol Joni Mitchell (a fellow Canadian), Tom Waits, Mose Allison, and most importantly, several original songs co-written with her husband, Elvis Costello (with whom she recently had twin boys, Dexter and Frank Costello). Listen to the Krall/Costello tunes "Abandoned Masquerade" and "Departure Bay," and gently weep. These are powerful songs, lyrically and in terms of a sophisticated, jazz-colored musical vocabulary.
Krall has been growing up in public and staking her private musical claim over the slow steady rise of her career in the past 10 years. At her last Bowl visit, she got testy when someone in the front section yelled out for "Peel Me a Grape," David Frishberg's clever innuendo-fest that was an early favorite in Krall's sets. She has outgrown the song and its cheesecake-y tease.
Her current album, the sumptuously swinging From This Moment On (Verve), finds her riding high on straight-ahead material with arrangements for both her own combo and the Clayton-Hamilton Jazz Orchestra. On a song list including "It Could Happen to You," a dreamy "How Insensitive," "Little Girl Blue," and "Day In Day Out," Krall pulls her usual trick of paying respects to common standards and making them her own property. There's just something about the way she blends tone and breath and works with the limited range of her voice that lends an air of wisdom and personal investment in the songs she sings. She's the primary girl in the room of jazz singing at the moment, and the Bowl is a great sounding board for what she does.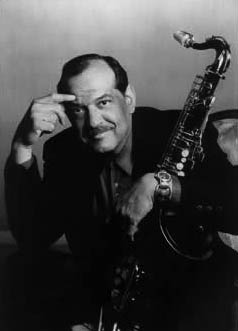 OUT OF THE STUDIO, INTO THE FIRE: Ernie Watts used to joke about playing on dog food commercials for a living, while playing jazz for vastly higher and more soulfully nutritional, expressive reasons. The bold, Coltrane-influenced saxophonist, who brings his own fine Los Angeles-based band to SOhO on Monday, was one of those L.A.-based musicians who, during the '70s and '80s, played on countless gigs-including Doc Severinsen's "Tonight Show" band, films, television, commercials, record dates, whatnot dates-while secretly yearning to do his own thing.
He's doing his own thing now, living in Cambria with his wife, Patricia, when not on the global road. He has his own label, Flying Dolphin Records, with three Watts titles out to date. Meanwhile, Watts is picky about what outside work he takes. He's very much a member of Charlie Haden's now 20-year old jazz band Quartet West, which played at the Lobero last fall. His two most recent albums, Spirit Song and the winkingly-titled Analog Man-which he is-show him soaring on his own, purely acoustic, mostly post-hard bop terms these days. The real Ernie Watts is standing up, and he's well worth paying attention to.