Theater
Bad Apples presented by Rubicon Theatre Company.
At the Rubicon Theatre, Sunday, August 19. Shows through September 9.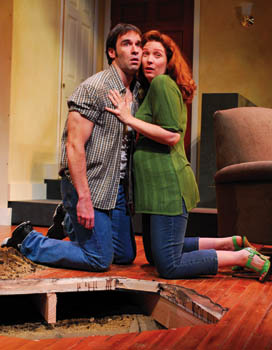 As with anything, when seeing a play, first impressions are important-and the set of Bad Apples, cleverly designed by Trefoni Rizzi, makes quite an impression. For one thing, there's an enormous hole in the floor of what otherwise appears to be a typical suburban living room.
The hole, it turns out, is being dug to connect with the local courthouse through the sewers, in a carefully laid plot to rescue Eddie's (Patrick Hallahan) girlfriend, currently serving time for credit card fraud. Peg (Precious Chong) and Brook (Eric Lange), high-school sweethearts and partners in crime (both literally and figuratively), are helping the depressive and seemingly not-too-bright Eddie with his plan to get back the girl he lost. But just as the surface of the living room expresses little of what's going on beneath, there's much more underlying the deceptively simple characters than immediately meets the eye.
We quickly realize that there is a love triangle developing between Peg, Eddie and Brook; this is further complicated by the incredibly nosy neighbor (Clarinda Ross), whose interest in the three might be more than casual. Mark Stein has undoubtedly crafted a sexy, witty, and unusual comedy, and the byplay between all four characters is impossible not to enjoy. However, some of the crafting of the story is abrupt and lacking in emotional continuity. It's easy to appreciate the motivation of the four throughout the first three quarters of the show, but the ending comes across as choppy and poorly considered.
Despite this weakness, the play is a good one, and Rubicon has definitely done it justice. All four cast members are well-cast and flawlessly funny, the design is effective, and the direction, although the actors occasionally wander the stage without motivation, is generally very skillful. By the time intermission rolls around, it's difficult not to begrudge the time spent sipping coffee in the lobby-you'll want to find out how the story will end.
For a Santa Barbara resident, the drive to Ventura, especially through traffic, can be daunting. But if there's one play you'll drive out of town for this summer, Bad Apples is worth the trip.