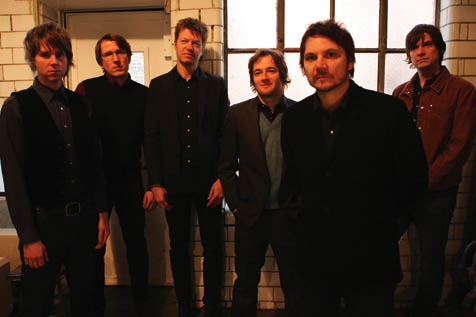 Soon after the dawn of the new millennium, a new Wilco arrived on the music scene, ready for a bit of all-American reinvention. The band that Chicagoan Jeff Tweedy built had outgrown its alt-country stylistic wardrobe and was led into more experimental terrain by avant pop guru Jim O'Rourke, and the landmark album Yankee Hotel Foxtrot brought us a newer, rougher, brainier Wilco. Their record label was befuddled, as were diehard fans.
Following the release of two more amazing albums-2004's A Ghost Is Born and this year's Sky Blue Sky-fans have gotten used to the idea of Wilco as a moving creative target. Leader, singer/songwriter, and everyman visionary, Tweedy is still penning great tunes and etching lyrical imagery with his rugged, lucid voice. Around that voice a new band has developed, and drummer Glenn Kotche-who arrived around the time of Yankee Hotel Foxtrot-is very much the heartbeat of that band.
Sky Blue Sky, like most Wilco albums, makes a strong first impression and gets deeper with each listen. From the bittersweet country-soul lilt of "Either Way" and the retro-prog folk-rock of "Impossible Germany," to the John Lennon-esque "Hate it Here" and the snarly, guitar-rocking goodness of "Walken," the album is both a confident statement and a self-contained soul-searching mission.
Recently, Kotche phoned in from his home in Chicago to chat about the state of the band. One of the more open-minded and flexible rock drummers around, Kotche has also branched out on his own, releasing his provocative solo percussion album, Mobile (Nonesuch), last year. When asked where he belongs in the music scene, Kotche responded, reasonably enough, "I have no idea where I fit. Classical, rock, experimental, commercial sell-out : I don't know," he laughed. Scratch that last descriptor.
With the addition of [guitarist] Nels Cline and keyboardist Pat Sansone, does it feel like this is a new phase of the band's evolution? Oh, yeah. They came in from touring with A Ghost Is Born and they really transformed those songs from the recorded versions to the live setting. : Jeff has said many times that this is the definitive lineup of Wilco. That's not to take anything away from previous lineups. Each one has had its own charms and its own assets, but this particular one just seems like it's the strongest overall. That's why we made the live record, Kicking Television.
Playing live together felt so good, which is why when we went in to make Sky Blue Sky, it was made as a band playing live in the studio. There was almost zero technology-no computers, no Pro Tools. There are no overdubs. Vocals were recorded at the same time the band was recording.
That seems like the most basic, commonsense way that music was always made. : Why would you make it anyway else? Of course, approaching it differently can yield different results for different artists. I have nothing against that. But for Wilco right now, it seemed like the right way to go.
Sky Blue Sky is a great album, and an eclectic one. How did it change from conception to execution? There actually wasn't so much in the conception of it, other than the idea of getting together, getting in a circle, writing, and seeing what happened. There was never an idea that we were going to make this or that type of record.
This is definitely the most collaborative of all the Wilco records. Jeff had a couple of completed songs he brought in. Everyone was throwing out ideas and parts and making arrangement suggestions. It was a really cool experience, but we didn't really have any stylistic parameters that we put into it at the beginning. We just had all sorts of different songs. The ones that ended up on Sky Blue Sky seemed like the batch that stuck together the best, [the ones] that rose to the top.
You're a versatile player, digging into identifiable grooves and feels, but you also have an experimental impulse. In this lineup, is there more flexibility for stretching out and going to experimental places? Yeah, I think there's a lot more possibility for that. That's why I was almost surprised that the first record we made with this lineup was Sky Blue Sky, which is almost more traditional for us. But we all have that in our background, too, including Nels, who's been known as an avant-gardist. He was brought up on and loved Buffalo Springfield and pop music. The Byrds; that's part of him. That's a part of me, too. I do think there are a lot of intriguing directions we could be going to, and I'm curious to see what comes next.
You came into Wilco around the time of Yankee Hotel Foxtrot. Did you feel there was an easy rapport with Jeff Tweedy there? Yeah, definitely. We started playing with Jim O'Rourke, [and] I'd been playing with Jim for years, and Jeff was a fan of Jim's music. : I was pretty much only playing experimental and improvisational music at that point. I think Jeff just saw that here's someone who can play quietly with me, who can play simple folk music, but at the same time, Wilco was changing directions and I think he saw that I'd be a really good fit :
Is there a Wilco sound? Gosh, I don't know. That's a tough question. Jeff is the primary singer, and it's his lyrics on everything. That alone is a pretty huge part of the music. With Wilco, stylistically, it has evolved from album to album through the course of the band, because more than anything, there is a desire for this band to keep growing and not to repeat itself.
4•1•1
Wilco, with Richard Swift, performs at the Santa Barbara Bowl on Sunday, August 26, at 7 p.m. Tickets are $29.50-$44.50. Call 9627411 or visit sbbowl.com.