Sports
SBCC Has Its Home Opener on September 8
Saturday Night Football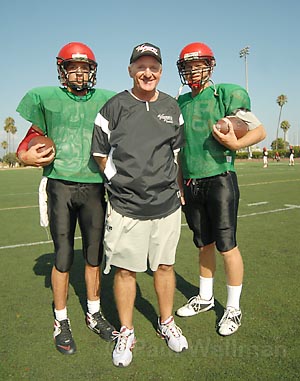 Hunter Easterling was a whale of a football player on Orcas Island in the Pacific Northwest. He scored 28 touchdowns in his senior year for the Island High Vikings. But at 5ʹ8Ê° and 150 pounds, he wasn't attracting big-time college recruiters. So the speedy wide receiver looked to continue his gridiron career at a Southern California community college. His search ended at a place reminiscent of his scenic home.
"Husky Stadium in Washington is nice, but this place has got it beat," Easterling said after practice at Santa Barbara City College's La Playa Stadium last week.
From a spectator's standpoint, there's no stadium that can match La Playa. Beyond the deep green of the artificial turf, spangled by the red uniforms of SBCC's Vaqueros, there is an expansive view of the harbor, the channel, and the islands. Several years ago, SBCC began kicking off its football games at 4 p.m. to bring the added attraction of sunsets into the experience.
The Vaqueros will face Compton College in their home opener this Saturday, September 8.
SBCC has had a decade of mixed results as the only college football team in town. The 2007 season got off to a promising start last Saturday at Costa Mesa, where Easterling caught a touchdown pass and Jeremy Ybarra kicked two field goals to give the Vaqueros a 13-0 lead over Golden West College. But they sputtered the rest of the game, and Golden West came away with a 22-13 victory.
Craig Moropoulos lost some sleep over his first game as a college head coach. Moropoulos, the son of a football coach, was a winning quarterback at Santa Barbara High and SBCC in the late '70s. After serving as an assistant coach at six different colleges, from Arizona to Alabama to Pennsylvania, he came home to coach Santa Barbara High's Dons for seven years. He was SBCC's offensive coordinator last season and then took over the helm from Reggie Bolton, who departed to take a job at Bakersfield College.
Moropoulos described the last days before the opener as "tumultuous" as he sorted out the eligibility of his players, 40 of whom came from out of state, including seven from foreign countries. He much preferred working on the practice field. "As Denzel Washington said in the movie [Remember the Titans], this is my sanctuary," he said.
SBCC's defense is improved (Golden West trounced the Vaqs 39-7 last year), but its offensive line lacks experience and depth. That puts a lot of pressure on the quarterback, one of the Vaqueros' strongest positions. Sophomore Nick Acciani, who passed for more than 1,600 yards last year, started in the opener. He hit the elusive Easterling on a 15-yard slant for the season's first TD. Conner Rehage, a freshman from Dos Pueblos High, pitched in relief.
Compton is also 0-1 after losing a wild opening game by a 63-36 score to Cerritos College. "They can be really good or not so good," Moropoulos said of the Tartars.
The same could be said of the Vaqueros. They hope to have a good afternoon by the sea this weekend.
FRIDAY NIGHT LIGHTS: Five of the area's high school football teams swing into action on Friday night. There are two games in town-Dos Pueblos versus San Luis Obispo at the San Marcos stadium (7 p.m.), and Bishop Diego versus Santiago at SBCC (7:30 p.m.). Bishop's Cardinals, ranked number one in their CIF division, had an early opener last week and won 21-13 at Nipomo.
Other openers on Friday include Santa Barbara High at Oxnard, San Marcos at Rio Mesa, and Carpinteria at Morro Bay.
SBCC will feature a S.B. high school at each of the Vaqueros' home games. Bishop Diego will be the first honoree. Bishop students will be admitted free to Saturday's game. The Cardinals football team has been invited to participate in SBCC's pre-game meal and meetings.
San Marcos will have its day with the Vaqueros on September 29 (when L.A. Southwest is the visiting team); Carpinteria on October 13 (Ventura College); Dos Pueblos on October 27 (East L.A.); and Santa Barbara High on November 3 (West L.A.).