Columns
Going to the Principal's Office
An Interview with Santa Barbara High's Principal Mark Capritto
Everyone knows that bad kids are sent to the principal's office, but what kind of kid asks to enter?
I did last week, and once I got inside, it became apparent that – first and foremost – Santa Barbara High School's principal Mark Capritto is a teacher. After taking a seat at his paper-strewn table, the history of his time in college unraveled. Ever since seventh grade, Capritto wanted to be a P.E. teacher. This dream led him to pursue a B.S. from Cal Poly, and eventually led him to master's degrees in vocational education at Long Beach State, educational psychology and counseling psychology at CSU Northridge, and finally a doctorate in educational leadership and management at University of La Verne. While attending school, he worked as a baseball and softball coach, taught algebra, psychology, and automobile technology, and rose to a management position at Ford. But Capritto never actually taught P.E..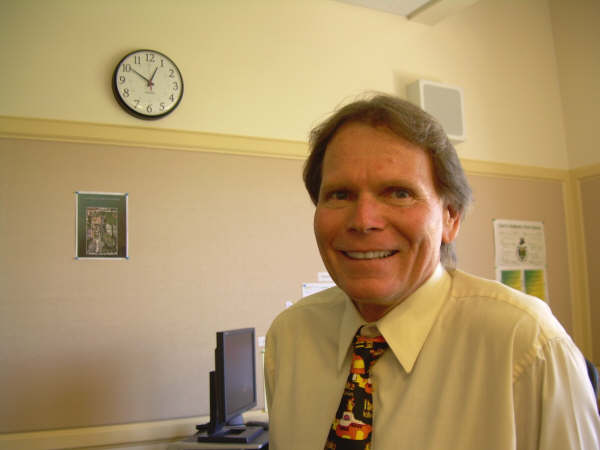 "What brought you to Santa Barbara High?" I inquired. After all, Capritto had a full resume. He was once Agoura High's assistant principal, was in charge of the juvenile court and community schools Ojai to Moorpark, and most recently was the assistant principal of Calabasas High in L.A. What reason was there to move here?
"It's a new challenge," he responded, along with the obvious job opening. He believes SBHS has room for improvement – academically, socially, and emotionally. One of his main goals is to raise our API rating. The Academic Performance Index (API) is a scale the government uses to measure improvement from year to year. The annual Standardized Testing and Reporting (STAR) results and the California High School Exit Exam (CASHEE) are used as determinants.
Under the No Child Left Behind Act, schools are required to raise their scores each year. The API rating for SBHS is currently at 703, but is lower than its real score, since 10th grade tests are currently not included, as they were misnumbered and needed to be processed again. Capritto believes this rating is important when college admissions officers consider the reputation of one's high school. The first step in improving scores is to convince teachers, students, and administration that by helping the school with testing, they are also helping themselves.
Group collaboration is the key to all of Capritto's plans, working together with parents, teachers, students, administration, and the community. Socially and emotionally, he wants to "provide opportunity for growth so [good] decisions become second nature." He also wants to teach students to be part of the school community. I countered that many students do not feel included because of diversity issues: racially, socio-economically, and academically.
"It's like two schools here!" he proclaimed, "It's like a white elephant! It's there but no one wants to deal with it." His plan of action is to meet with ASB, clubs, and underrepresented groups on campus to identify and agree on issues of concern, discuss possible solutions, create a strategy, and follow through from there.
This is the third principal SBHS has had in four years, so stability is an issue. The answer is not simple. Capritto explained that there are not a lot of professional growth opportunities in the educational field, so although it's difficult to leave, sometimes openings present themselves. "It's not about the money," Mr. Capritto assured, but the future remains uncertain. "As long as I'm here, I'm committed to this school." He arrived with goals in mind, and he plans on making sure they are implemented: unifying teachers and students, and raising the API to 800. "It was once like a family here, and I think it can be like that again."
As for what the future of this school year holds, we'll just have to wait and see.