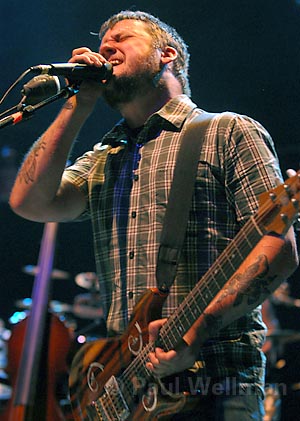 Modest Mouse is exactly where it promised fans it would be one year ago: returning to the shows it unexpectedly cancelled in 2006 and bringing along a new album. With newly recruited ex-Smiths guitarist Johnny Marr on board, the Mouse tuned up and tightened its set into a multi-instrumentalist tirade that neglected theatrics in exchange for engaging and powerful jam sessions. And after the band's fine display at the Bowl, it's hard to be upset about the previous year's cancellation.
Although the band continues to tour in support of We Were Dead Before the Ship Even Sank, the set list did not cater to it.
Show opener Matt Costa showed off new material from his forthcoming release, Unfamiliar Faces. The California-born skater-turned-songwriter offered bright and affable tunes that hinted at influences ranging from Pinback to Jack Johnson.
When things were finally prepared, Modest Mouse's stage arrangement was anything but modest: two drum sets, a banjo, stand-up bass, trumpet, laptop, and an arsenal of other instruments combined to bring to life the band's signature sound.
Frontman Isaac Brock was not interested in conducting sing-alongs, roaring half-finished lines and syllables while his limbs flailed maniacally. That is, until the opening riffs of 2004's breakout single, "Float On," when the band dropped its guard and let the crowd do the honors. Other highlights included the floor-killing disco-beats of "Dashboard" and a particularly incensed "Satin in a Coffin," during which Brock went hoarse as he screamed through the chorus. Meanwhile, "Parting of the Sensory," with its high-voltage, fast-paced coda, had Marr working overtime to keep up with two clamoring drummers.
For a reason that probably made sense in their minds, Brock and company returned to the stage for their encore dressed in hard hats and carrying brooms. The ensuing "Spitting Venom," from We Were Dead, was the perfect selection to close the show, enlisting the undivided attention of all six members for the soaring climax that transformed into "I Came as a Rat (Long Walk off a Short Dock)." For long-time fans and neophytes alike, it was a moving close to the evening.