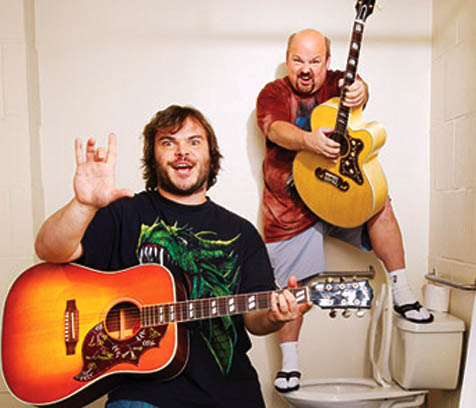 TENACIOUS RIFFS: If you just can't get enough of Tenacious D and its hard-rocking shenanigans, then you are going to love the show going down at the Velvet Jones this week. Up-and-comers Trainwreck will be filling the stage with some serious talent and, if you're at all acquainted with the silver screen, some quite familiar faces as well. Led by Jack Black's trusty wingman, Kyle Gass, and backed by an equally talented and high-spirited crew, Trainwreck will knock the socks right off your feet; that is, if they haven't made your sides split from laughter first. The show starts at 9 p.m. on Friday, October 19. Call 965-8676 or visit velvet-jones.com for details.
DELICIOUS DISH: The term potluck, when placed on a party invitation, is nothing if not an open opportunity for guests of different cultures to bring their backgrounds to the table-literally and figuratively. When applied to the Humboldt-based rap duo of 1 Ton and UnderRated, the term takes on similar meanings. The boys of Potluck are masters of creating cohesive, creative music derived from their very divergent backgrounds. UnderRated is a Humboldt native, and embodies the Jewish white boy rapper in the same fast-talking, pop-culture referencing, word-twisting vein of the Beastie Boys. Meanwhile, 1 Ton's ability to vocally play off driving beats is straight out of the SoCal rap scene. Together, they spin rhymes that are as catchy as they are conscientious, with wicked wordplays and a style that combines the Hyphy energy of the Bay Area with the laidback lyrical prowess of Southern California. Check them out on Saturday, October 20 with Tech N9ne at 7 p.m. in the UCSB Hub. Visit aspb.as.ucsb.edu for details.
AUSTIN POWERS: Swaggering out of Austin's established blues scene comes a gritty and greasy trio of young bravados. The Eric Tessmer Band's marriage of Texas and Chicago sounds signifies the start of a new, grimier generation of blues players. Following a long line of professionals whose bands bear their names-Charlie Daniels, Paul Black, and the great Greg Kihn, for starters-Tessmer's lead does not disappoint, showcasing an impressively mature stage presence considering he's only 23 years old. Tessmer's guitar style-which is easily comparable to that of Stevie Ray Vaughan or Jimi Hendrix-is well matched by bassist Allen Daniell's Geddy Lee-style know-how. The Eric Tessmer Band chops it down at SOhO on Sunday, October 21 at 8 p.m. Call 962-7776 or visit sohosb.com for more information.
GO FUNK YOURSELF: Okay, so they're not your average tree huggers, but Hippie Grenade guarantees to give you a 21st-century take on the funkadelic experience. With influences ranging from grunge rockers Soundgarden to the funk masters of Parliament, these Bay Area boys describe their sound as "everything and nothing." Bhi Bhiman's unique vocals are reminiscent of Sevendust frontman Lajon Witherspoon's, and complement the band's bending guitar solos and aural saxophone assaults. Even with the release of their new album, Fix the Roof, these NorCal natives are still best known for their energetic live shows. Hippie Grenade will hit Whiskey Richard's (435 State St.) on Friday, October 19 alongside local rockers 3Matic, moog masters The Volt Per Octaves, and electronic powerhouse Bizaarro Lord Zool. Call 963-1786.
LOOP-D-LOOP: The one-man-band that is Reid Spencer is sure to wow crowds when he headlines a show at SOhO on Tuesday, October 23. Known for his ability to create, loop, and play along with his own guitar riffs, percussion beats, and bass slaps in front of a live audience, Spencer has become a hit around town since he released his debut album, Fragments of Myself, in 2002. Opening the show will be jack-of-all-trades Kelley James, who brings an eclectic mix of rock, hip-hop, and soul to his performances, and Finland-born Ruut, who reinvents the singer-songwriter sound with her classically trained voice and influential musical background. The show starts at 8 p.m. and is $7 for all ages.